CALLING ALL PLYMOUTHS!
From: Russ Nardi, Detroit Region President, National Vice-President
The Detroit Region of the Club has been working on your 2018 Grand National
Meet with many exciting events planned during the week of July 24-28th, 2018!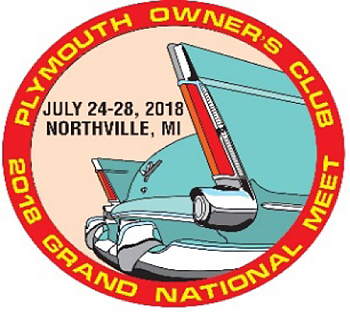 One of the exciting events is something we have negotiated with the 2018 Concours d'Elegance that will be held Sunday, July 29th, 2018 at the beautiful St. Johns Inn, just a few miles from our show hotel. At this event, we have secured a "Plymouth Ring" which will consist of approximately 12-18 cars, chosen by the Concours Car Acceptance committee. The Plymouth cars or trucks that will be shown, are cars that have significantly changed the course of the American Automobile and will be featured as such.
For this Concours event, we're looking for 12-18 of the world's finest and most history-making Plymouth cars and trucks.
We have included a worksheet listing of some of the cars such a display might feature, and an application to the Concours Car Acceptance Committee. (The words in blue are links to download the documents.)
IF YOU HAVE ONE OF THESE CARS AND ARE INTERESTED in submitting your vehicle for the show, there is an application form that will need to be filled out which must include photos, and a short description of your car and your comments why you feel the car should be in the Concours show. The
cars will receive a participation trophy and CAN be judged in the event if so desired. If your car is selected, you and one person will receive lunch and some other interesting benefits.
Please contact me directly at 586-566-5838 or by e-mail rpnardi@hotmail.com or Don Wood at 248-669-5243 or by e-mail at woodfarkas@sbcglobal.net
Hotel Information for the Grand National Meet
The Show Headquarters Hotel is the Four Points by Sheraton located in Novi, Michigan. The booking information is listed below. This hotel is conveniently
located to our show on Saturday and central to many of the featured events during our week-long event. We have cordoned-off parking in front of the hotel with 24-hour security watching our old Plymouths!

The hotel has blocked rooms for us and the club has a special discounted rate for our event of $109.00 per night NOT including taxes and fees (single or double occupancy).

FOUR POINTS by SHERATON HOTEL
27000 Karevich Drive - Novi, Michigan 48377 – Main Phone: (248) 348 5000
Hotel Reservations: 866-912-1061
USE RESERVATION CODE FOR OUR SPECIAL PRICE: POC or POC18
Information at www.fourpointsdetroitnovi.com
Download hotel information PDF.
Register for the Grand National Meet
Download the registration form at this link!