1934 Dodge Pickup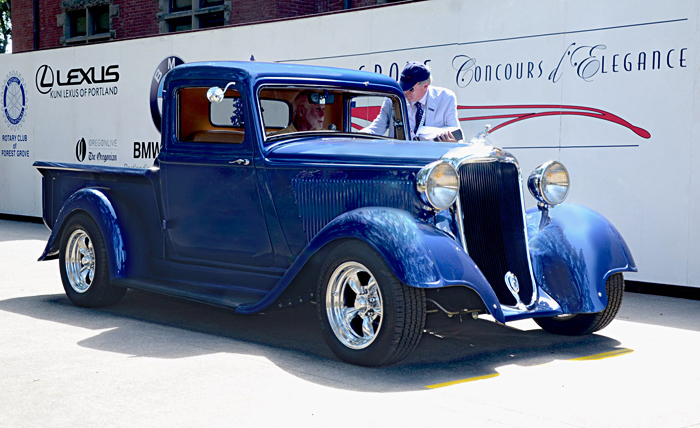 1934 Dodge pickup
By Jerry Klinger
My pickup was in the pickup and light truck through 1940 class,  Z-25, at the concours.
I have owned this truck since 1975 and it has been in a state of disrepair for quite a few years, stored inside a garage.  Ann convinced me to fix it up or else get rid of it. It took a little over a year working about 5 days a week to rebuild everything and modernize it to be like a new vehicle.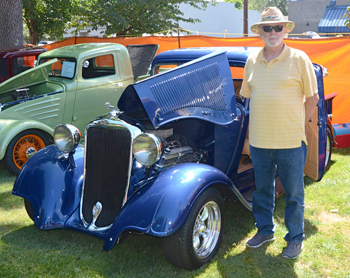 The body is all metal and still looks like a 1934 Dodge P/U. The truck came with suicide or front-opening doors. The engine and transmission are from a much newer Chrysler, a 318 cubic inch motor all rebuilt and balanced. It runs better than a new car.
The electrical is all new wiring now 12 volt, electric windows,and has a stereo.
It has a Locar floor shift that looks like the old standard shifter on the transmission.  For comfort it has Chrysler bucket seats upholstered in tan leather, wool carpets, and air conditioning.  The suspension is now updated with independent power steering and the rear is 4-link with coil shocks, there are disc brakes on front and back for great stopping ability. The wheels are American Racing Torque Thrust 14 inch in front and 15 inch in rear with Goodrich tires. Ann picked the exterior color from a color spectrum chart and the bright blue color is not currently on any model of car.
I entered the truck in this year's 2017Portland Roadster Show in March, and it won first place in its class, then at the Forest Grove Concours show this July 2017 I entered it at the request of a friend, Don Petersen, where it won first place at that show. 
It was an experience being able to drive it across the stage at that event.  It was a lot of work and time but the results proved it was worth the effort.