1965 Plymouth Barracuda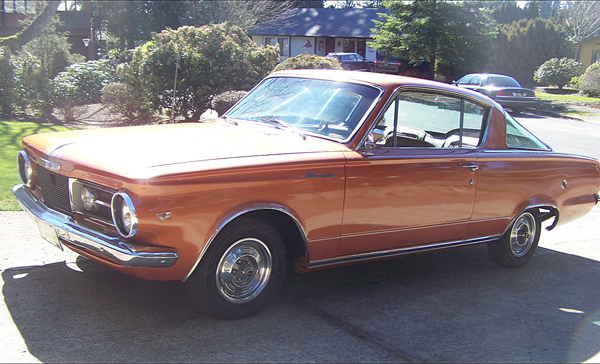 "When the Barracudas came out in '64 I was excited. I owned a '47 Plymouth club coupe at the time. I wanted a Barracuda but I was in the Army and on my way to Germany and sure to go to Nam some time in the near future so I passed on a Barracuda. A buddy of mine bought a yellow and black '64 that year and I was jealous . Now I have one, only 53 years later," says Bob Westphal.
His car is a '65 Barracuda, with 273 V8 and Torqueflite automatic transmission.
"The car had 99,851 confirmed original miles on the odo when I bought it. The car is kind of a one owner car, in that the original owner decided to fix it up, after it had sat for a long time, and took it to repair shop where the engine was removed and repaired.
Some body work was done and then a crappy repaint repaint was done.  He couldn't pay the bill and it was sold at a Sheriff's sale.
The new purchaser garaged it and did nothing, then it was sold at another Sheriff's sale. The man I bought the car from owned it 7 years and only replaced the rear back light gasket. I replaced the carb, carpet, seat covers, door panels, new tires, replaced the fuel tank and fuel pump, and gave it good tune up. The new paint is called Volcanic Orange."