1940 Plymouth Special Deluxe Sedan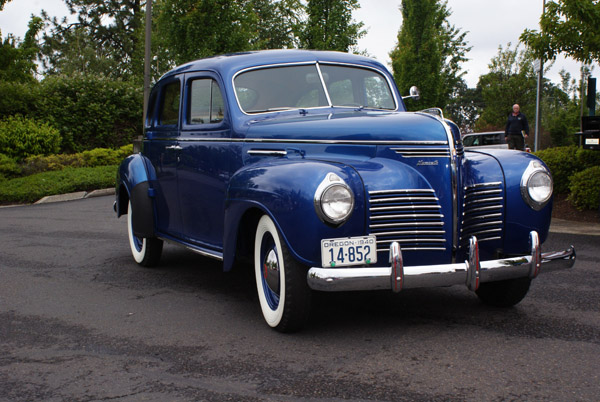 It's only a small stretch to call this 1940 Plymouth a two-owner car. Bill Call bought it from the family that bought it new. Some cars inspire that kind of loyalty.
Charlene Weber's maternal grandparents bought the Plymouth new on October 9, 1939 and eventually passed it on to Charlene's parents. Charlene can't remember a time when the Plymouth wasn't the family car. In fact when Bill bought the car, Charlene's Beaverton High School sticker was still visible in one of the rear wing windows.
At some point the Plymouth stopped being the "only" car, but the family never let it go, and Charlene's father hoped that his grandson would someday be able to restore the old car. That didn't happen, but one day while the Webers were at lunch with their former neighbors, the Calls, Bill Call handed over a business card that had a picture of a blue 1940 Plymouth Special Deluxe Sedan on it. Long story short, the car eventually came home with Bill; it is restored now; and Charlene visits "her Plymouth" occasionally at Bill's Place.
In 2015, Bill Call sold this car to Doug Martin, who joined CPPC, and since then Old Blue has had an illustrious career, including a Best of Class trophy at the 2016 Forest Grove Concours and a write-up in the National Plymouth Club Bulletin.