1935 Dodge Pickup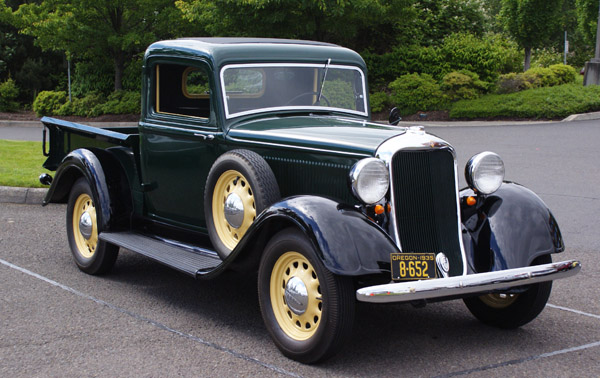 The truck's name is Sarah. Here's an article from an old CPPC newsletter, by Sarah's owner, with a little of the truck's history.
ANOTHER STORY OF SARAH THE TRUCK

In a previous article about my 1935 Dodge Brothers KC pickup I related how I had bought it for $35 in 1962. I told how I cosmetically restored it and drove it for many years until family obligations required I put it up on blocks while our family was raised. I enlarged our tiny garage and began a true restoration in 1998.

I mentioned elsewhere in this month's newsletter that the Tech Committee "awakened" the engine with a roar. Now I will tell you about that 218 c.i. flat head six engine that was superbly rebuilt by Portland Engine Rebuilders in 2007.

When I bought my refugee from a Santa Rosa, CA farm it had quite a few miles on it but it ran well. After a coupleof years and a collapsed valve spring, I decided to retire it until I could afford to have it rebuilt properly, so that years later I would still have the original motor.
Later I bought a 1953 Plymouth station wagon for $90 and transplanted its very good motor into Sarah the Truck. I drove it for another 80,000 miles or so until the compression was so low that I had to be towed around the trailer park we lived in (by then I was married to JulieAnn) to get it started each morning before going to work.

When we got married in 1969 and lived in a 24-foot house trailer we had no outdoor storage. So I put the original engine in the living room just inside the door. I put padding on the head, a bit of upholstery material and it became a piece of furniture in our small living space. I guess that was the first real test of our compatibility as a couple, because there were a few stubbed toes and shin scrapes from the unyielding block in the cramped
quarters.

It was in about 1974 when I had the motor rebuilt by a local garage run by two brothers who were in their seventies; they had grown up working on these old cars of the Depression era.

When we moved to Portland in 1978 it was time to raise a family and let Sarah
sleep until real restoration could begin. This time, however, I had a garage and some outdoor storage where I could keep the many extra parts and another engine as well. We all need wives who will somehow tolerate our collections of old vehicles and parts—mine is a keeper, just like Sarah the Truck.
By Marlo Edman