1948 Plymouth P-15 Special Deluxe 4-door Sedan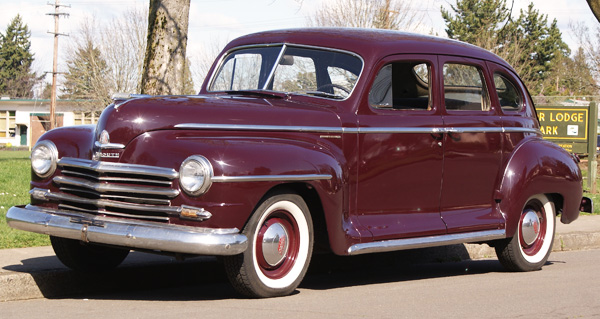 This story is happy, and then it's sad. But it ends happily. It's a good illustration of how the folks think at Cascade Pacific Plymouth Club: we believe these cars should be on the road, where we all can enjoy them, and we help each other make that happen.
Like a lot of guys, Brian Samore had dreams of taking his kids out for ice-cream in his antique car: a sweet-running, smooth-riding 1948 Plymouth Special Deluxe sedan.
Unlike a lot of guys, Brian acquired the car years before he had either wife or kids, and put it into storage until the day he could make his dream come true. The car sat in storage for 28 years, more or less, before the pieces came together.
The car is a gently-used sedan with a bit more than 84K miles on the odometer. The chrome on the dash is shiny; the woodgrain is pristine except on the driver's door where we expect to see wear from the driver's arm. The pinstriped broadcloth upholstery is intact. The windows go up and down as they should. The turn signals work. The steering is tight, and the car tracks well on the road. It is one of the nicest original P-15s that club members could recall ever seeing.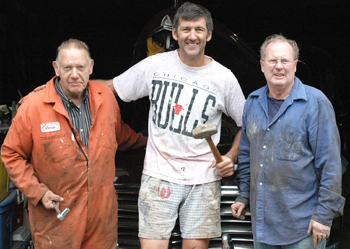 Knowing he would need help awakening the car from its 28-year slumber, Brian joined Cascade Pacific Plymouth Club, and a couple of folks from CPPC's Technical Committee made a house call or two. The Tech Committee guys say that Brian (a former pro-basketball player and high school principal) doesn't seem to be a born mechanic, but he follows instructions with good nature.
Here's the sad part. On the way back from registering the car at DMV, when it had been on the road for less than a week with its "new" 1948 license tags, someone ran a stop sign and hit this car hard enough to ruin the entire front clip. The insurance companies involved, of course, wanted to total the Plymouth and forget about it.
Enter the Tech Committee from Cascade Pacific Plymouth Club (again). They coached Brian through negotiations with the insurance companies. They found the parts he needed. They found somebody to do the bodywork and repaint the car.
They saved Brian's P-15 from the crusher. The picture above is post-crash: a 1948 P-15 Special Deluxe, original except for a "new" 1948 front clip, and repaint in the original color. Still going strong.
Brian had this to add in the autumn of 2013
Another generation of kids is beginning to appreciate this 48 Special De Luxe. As some may recall, I came to the club a few years ago seeking advice and assistance-- and got lots of both from Bob Westphal and Denny Mowery. They generously came to my house over the course of 6 months, guiding me in the restoration of all matters under the hood. While the interior and the classic Cruiser Maroon remain the same as the day it left the factory, this P 15C wasn't going anywhere without these two gentlemen "updating" several things. As only the 2nd owner (I've had the car for 27 years) it remained in storage until the time came to make my dream of taking my family (one I didn't even have when I bought the car) to Dairy Queen for weekend ice creams, come true. This past year, that vision of going cruising with my family has expanded to many other families.
The Plymouth has been used to take several homecoming and prom couples off to their dinner and dance and has served as an elegant chariot for a wedding couple. It was such an honor and a joy to drive the bride-to-be to the wedding, then the newlyweds back to the reception. Countless pictures of them getting in and out of the suicide doors for the back seat were taken. Hardly a week goes by without someone driving or walking by, stopping to take a picture of the car and often them standing proudly in front of it. As so many of you know, the smiles on people's faces come from everywhere and are so endearing and gratifying. It's something they've never really seen that close up before or have personal stories of riding "in a car just like this" as a child themselves. I feel very privileged to own and drive my Plymouth.
But of all the recent rides the ol girl and I have taken, possibly the most satisfying were the ones driving other families and their kids to Dairy Queen. It's become a bit of a neighborhood thing..."going for ice cream in Mr Samore's car!" With the weather being so gorgeous lately, I've taken 4 such journeys with 10 kids ranging from 4 to 14.
Last week Denny, again, devoted an entire day to help me replace a cracked manifold while wrestling with some seriously stubborn rusted bolts. The car was silenced and the additional power was restored. She purred. Throughout the ongoing TLC Denny has so generously provided, we've shared many stories listened to a lot of Hank Williams Sr and had some good laughs. I consider him a real friend. Every time I get behind the wheel, especially when I'm driving a generation of kids several times removed from my cars' birth, I am very proud and extremely grateful to the members of the PCCC. She'd still be in storage back in Iowa without you.