Joseph finds his dream car, again!
The story of Joe Budnick's second Roadrunner
By Joseph Budnick
When I got out of the military, broke in 1969 I saw a 69 Plymouth Roadrunner that was painted Bahama Yellow.
I wanted one.
I applied for 3 jobs and got all 3. I worked driving school bus in the early morning, worked 4 hours for UPS, and then worked 8 hours for Jensen air freight each day. I wanted that car.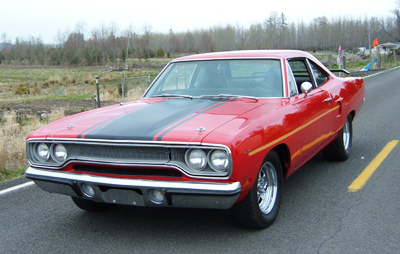 As soon as I had a chance, I went down to S.L. Savage Chrysler Plymouth in Seattle and put down $50 and ordered the car. The problem was I had to order a 1970 and they did not offer Bahama Yellow. The salesman put black as an alternative color and I would have it painted Bahama Yellow when I got it.
The only options I could afford were power steering and a radio. It was a 4-speed bench-seat car. The salesman called in 3 months and said come down the car was in. It came Bahama Yellow! It was the only 70 ever made that color.
I took it straight from the dealer to a not so traveled road and pushed the pedal till the speedo said 150. My foot stopped shaking about an hour later.
A policeman pulled me over a couple years later and said he wanted to buy my car, with his Ford Torino as part trade. Not wanting a Torino, and with the cop continually calling, I sold the car to a friend in another city.
Thanks to the Auto Trader, (my wife calls it the book of the devil) I went through 80 cars after that, from Corvettes to Cadillacs, making sure I lost money on all of them, and always looking for my Roadrunner. Then I found out about computers and E-bay.
I always asked, who would ever buy a car without looking at it first? Then I saw the Roadrunner on E-bay in Kansas. I didn't know how to bid, so a friend of mine bought it for me.
I was lucky to have been able to talk to the owner first, and he being an old guy like me I felt pretty good before bidding on the car. He had the car for quite a few years and had it stored inside his garage in Kansas.
I had it shipped to me rather than driving it back for obvious old car reasons. I have most of the parts to restore it to original.
Red was the original color. It has a 440 instead of a 383, black interior, automatic, and power steering. I don't know about the spoiler, if it's a dealer add-on or factory. It has bucket seats, as I am having a hard time finding a bench seat.
It's as close to my old car as I will probably get. When I feel it's safe I'll try to get the speedo up to 150.