David Pollock has a story similar to the one about
the "Barn Dodge"
By David Pollock
This '40 Deluxe Business coupe was sold new in Boise ID by the same dealership that sold the now famous Barn Dodge.  
(Editor's note: "The Barn Dodge" is a story that went viral on the Internet about a 1940 Dodge that sat untouched for 50 years. It's a great story, and if you type "Barn Dodge" into an Internet search engine, you can read all about it. Be aware, however, that the Barn Dodge was sold to a collector in 2003.)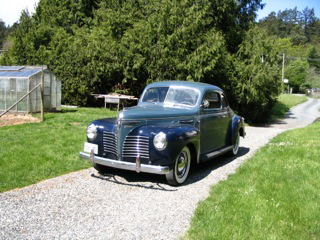 My Plymouth also spent many years in dry storage after its first owner, who lived in New Meadows, Idaho, died.
It was then serviced, the paint touched up and sold to Jerry Foreman of Boring.
Jerry sold it to me with 68,000 miles registered.  
It is all original, with only the usual service required in its entire history. The two toning was done prior to original delivery to match a Dodge which was available with a factory two tone  in 1940.  It has both radio and heater.  
Perhaps the dealer who sold the Barn Dodge and my Plymouth did not service their cars and the owners just rolled them into barns and forgot about them.
As amusing as it might be to speculate, both these cars evidently were given the best of care and careful preparation for storage as they never would have survived  as well as they did.  
My Plymouth now has 74,000 miles on it and apart from adding oil every once in a while and the replacement of an ignition coil it is just as I received it. I would have liked to have driven it to the meet in June, but that is haying time.