1948 Plymouth P-15 Special Deluxe Sedan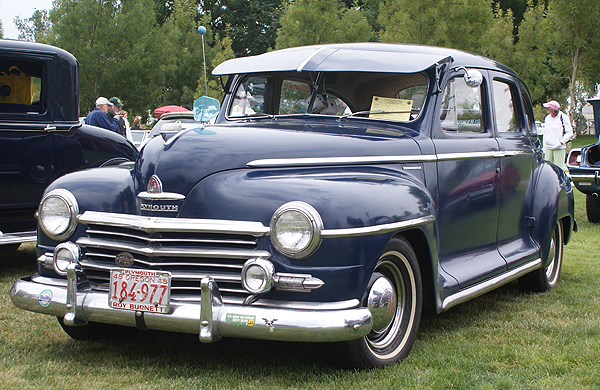 Dennis and Jeannie Mowery's 1948 Plymouth Special Deluxe Sedan
(The picture above was taken at the CPPC/Central Lions' Cruise-In in August, 2012. The story and pictures below are from the February, 2004, CPPC newsletter.)
Growing up in rural southeast 152nd, in Portland during the late 1950's, Dennis earned
the money working on the family mink farm. In 1958, Dennis was 16 years old, all he had for transportation was a motorcycle.
Dennis's brother Ivan, had spotted a'48 Plymouth 4-door near where he worked. A Mr. Mann owned the '48. He had bought it new in 1948 and was selling it for $250.00. Ivan talked Dennis and his mom into buying the '48 Plymouth Sedan.

It needed a little work done to it. Dennis, his brother and a friend overhauled the motor and gave it a good tune-up.
He and his friends put a lot of miles on it. He would also drive his mom to pick up calves and other animals for the family farm.
Dennis parked the Plymouth when he and his brother joined the Navy in 1962 and went through "Boot Camp" in San Diego.
On a trip on the Grey Hound Bus from Portland, back to San Diego, Dennis met Jeanne his future wife. Jeanne was a Texan, who was going to visit family in San Diego. Jeanne got on the bus in Los Angeles and Dennis sat beside Jeanne on the way to San Diego. They dated a while, and then got married when Dennis got out of boot camp.
After overseas duty, Dennis was stationed in San Diego on the U.S.S. St. Paul, Flag Ship of the First Fleet on North Island (Coronado Island) After they were settled in San Diego he came back to Portland to get his Plymouth.
Dennis drove the "48 back and forth to the ship crossing on the ferry ("Nickel Snatcher"), transporting many of his Navy buddies to get to the North Island (Coronado Island). He drove it for their daily transportation. Jeanne worked as a waitress to help pay the bills during that time.
RIGHT: Dennis and Ivan Mowery & the '48 4-door
When Dennis got out of the Navy in 1965, he and Jeanne packed up everything they owned, including a portable bassinet in the back seat for their 4 month old daughter in the "48. 24 hours later they arrived back in Portland moved to North East 152nd to begin the rest of their lives.
The '48 was their only transportation for a few years. There were many adventures including weekend drives all over Oregon.
Jeanne, a Texan, wanted to see Oregon and it's beauty. Dennis's mom also loved riding in the Plymouth and was always ready to go with them.

When Dennis bought a new pickup, the Plymouth became Jeanne's to drive, which she drove until there was money for a newer car for her to drive.
RIGHT: Jeanne in '48 daily driver
The '48 got a well deserved rest in the family garage for a long time. Dennis had a lot of offers to sell it, but kept it because of the many memories that were made driving it.
In 1992, Lee Matthews talked Dennis into joining Haco (Historic Automobile Club of Oregon). Dennis met Lee when they worked for the Multnomah County Road Dept., where Dennis was a truck driver and Lee was a mechanic.
After joining H.A.C.O. Dennis brought the '48 out of retirement, giving it a tune up for the
many miles it would get on the 6 to 8 tours a year with the H.A.C.O. Club.
Of all the tours they went on, only once did it have to be towed home. That was on the yearly Seaview (Long View, Washington) overnight weekend tour, the '48 only made it to St.Helens.
Now that Dennis belongs to the Plymouth Club, the Plymouth gets double the mileage. In looking back through the old issues of the CPPC, I noticed a cameo of Dennis and Jeanne '48 at the first meeting.
Dennis and Jeanne have 3 married children and 6 grandkids that live in Texas. They married Texan. There fourth child, Travis has been on a lot of tours. He started touring
when he was 8 years old. He still gets out with his parents in-between being a full time college student, getting his Eagle Scout and now is an assistant Scoutmaster.

Dennis , Travis and Jeanne Mowery and their '48 Plymouth on the CPPC Bridge Tour Linn and Marion Counties.