1942 Plymouth P14C Staff Car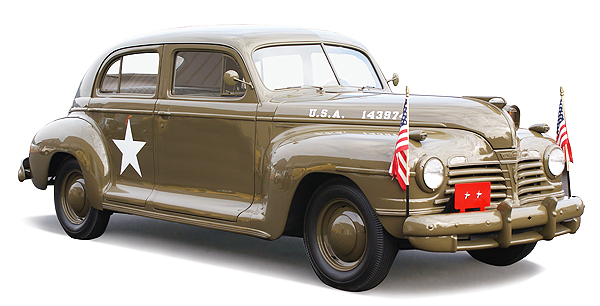 Bill Call's 1942 Plymouth Staff Car

(EDITOR'S NOTE: It's not uncommon to see "former military staff cars" for sale or on display. Some of them may be authentic, but frequently owners get overwhelmed by the cost of rechroming and restoring, and take the easy way out by putting olive drab paint on body and trim, slapping some numbers and insignia on, and inventing a military background for their vehicle. This car, however, is the real deal: its history is documented; every nut, bolt and washer meets Plymouth specs for 1942; and the car conforms to all military regulations in effect at the time it was in service. Lloyd White is, frankly, a fanatic on military authenticity; and it doesn't appear that Paul Taylor has ever missed a lick on a Plymouth restoration. It is a labor of love for both of them; they put an ungodly number of hours into this car; and it is literally without equal.)
Bill Call's 1942 Plymouth Staff Car is triple-rare.
First, all 1942 Plymouths are rare. Car production stopped in mid-February of that year, as factories were converted for the World War II effort.
Second, this car is a P14C model – the Town Sedan body appeared only in 1942 in Plymouth, and it wasn't as popular as the familiar 7-window suicide-door Special Deluxe.
Plymouth built 5,821 Town Sedans. Five are known to exist; two are operational, and this is one of them.
Third, eight P14Cs became military staff cars; only one has ever been restored, and this is it!
Lloyd White, a collector of military vehicles, recognized the rarity of this car, and bought it sight-unseen from an Arizona junkyard in 1980. Lloyd made three trips to the National Archives in Washington, D.C., to learn the entire history of the car. He eventually teamed up with Paul Taylor, a member of Cascade Pacific Plymouth Club, for a nut-and-bolt restoration that honors all Plymouth specifications as well as the military regulations in effect in 1945, when the P14C got a new engine. The restoration process took 12 years.
Due to Lloyd's resourcefulness and persistence as a researcher, quite a bit is known about this car. It was built on January 29, 1942. By that time, all chromium and stainless steel was going to the war effort, and these late production cars, known as "blackout" models, had painted trim and bumpers. The trim moldings had different contours, and even the door handles were slightly different from the cars produced earlier in the model year.
The P14C found its way to the Smith Golden dealership in Glendale, California. In mid-February, 1942, new car inventories were frozen, and civilians without signed purchase orders were out of luck. The Town Sedan got its coat of olive drab paint, and was placed at the San Francisco Ordnance Depot.

The Army didn't get keep track of where its cars went, but Lloyd knows that the original engine was replaced by a T207 truck engine in 1945 – replacing an engine required less downtime for the vehicle than overhauling the original engine. It was sold as surplus on June 12, 1950; subsequently wrecked and abandoned, ending up in the Arizona wrecking yard where Lloyd found it.
The shop that began restoration on the P14C went out of business, and Lloyd gave the car to Paul Taylor, a Cascade Pacific Plymouth Club member who lived in Portland at the time, for completion.

Paul can document 1,181 hours in the restoration – not including 201 hours of interior and upholstery work, and not counting the time Paul put into rebuilding the generator, the starter, and other small components. Portlander Roy Moyer and his wife replaced upholstery, door covers and headliner with original materials, and Hunley Acuff, Roswell, GA, provided the re-molded rubber sill plates.
"Blackout" means something different in the military than it did in the car business in 1942, and Lloyd fitted authentic blackout headlamps that made the car visible to ground traffic, but could not be observed from patrolling aircraft.
The only problem with this car is that the paint looks so good. Some of the GI paintjobs looked like they had been done with a broom, and they were done with whatever semigloss paint could be purchased in quantity. Color was not necessarily consistent, and quality was seldom a concern. Observers over the years have commented that this Plymouth's glossy paint job is too nice to be authentic.
Lloyd has an answer to that: by 1945, when the P14C's engine was replaced, regulations permitted glossy paint on cars that needed repainting. He supplied a copy of that regulation for the scrapbook that goes with the car. If the car had needed repainting at the time the new engine was swapped in, it could have been painted in glossy olive drab. So hypothetically, the painstaking paint job on this car is regulation.
Bill Call purchased the staff car in 2002, and, in 2003, had it shipped to Plymouth, MA, then drove it on the Plymouth Owners Club West-to-East Tour, ending up in Newport, OR. The only problem on the road was a water pump failure – we tend to forget in this day and age that those items required lubrication every 1,000 miles.
The NAPA store in Auburn, Indiana, had the correct water pump on the shelf. After a quick parking lot swap-out by a couple of handy POC members, the staff car went the rest of the way to Newport without missing a beat.