1948 Plymouth P-15 Convertible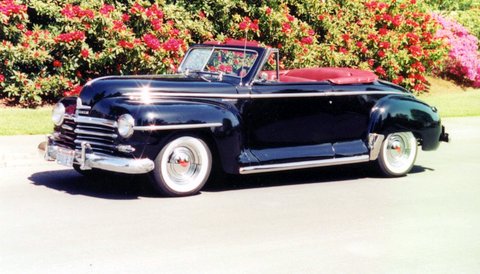 Gerry and Kena Petersen's 1948 Plymouth Special Deluxe Convertible
This classic hot rod is on its second set of CPPC owners. The first CPPC owner bought it about 20 years ago at the Portland Swap Meet. Some updates had been made ... including a rebuilt 230 cu. in. 1952 Dodge engine.
He made several changes over the years for handling and appearance. Most stainless was replaced, and chrome wheels and radial tires made it more comfortable to drive at highway speeds. The addition of an overdrive with [CPPC member] Les Connor's help is a major improvement too!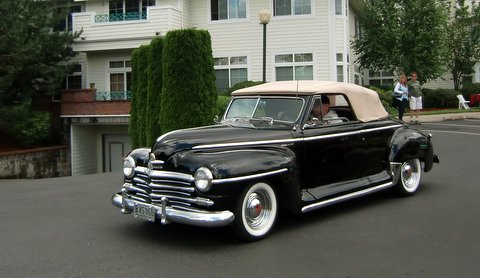 Returning to old-school hot rod roots, the car got an Edmunds water heated dual intake and an Edmunds high compression head. The exhaust manifold was split and dual Smithy's make the appropriate "tunes."
In convertibles, the dashboard is body color ... in this car, it was a very poor red, remnant of a prior body color. It was stripped and primed, and [CPPC member] Lauren Matley painted a (non stock) walnut-color burl woodgrain.
When the previous owner reached the age where it was difficult to work on and drive the car, Gerry and Kena Petersen were happy to adopt it and keep it in the club.