1937 Plymouth PT-50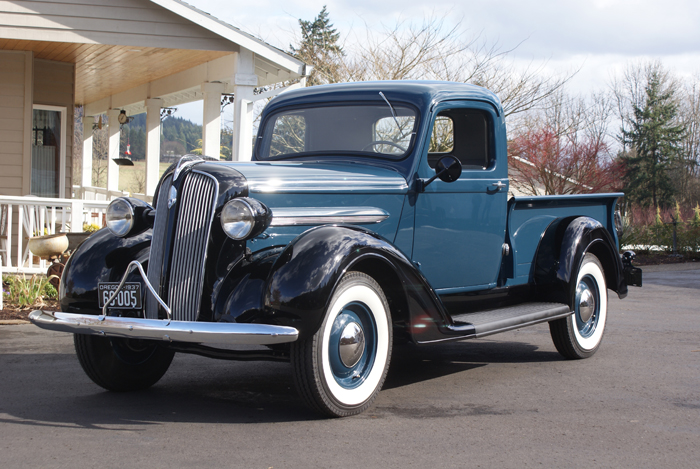 This truck was purchased in late-2009, sight-unseen, from eBay, where it was represented as having only 2,500 original miles.
The stories about the truck's early years haven't been verified. The first owner apparently used it to make deliveries from his grocery store in Perry, Oklahoma, a township of about one square mile. One informant says the truck was purchased in 1939 from the grocer's estate, and until 1968 it was on display in a Plymouth/Chrysler showroom in Oklahoma City. Papers found in the glovebox identified a previous owner, who, contacted by phone, said he had owned the truck from 1954 to 1982, and had used it in his [unsuccessful] campaign for governor of Oklahoma. Computerized records in Oklahoma, going back to 1975, identify three more recent owners.
The condition of the truck was ambiguous. Some signs pointed to very low mileage, while others – a repaint, water damage in the bed and rockers, the plastic taillight lenses – suggested a harder life. Nonetheless, it came to Portland, Oregon in 2009 wearing the brake shoes that were installed at the factory in 1937.
There's nothing ambiguous about the truck now: the current owner treated it to a frame-off restoration, and drove it home on February 23, 2012.