1942 Plymouth Special Deluxe Business Coupe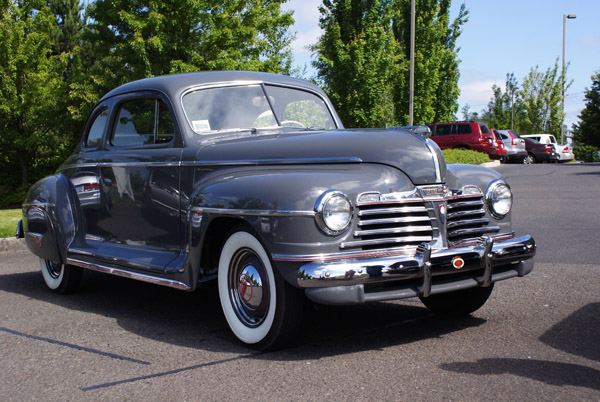 The 1942 Plymouth was almost an entirely new car over the 1941 models. A box perimeter frame replaced the old X-chassis. The engine displacement grew from 201.3 cubic inches to 217.8, and horsepower went from 84 to 95. Sleek new doors concealed the running boards for the first time.
Not many people got to see it, because World War II got in the way. Production of the 1942s, which began as usual in summer of 1941, ended on January 31, 1942, and cars that didn't have signed sales orders were impounded for military use. Plymouth made 124,782 cars in its short 1942 run, compared to 545,811 cars sold in 1941.
1942 models varied as as strategic materials were appropriated for the war effort. Production started in July of 1941, with cars like this one. As materials became strategically important to the war effort, chromium was the first to go, and stainless steel went away shortly afterwards – shiny trim was first abbreviated, and then dropped altogether. Brightwork was replaced with painted metal, clear down to the hubcaps, and the later cars were known "blackout" models.