CPPC Activities, 2022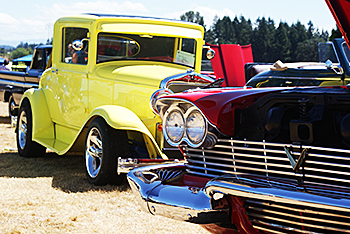 We're gradually putting together a calendar of activities as COVID restrictions ease.
Check back here frequently. We can't plan the year in advance, so we're making it up as we go along.
To refresh your memory, look at our Website PICTURES page and review photos and stories about our past club activities.
_________________________________________________________________


WE'RE MEETING LIVE AGAIN!
Regular Membership Meetings: 4th Tuesday of each month
at the Clackamas Community Club,
15711 SE 90th, Clackamas, OR,
6:30PM Socialize & Kick the Tires,
Meeting begins at 7:00PM

Email us at this link for an invitation if you would
prefer to attend by Zoom.
---
June, 2022

June 18, 2022 (Saturday) Cruise-In Down By the Riverside, Clackamette Park, Oregon City, Oregon
After a two-year COVID-hiatus, CPPC will be back in the park with our annual car show/cruise-in. Planning will accommodate any COVID restrictions in effect at the time. We'll be adding details as planning gets underway.
Tigard Balloon Festival Car Show - June 26th – Tigard Balloon Festival Car Show - June 26th – A big event with lots of cars as well as hot-air balloons, and past attendees say it's well-managed and traffic frustrations are minimal. If we go together, we can park together.
July, 2022
Rust-O-Rama, Salem - July 16th – The place is the Oregon State Faigrounds, the host club is the Cherry Bombers from Salem. A google search for Rust-O-Rama will get you to their Facebook page for info.
Forest Grove Concours d'Elegance - July 17 (Sunday) – The theme this year is "British Elegance," and events for car owners are planned for Friday and Saturday before the big show on Sunday. Details on forestgroveconcours.org.
37th Annual MOPAR Nationals –  July 24 (Sunday 8 am) Drag Race, Car Show & Swap Meet ~ Mopar or No Car! CPPC members have come home with trophies from this event in the past. It's another event where if we come in together, we can park together. Dave Benfield has info – get his phone number from the club roster, or download info at this link.
The Great Oregon Steam-Up — Powerland Heritage Park, Salem - July 30-31, August 6-7. Way too much going on to list here. Visit their website at this link.
August, 2022
Gladstone Car Show - (Affordable Classics) - August 7th – Old cars take over downtown Gladstone. A fun event, close to home.
Cutsforth's Car Show - August 27th – The event will be back in the park in the middle of Canby this year. Google cutsforthscruisein.com for info.
Lake Oswego Car and Boat Show - August 28th – Cars are in George Rogers Park, boats are on the lakefront. Shuttle buses run in-between. Don't miss this.
Gresham Senior Center - August 28th (CPPC & HACO) We'll have more information later.

Cascade Pacific Plymouth Club does not schedule activities
or a membership meeting in December.
---
Regular Car Events in the Portland Area
In addition to the events we list as club activities on our calendar, there are ongoing events, possibly right in your neighborhood. Jerry Dixon has created a partial list, and we'll add to it if you email the information to us.
WEEKLY

Saturdays, All year, Cascade Cars & Coffee, Saturdays, Cascade Station behind Dave's BBQ, Portland, OR
Saturdays, All year, Portland Cars & Coffee, Saturdays, Starbuck's 153rd & Sequoia Parkway, Lake Oswego, OR
Saturdays, All year, Cars 'N Coffee, Black Rock Coffee, Saturdays, 136th & Mill Plain, Vancouver, WA
Tuesdays, May to Aug, The Gathering Car Show, Tuesdays, 72nd & 4th Plain, Vancouver, WA
Tuesdays, July-August, Marketplace Cruisin' Tuesdays, Hillsboro, OR
Tuesdays, May 21st to September 10th, Hot Rod Pizza Cruise-in, 145th & McLaughlin Blvd, Portland, OR
Wednesdays, June to September, Beaches Cruise-in, PIR Portland, OR, Wednesdays
Wednesdays, June to September, Billy Bobs Endless Summer Cruise-in's, Wednesdays,Downtown Gresham, OR
Fridays, June to September, Friday Night Cruise to Aloha, OR
Fridays, July 23rd,-September 3rd, The Funny Farm Endless Summer, Fridays, 312th & Hwy 26, Boring, OR
Fridays, April to September, Lew's Drive-in, Fridays, 149th & McLaughlin Blvd, Portland, OR
Saturdays, Starting April 20th, Road Relics Summertime Cruise-in, Saturdays, Hillsboro Burgerville, OR
Saturdays, Starting April 23rd, Backroads Pub & Grub, Saturdays, 132nd & Orient Dr., Boring, OR
Sundays, Starting June 28th, Cowboy Joe's Cruise In, Sundays, 25th & 238th Dr., Wood Village, OR

Bi-WEEKLY

1st & 3rd Wed, starting June 5th, Stro's Wednesday Nite Cruise-in, Stayton, OR
2st & 4rd Sat, starting June 15th, Cruise In @ Cap'n Yoby's Drive-In, 145th & McLaughlin Blvd. Milwaukie, OR

MONTHLY

Starting May 3rd, Silverton First Friday Cruise-in



---

See more car events at www.upfrontimages.com ‐ subscribe for bulletins,
monthly listings and updates online. It's FREE.
NW Car Events Calendar
Upfront Images, LLC
P.O. Box 75662
Seattle, WA 98175