CPPC Activities, 2023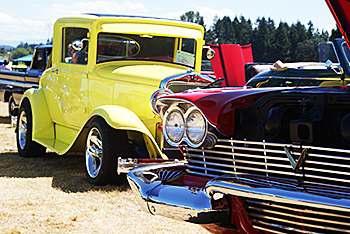 We're gradually putting together a calendar of activities as COVID restrictions ease.
Check back here frequently. We can't plan the year in advance, so we're making it up as we go along.
To refresh your memory, look at our Website PICTURES page and review photos and stories about our past club activities.
_________________________________________________________________


WE'RE MEETING LIVE AGAIN!
Regular Membership Meetings: 4th Tuesday of each month
at the Clackamas Community Club,
15711 SE 90th, Clackamas, OR,
6:30PM Socialize & Kick the Tires,
Meeting begins at 7:00PM

Email us at this link for an invitation if you would
prefer to attend by Zoom.
---
February, 2023
February 16 – Mayflower Tour, Sandy Historical Museum, Visit Jonsrud Viewpoint. Lunch at Tollgate Inn in Sandy
February 18th (Saturday) – *Jerry Dixon - Celebration of Life -1pm to 5pm at the Gateway-Gresham Elks, located at 3330 NE Division Street, Gresham OR 97030.
CANCELLED DUE TO SNOW!!! February 24th (Friday) –* Darryl Schroeder Garage Tours & Lunch Troutdale, OR. Host: Mike Bade,
March, 2023
March 3-5 (Friday-Sunday) – *17th Annual Invitational Salem Roadster Show - Oregon State Fairgrounds
March 4th (Saturday) – *SMS Fabrics, Canby, Oregon. Host: Gary Rusher
March 9 (Thursday) – Mayflower Tour, Mt. Angel Abbey tour
March 17 - 19 (Thursday-Sunday) 67th Annual Portland Roadster Show - Portland Expo Center

March 31 - April 2 (Thursday-Sunday) – *Portland Swap Meet - Host: Robin Will and the CPPC Tech Committee
April, 2023
April (tbd) – Mayflower Tour, Hoover-Minthorn House Museum in Newberg

April 22 (Saturday) – CANCELLED – DUE TO WEATHER!!! *Wooden Shoe Tulip Festival - TBA - No Tickets available until March 21, 2023

April 23 (Sunday) – The Corvallis Auto Swap Meet and 'Dust 'em Off' Car Show is Sunday at 7am, Benton County Fairgrounds.
May, 2023
May (tbd) – Mayflower Tour, Crystal Springs Rhododendron Gardens in Portland

May 13 (Saturday) – *Portland Transmission Car Show - TBA

May 21 (Sunday) – Bridge Tour of Marion County & the Oregon Gardens - Silverton, OR - Host: Randy Ealy. We'll be joining HACO (Historic Automobile Club of Oregon) in this tour. Start with an all-you-can-eat pancake breakfast ($10) with the Stayton Fire Department, 1988 W. Ida St. in Stayton, then head out to visit six covered bridges – on your own or with a group. See the map at this link. A Portland group will meet at the McDonalds near Clackamette Park in Oregon City, leaving at 8:30AM to arrive in Stayton at 9:30. Other folks are welcome to catch up along the way. Plan on a 2-hour drive to visit all of the bridges. RSVP to Randy & Pam Ealy, prealy48@gmail.com, 503-864-1111, if you can; otherwise meet us in Stayton.
June, 2023
Cruise-In Down By The Riverside – June 17, 2023 – CPPC's very own cruise-in/car show, beside the rivers in Oregon City's Clackamette Park. Expect food, car tunes on the stereo, awards, goodie bags for the first 100 cars, raffles, silent auctions,and a 50/50 jackpot at the end of the day. Proceeds will benefit scholarships for Auto Technology students at Clackamas Community College. Gates at 7:00AM, show starts at 9:00AM, and we'll start the awards ceremony at 2:00PM. Individuals or businesses wishing to sponsor awards or make a pass-through donation to our scholarship fund at CCC (donations may be tax-deductible) may inquire at this link for specifics.
July, 2023
July (tbd) – Luscher Farms in Lake Oswego
July (TBA) – *Senior Center - Sunnyside Road - Clackamas, OR - Host: Jim Wheat

July 9th (Sunday) – Woodburn Drags - Mopar Nationals Weekend - Host: Dave Benfield. As in the past we'll meet in the Tualatin Fred Meyer's parking lot on the west end of the building.  I'll be there by 06:30 with coffee and a cookie.  We'll leave there at 07:20 SHARP to caravan down I-5 to the Woodburn exit (#271).  If there are people who want to go with us, but not meet up in Tualatin, they can be at the golf course parking lot across the road from the drag strip.  Be there by 07:40, keep an eye out for us, and fall in line with our caravan.  If we get in line with our MoPARs at the drag strip gate together we stand a good chance of being able to park together. From the Woodburn Dragstrip website: Gates Open at 8:00am
Tickets: https://tickets.thefoat.com/WoodburnDragstrip/38th. Spectator Admission: $20; Sportsman, Pro, & Stick Shift, Modern Mopar Racer: $50; Car Show: $25; Swap Meet Spot: $25; Saturday Camping: $10
July 30th (Sunday) – Sunnyside Meadows, a memory care facility in Happy Valley, is hosting a barbecue for us, with the provision that we bring our cars to show the members of the facility. This event will take the place of our annual club picnic. Jim Wheat (contact info in the club roster) is arranging details.
August, 2023
August (tbd) – Mayflower Tour, Vancouver Waterfront and Officer's Row

August 5 (Saturday) – *Gladstone Car Show - Gladstone, OR

August 19 (Saturday) – Central Lion's Club Cruise-In - Independence, OR

August 26 (Saturday) – 28th Annual Cutsforth Cruise-In by the Park - Canby, OR

August 27 (Sunday) – *The 5th Annual Car Show and Fundraiser For Gresham Senior Center, Sunday 10 am to 2pm at the Gresham Senior Center - 600 NE 8th St.
September, 2023
September (tbd) – Mayflower Tour, Newell Pioneer Village in St. Paul

September 10 (Sunday) – Cruise & Cops Car Show - Gresham, OR

September 18 (Monday) – *LeMays - America's Car Museum - Tacoma, WA - Host: Mike Bade
October, 2023
October (tbd) – Mayflower Tour, Oregon Trail Museum in Oregon City

October 1 (Sunday) – The Canby Swap Meet is Sunday 8am to 2pm at the Clackamas County Fairgrounds

October 7 (Saturday) – *Tillamook Air Museum - Opens: 10:00am - Admission $11.00 - $9.50 Seniors, Tillamook Ice Cream Tour - Lunch
November 2023
November (tbd) – Zimmerman House or the Troutdale area
November 19 (Sunday) – Albany Indoor Swap Meet - Linn Fair & Expo Center - Albany, OR 97322 - 8am - 2pm

November 28 (Tuesday) – CPPC November Membership Meeting - Potluck
December, 2023
December(tbd) – Mayflowers' Holiday Lunch get together
Cars and Coffee Weekly:
Sherwood: The Portland Cars and Coffee is every Sat. at 8am at the Langers Fun Center, 21650 SW Langer Farm Parkway.

Beaches every Wednesday all summer at Portland International Raceway, see the PIR website for information.
---
---

See more car events at www.upfrontimages.com ‐ subscribe for bulletins,
monthly listings and updates online. It's FREE.
NW Car Events Calendar
Upfront Images, LLC
P.O. Box 75662
Seattle, WA 98175