CPPC Activities, 2023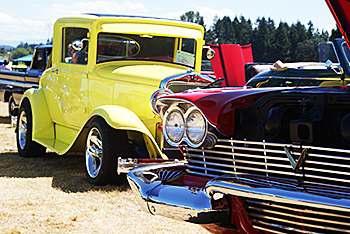 We're gradually putting together a calendar of activities as COVID restrictions ease.
Check back here frequently. We can't plan the year in advance, so we're making it up as we go along.
To refresh your memory, look at our Website PICTURES page and review photos and stories about our past club activities.
_________________________________________________________________


WE'RE MEETING LIVE AGAIN!
Regular Membership Meetings: 4th Tuesday of each month
at the Clackamas Community Club,
15711 SE 90th, Clackamas, OR,
6:30PM Socialize & Kick the Tires,
Meeting begins at 7:00PM

Email us at this link for an invitation if you would
prefer to attend by Zoom.
---
July, 2023
August, 2023
August (tbd) – Mayflower Tour, Vancouver Waterfront and Officer's Row

August 5 (Saturday) – *Gladstone Car Show - Gladstone, OR

August 19 (Saturday) – Central Lion's Club Cruise-In - Independence, OR

August 26 (Saturday) – 28th Annual Cutsforth Cruise-In by the Park - Canby, OR

August 27 (Sunday) – *The 5th Annual Car Show and Fundraiser For Gresham Senior Center, Sunday 10 am to 2pm at the Gresham Senior Center - 600 NE 8th St.
September, 2023
September (tbd) – Mayflower Tour, Newell Pioneer Village in St. Paul

September 10 (Sunday) – Cruise & Cops Car Show - Gresham, OR

September 18 (Monday) – *LeMays - America's Car Museum - Tacoma, WA - Host: Mike Bade
October, 2023
October (tbd) – Mayflower Tour, Oregon Trail Museum in Oregon City

October 1 (Sunday) – The Canby Swap Meet is Sunday 8am to 2pm at the Clackamas County Fairgrounds

October 7 (Saturday) – *Tillamook Air Museum - Opens: 10:00am - Admission $11.00 - $9.50 Seniors, Tillamook Ice Cream Tour - Lunch
November 2023
November (tbd) – Zimmerman House or the Troutdale area
November 19 (Sunday) – Albany Indoor Swap Meet - Linn Fair & Expo Center - Albany, OR 97322 - 8am - 2pm

November 28 (Tuesday) – CPPC November Membership Meeting - Potluck
December, 2023
December(tbd) – Mayflowers' Holiday Lunch get together
Cars and Coffee Weekly:
Sherwood: The Portland Cars and Coffee is every Sat. at 8am at the Langers Fun Center, 21650 SW Langer Farm Parkway.

Beaches every Wednesday all summer at Portland International Raceway, see the PIR website for information.
---
---

See more car events at www.upfrontimages.com ‐ subscribe for bulletins,
monthly listings and updates online. It's FREE.
NW Car Events Calendar
Upfront Images, LLC
P.O. Box 75662
Seattle, WA 98175