CPPC Activities, 2021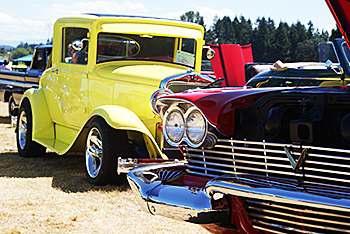 We're gradually putting together a calendar of activities as COVID restrictions ease.
Check back here frequently. We can't plan the year in advance, so we're making it up as we go along.
To refresh your memory, look at our Website PICTURES page and review photos and stories about our past club activities.
_________________________________________________________________

We're having good luck meeting via Zoom
for our regular fourth-Tuesday meetings.
Email us at this link for an invitation if you can join us!
Regular Membership Meetings: 4th Tuesday of each month
at the Clackamas Community Club,
15711 SE 90th, Clackamas, OR,
6:30PM Socialize & Kick the Tires, Meeting begins at 7:00PM
---
April, 2021

April 17 (Saturday) – Wooden Shoe Tulip Festival, Woodburn, Oregon, jointly with Studebaker Drivers' Club - NW.
Wooden Shoe tours are always contingent on springtime weather, but things look good for April 17. COVID restrictions and social distancing still apply. Participants must agree to stay at the farm from 10:00AM-2:00PM in order to quality for the heavily discounted admission, and tickets must be purchased online in advance. It's all explained in a flyer you can download at this link.
Please RSVP to Mike Bade when you have your tickets, or contact him for information in advance at mdscbade@msn.com.

Cascade Pacific Plymouth Club does not schedule activities
or a membership meeting in December.
---
Regular Car Events in the Portland Area
In addition to the events we list as club activities on our calendar, there are ongoing events, possibly right in your neighborhood. Jerry Dixon has created a partial list, and we'll add to it if you email the information to us.
WEEKLY

Saturdays, All year, Cascade Cars & Coffee, Saturdays, Cascade Station behind Dave's BBQ, Portland, OR
Saturdays, All year, Portland Cars & Coffee, Saturdays, Starbuck's 153rd & Sequoia Parkway, Lake Oswego, OR
Saturdays, All year, Cars 'N Coffee, Black Rock Coffee, Saturdays, 136th & Mill Plain, Vancouver, WA
Tuesdays, May to Aug, The Gathering Car Show, Tuesdays, 72nd & 4th Plain, Vancouver, WA
Tuesdays, July-August, Marketplace Cruisin' Tuesdays, Hillsboro, OR
Tuesdays, May 21st to September 10th, Hot Rod Pizza Cruise-in, 145th & McLaughlin Blvd, Portland, OR
Wednesdays, June to September, Beaches Cruise-in, PIR Portland, OR, Wednesdays
Wednesdays, June to September, Billy Bobs Endless Summer Cruise-in's, Wednesdays,Downtown Gresham, OR
Fridays, June to September, Friday Night Cruise to Aloha, OR
Fridays, July 23rd,-September 3rd, The Funny Farm Endless Summer, Fridays, 312th & Hwy 26, Boring, OR
Fridays, April to September, Lew's Drive-in, Fridays, 149th & McLaughlin Blvd, Portland, OR
Saturdays, Starting April 20th, Road Relics Summertime Cruise-in, Saturdays, Hillsboro Burgerville, OR
Saturdays, Starting April 23rd, Backroads Pub & Grub, Saturdays, 132nd & Orient Dr., Boring, OR
Sundays, Starting June 28th, Cowboy Joe's Cruise In, Sundays, 25th & 238th Dr., Wood Village, OR

Bi-WEEKLY

1st & 3rd Wed, starting June 5th, Stro's Wednesday Nite Cruise-in, Stayton, OR
2st & 4rd Sat, starting June 15th, Cruise In @ Cap'n Yoby's Drive-In, 145th & McLaughlin Blvd. Milwaukie, OR

MONTHLY

Starting May 3rd, Silverton First Friday Cruise-in



---

See more car events at www.upfrontimages.com ‐ subscribe for bulletins,
monthly listings and updates online. It's FREE.
NW Car Events Calendar
Upfront Images, LLC
P.O. Box 75662
Seattle, WA 98175