Advertising
Ads also appear in the CPPC newsletter. Ads for Plymouth-related products and services are free irrespective of club membership, although donations are welcomed to help us offset the related expenses. We may edit your ad to fit, or refuse to run it, at our discretion.
---
WANTED - 1946, 1947 or 1948 Plymouth Rolling Chassis (Prefer 1948) Contact: Steve Heaton - Cell - 503-849-7926 or e-mail -  heatonsd@yahoo.com 
---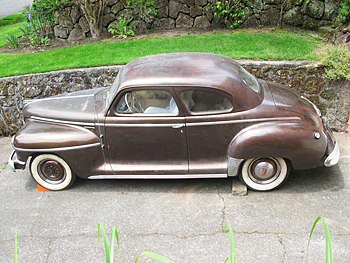 1942 Plymouth Coupe for sale. Runs and drives. Rebuilt brake system. Original interior. $5,900, obo. 503-452-3989, grancoupe1970@hotmail.com
Click on photo to see a larger version.
---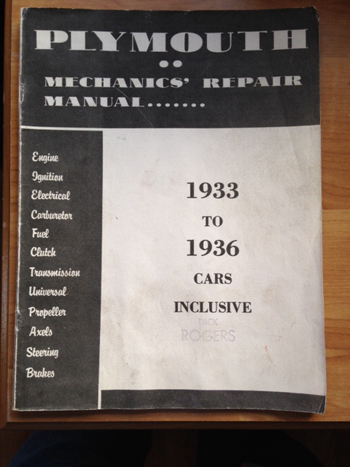 Available on CD, a 59 page repair manual for 33-36 Plymouth. $10. Bob. 360 549 6542.
---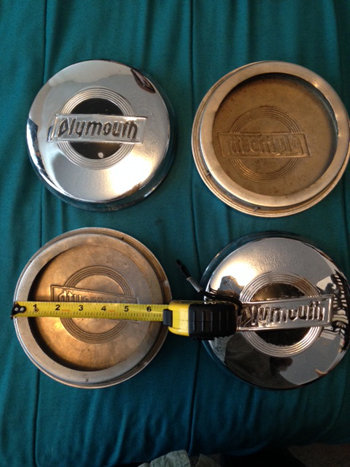 Hubcaps – Selling these for an acquaintance. Diameter 6 1/2" at clips. $100. Contact me at 360 549 6542. Bob
Click on picture to see larger vrsion.
---
Wanted – 1955-59 Ply/Dodge 230 CID engine. Also period speed parts. Complete pair of sidemount fenders for a 1934 Plymouth PE Deluxe Coupe. 2bbl intake manifold. Bill Zesbaugh, 253-627-7877
---
License Plates
CPPC has a variety of antique license plates, mostly from Oregon. They were donated to the club. Condition and prices vary. List will be updated as items are sold.
Phone Jerry Dixon at 360.607.7628 for specifics.

Oregon
      Year      Qua.        
 1.   1927   one single
 2.   1929   one single
 3.   1931   one pair
 4.   1932   one single
 5.   1933   three singles
 9.   1933   two pairs
10.  1936   two singles
12.  1936   one pair
13.  1939   one single
14.  1941   four singles
18.  1941   one pair
19.  1942   one single
20.  1942   one pair
21.  1946   two singles
23.  1947   two singles
27.  1947   three pairs
28.  1948   two singles
31.  1948   three pairs
33.  1949   three pairs
36.  1950   one single
37.  1954   one single
38.  1958   one sinlge

California       
39.  1963   one single
Colorado
40.  1976   one single
Idaho
41.  1955   one pair
Minnesota
42.  19?    one pair
Missouri
43.  1939   one single
New Mexico
44.  1937   one single
Pennsylvania
45.  19?     one single
46.  1936   one single
Texas
47.  1941   one single
Wisconsin
48.  1931   one single
---
1941 Plymouth Coupe for sale. Disassembled complete coupe. Fresh motor, clutch, and transmission. Rusty floors. Parts are boxed. Located in Brush Prairie, WA. Best offer. Contact: Jerry Dixon 360 607-7628
---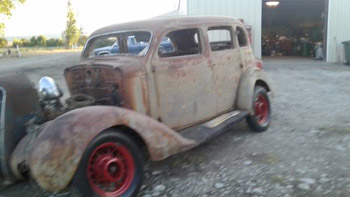 For sale 1935 Plymouth PJ Delux project, clean Washington title and lots of other parts not shown. Car is in Omak Wa. $2000 OBO trades gladly considered. Please call Hal for details 509 740 1750
---
BUMPER WINGS/TIPS for a 1941 Plymouth Woodie that my husband restored years ago. As far as I know, they are original and have probably been rechromed. Set of 4, $375.00. Ann, Capistrano Beach, CA. (949) 496-1076, cell 949-310-5876.
---
For Sale 1950 Plymouth 4 door with original engine.Car is in Bend OR. Owner is asking $1100.00 Contact Neal Ehlen for more info.,1-541-593-9974
---
1974 Plymouth Duster. It has had one owner since it was restored two years ago and has been well cared for. The Duster was a complete restoration, from top to bottom. It was painted the same factory color of Rally Red with black side stripes. The 225 super slant six and 904 automatic transmission are original to the car and have been rebuilt. The engine has had 3,500 miles put on it since it was restored. All of the suspension components are new. On the inside of the car, completely new upholstery was installed, including the bucket seats, carpet, headliner, and door panels. The back seat folds down for more storage space (space saver package). The car has heating and air conditioning, cruise control, power steering, power brakes, bluetooth stereo, and a floor shifter. Includes complete photo documentation of the restoration, from beginning to end. Contact Annie at 1-541-296-2094 or annie@gorgetrailers.com.
---
1931 Chrysler CM6 rumbleseat coupe. It is a solid Texas car with no rust except in the rumbleseat floor. It has the original engine and chassis except modified to 12 Volt. I am asking $14,000. Don, 503-746-4050.
---
WANTED – 1935 Plymouth bellhousing. Bill, 253-627-7877.
---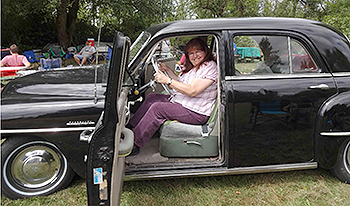 1951 4-door Plymouth Cranbrook, Black, paint in fair condition. Freshly powder-coated sun visor ready to install. 12-volt, Brakes have just been overhauled. New white wall tires. Needs seat covers. Second owner. Can be a daily driver. Asking $3000. Gerry Petersen, Yacolt, WA. 360-686-8007 or 360-921-2791, klj1865@hotmail.com
---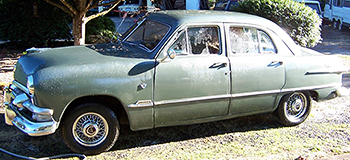 1951 Ford Custom 4-door, Green exterior, powder-coated green wheels, Runs good, hasn't been driven in a couple years. Flat-head V8, Fordamatic. Good tires, new repro hubcaps, new fuel pump, nice interior, $2500 worth of fresh chrome on bumper and grill. Asking $5500. Gerry Petersen, Yacolt, WA. 360-686-8007, 360-921-2791, klj1865@hotmail.com
---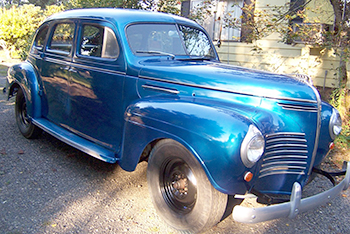 1940 4-door Plymouth Standard, Beautiful electric blue paint. '53 Dodge motor with O/D, Has an authentic red rubber steering wheel almost fully restored. Needs seat covers and door panels redone. Brakes have just been overhauled, new front mat and running board covers, still in the box, 4 new wide white wall tires, new hand brake band, and new headliner already installed. Asking $5500. Gerry Petersen, Yacolt, WA. 360-686-8007 or 360-921-2791, klj1865@hotmail.com
---
WANTED – Good used cylinder head for a 1934 Plymouth 201 CID engine. Bill, 253-627-7877.
---
---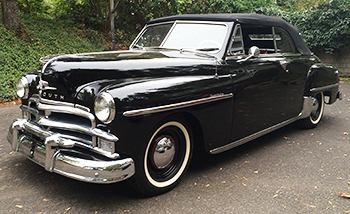 I'm selling two completely restored Plymouth convertibles. 1950 black with standard transmission and 1953 red with overdrive transmission. Hoping for local sale as I would be happy to maintain these cars. 1950 asking $25,000.
1953 asking $27,000.
Call Doug at 503-913-5093.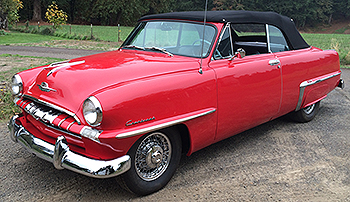 ---
___________________________________________________________________
For Sale, New Plymouth Seat Covers, (1) set fits 1949-1952 Plymouth 2-door sedan club coupe or ? $50.00 firm. Call Don Hufschmid - 503-577-7899
__________________________________________________________________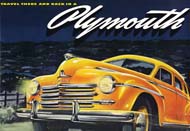 BROCHURE ART & PHOTOS – I have Plymouth brochures from 1932 to 1955, and am constantly adding to my collection. I scan the images, clean them up in Photoshop, and print them poster-size. Click on the picture to see what I have available right now, or contact me if you have a custom project in mind. Talk is free -- there's no charge until I produce something that you like. See what's available at www.raindogeditorial com, or contact Robin Will, honcho@raindogeditorial.com.

___________________________________________________________________