July 30, 2023 – CPPC Annual Picnic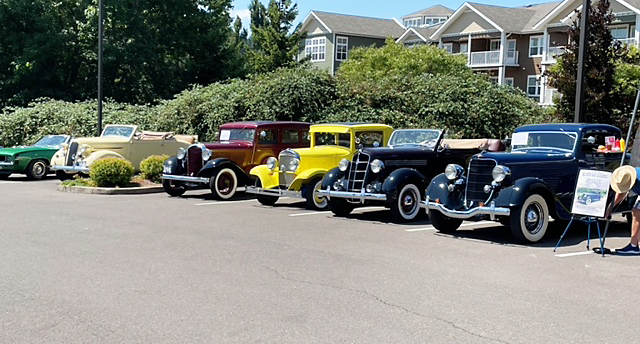 By Jim Wheat
The annual CPPC Picnic held at SunnysideMemory Center on July 30 was
a great success, the weather was perfectand we had 27 cars participating.
Sunnysidewent all out on providing the food, barbecue ribs, shrimp, hot dogs,
drinks, snow cones among other great dishes and live music.
Residents of the facility and their families were encouraged to vote on their favorite cars. The winners received a $50 gift certificate and a gift basket. Jay and Nikki Booher continued their winning streak with their '65 Valiant convertible. Bill and Carla Barnell from HACO won with their beautiful 1956 Studebaker, Dell
and Patti King's 1966 Chevy C20 Pickup was another winner.
Gary Rusher had his 1967 Plymouth Fury at the show, the first show for the Fury since be bought the car in 2008.
Congratulations are also in order for Joanne Dixon on the first time driving her '67 Barracuda, you did great Joanne. A special thank you is also in order to Gena Leland, Activities Director and her great staff at Sunnyside Meadows for making our picnic a great, fun event.
Click on the picture or on this link to see a gallery of photos by Mike Bade and Jim
Wheat.
---
July 17, 2023 – Mayflowers visit Luscher Farms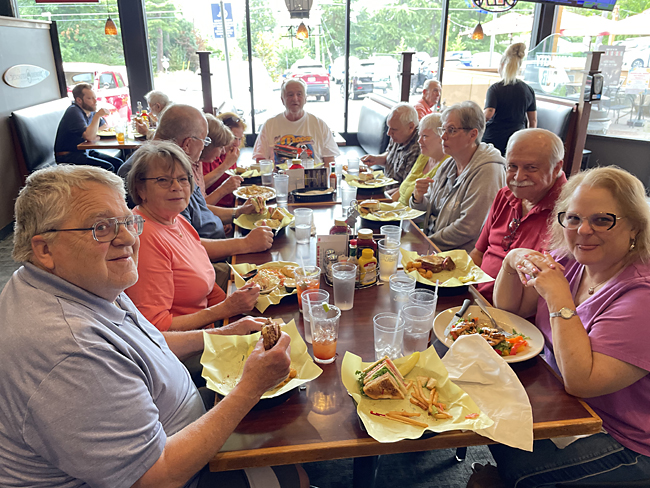 By Mindy Benfield
On Monday, July17, the Mayflowers visited the Luscher Farm in West Linn. The Rogerson Clematis Garden is a big part of the farm. There is always something blooming in the garden and this trip did not disappoint!
There are over 1900 plants representing 860 varieties of Clematis growing on the farm. Volunteers do all of the plant maintenance. There are 14 distinct gardens that wrap around the historic Luscher Farmhouse.
After we were finished enjoying the gardens we drove a few miles east to the Linn City Pub where we had a delicious lunch and great conversation.
Next month we plan on going to Vancouver WA to visit the Pearson Air Museum and Officers Row in the Fort Vancouver area. More information about that will be available in the coming weeks.
---
July 9, 2023 – Mopar Nationals in Woodburn, Oregon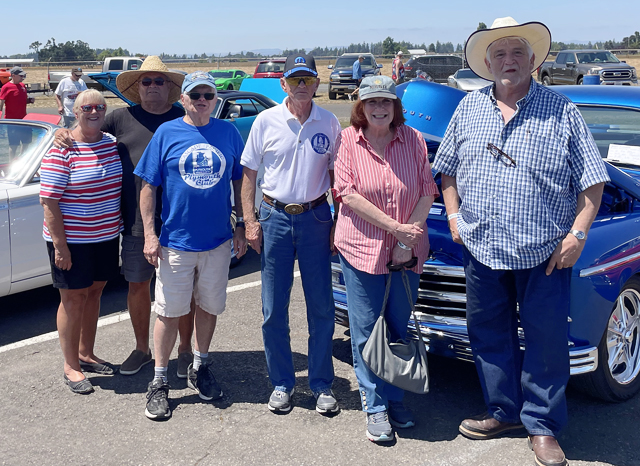 By Sitz Sackowitz
On July 9th several CPPC members attended the Cruzin/Car Show portion of the event. The MoPAR Nationals is a drag race, small swap meet and judged cruzin car show.
And "It's MoPAR Or No Car!" Dave and Mindy Benfield hosted and 6 other CPPCers with their old cars met at 2 different locations and drove in together. Mark Childs drove his '67 Plymouth Satellite, Steve Herman drove his '37 rumble seat Roadster, Jim Wheat drove his '26 Dodge coupe, Jake Higginbotham drove his '49 Plymouth business coupe, Jay and Nikki Booher drove their '65 Valiant convertible, and Dave and Mindy Benfield drove their '63 Valiant convertible.
Our '63 got 2nd place in the "A-Body Stock Plymouth" and Jim's '26 got 2nd place in the "Mopar related" category. Jake's '49 got 1st place in the "Pre 50's" category and Jay and Nikki's '65 Valiant got 2nd place in the "Convertible" category.
4 awards for CPPCers!
The swap meet portion appears to be fizzling out....there was only 8 or 10 booths. However, the turn out of cool MoPAR and MoPAR related vehicles was stellar! The Drag Racing was very impressive also. Some of those 3rd gen HEMIs are insanely fast. A great time was had by all, the weather was perfect, and I for one am planning to do it again next year.
Click on the picture above or on this link to see the rest of the Mopar Nationals pictures.
---
June 17, 2023 – Cruise-In Down By the Riverside
By Randy Ealy
Click on either picture or follow this link to see a gallery of photos from the event.
Thanks to John Cooper and his committee for a very successful Down by the Riverside Car Show.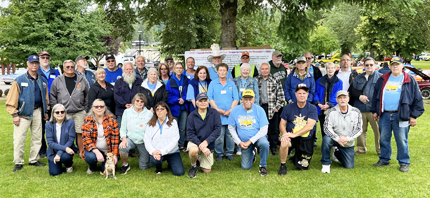 One day makes a big difference in the weather as the rains stayed away till Sunday. We had 205 paying cars on Saturday with 67 of those preregistered. The Plymouth Club had 34 members there to help put on a great show. Most of them brought their cars to show.  The raffle and silent auction brought in record sales.
As always, thanks to Donna Bade and Joanne Dixon for bringing in those items.
CPPC sent $1750.00 to the Clackamas Community College Automotive Program.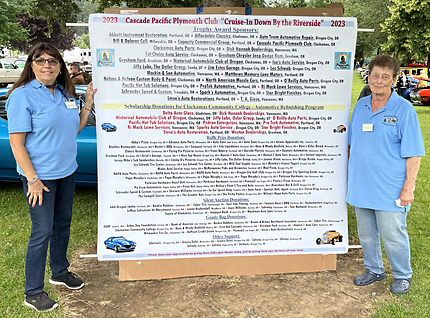 The track team helped park cars and they received $500. The club netted over $4500.
Thirty trophies were handed out and here are the major winners:
Best of Show winners Keith & Julie Wolfard brought a 1950 Oldsmobile convertible.
Peoples Choice winner Dennis Pollock had a 1972 Chevy El Camino S.S.
Mayflower Award went to Jack Long and his 1966 Chevy C-10 Pick up
Host Car went to Jake Higginbotham and his 1949 Plymouth 2dr Coupe. He is starting to rack up awards since the restoration so congrats .

Long Distance Award went to Craig Sines with his 1955 C 10 GMC Pickup from Lewiston Idaho
Again thanks to John Cooper and his committee for the best car show in Oregon.
---
May 25, 2023 – Mayflowers visit the Crystal Springs Rhododendron Garden
By Mindy Benfield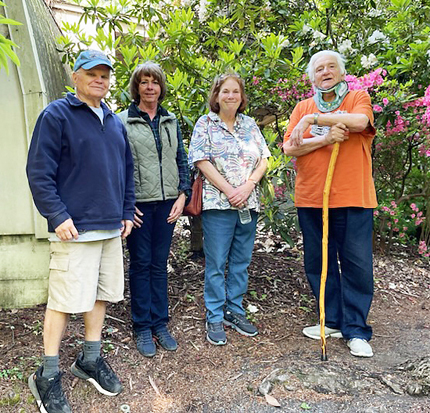 On May 25th, the Mayflowers visited the Crystal Springs Rhododendron Gardens in Southeast Portland.
The weather was perfect. We were lucky to get the second to last parking spot in the tiny lot. We were also fortunate to see a couple of Bald Eagles in the tree tops above us. There are over 100 different types of birds that frequent the park. But most impressive was the variety and quantity of rhododendrons, azaleas, other shrubs and unusual trees.
After spending a couple of very pleasant hours there we headed south of Milwaukie to have lunch outside at Coasters Brew Pub.
---
March 21, 2023 – Mid-Valley Covered Bridge Tour
CPPC and HACO teamed up for a tour of the Mid-Willamette Valley covered bridges on Sunday, March 21.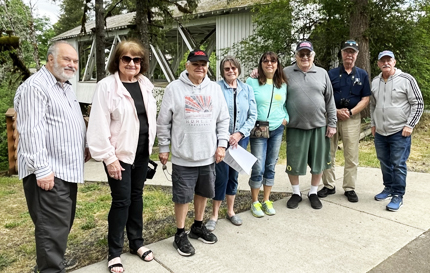 The date fit neatly with the Stayton Fire Department's biggest fundraiser of the year, an all-you-can-eat pancake breakfast, so it wasn't difficult to figure out where to begin the tour.
A Portland-oriented group began the tour at the McDonalds near Clackamette Park; other members agreeted to meet at the fire station in Stayton.
It took about two hours to drive the bridge tour route, with time out for photo opportunities along the way.
Mike Bade took some pictures, which can be viewed at this link.
---
March 9, 2023 – Mayflowers visit Mt. Angel Abbey
By Mindy Benfield
On Thursday March 9th six members of the Mayflowers met at the Mount Angel Abbey, which sits high on a hilltop with beautiful views of the Willamette Valley, the Cascades and the Pacific Coast Mountain range. Mount Angel Abbey is a Benedictine Community founded in 1882 by Swiss Monks. The Monks who live there dedicate themselves to studying, work, prayer and silence.
Our self guided walking tour took us to three of the most prominent buildings in the complex. Our first stop was the library which was rebuilt in the early 1960's. It replaced the original one that burnt down in 1926. A famous Finnish Architect, Alvar Aalto, designed it and most of the furniture, cabinets, shelving and light fixtures in the building.
Next we toured the Abbey Church which is considered the center of life on the Hill. The Romanesque style church houses two organs. The largest of the two is in the choir loft and has 2478 pipes!
Our last stop was the Abbey Museum. There is original art and many displays of 'preserved' animals, large and small. There is quite a cross section of displays of all kinds, both old and new, from many cultures.
On the way into Silverton for lunch at the Glockenspiel Restaurant and Pub, we made a quick stop at St. Mary's Church to look inside. It was built between 1910 and 1912 in the style of Gothic Revival Architecture. It is beautiful, especially with all of its stained glass windows.
Plans are underway for the next Mayflower outing. It will happen towards the end of April, so stay tuned for more information. There will be a sign up sheet at the next general meeting.
Follow this link to see more pictures from the tour.
---
March 3, 2023 – A visit to SMS Fabrics
By Gary Rusher
If you missed the Saturday tour of SMS Fabrics you missed checking out an amazing facility. But most of all you didn't get to hear the story of the beginnings of an amazing business.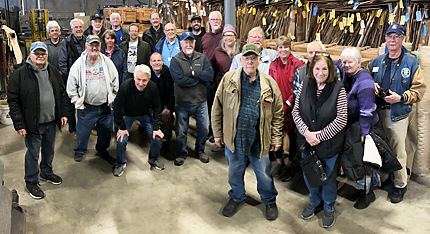 Doug started out as a co-owner operating a small auto repair business in North Portland. Some of their business was repairing cars for overseas shippers.
Soon they started asking if he could repair upholstery as well. His partner did not want to get into that so Doug started a side business at his home. Then there was the question of getting the various fabrics. Soon he found he needed to have more space and moved into a separate facility.
Two moves later and he now has a HUGE facility in Canby that has, in his words, "40 to 50 thousand" rolls of fabric. All catalogs to show the make and model of vehicle that it goes to. Yes, he has hundreds of the original fabric books from the different auto manufacturers. If they don't have it they have mills to reproduce it.
What came next was the story about how he found a man ( sorry I can't recall his name) who put together machinery that will reproduce any texture and pattern in vinyl. And then the story of how to reproduce original style door panels.
Some 20-plus members had a great outing and learned a lot about the auto fabric business. Hope you get a chance to go next time.
Follow this link or click on the picture above to see more photos by Mike Bade and D.J. Freeman.
---
November 22, 2022 – CPPC's Holiday Potluck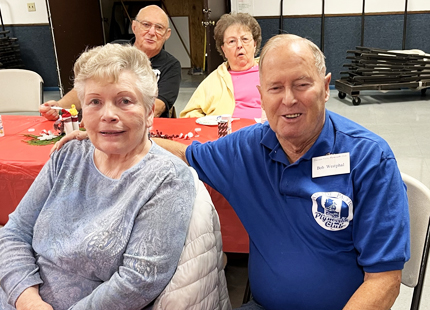 Still working our way back from COVID, CPPC enjoyed a small but hearty turnout for the traditional holiday potluck, which had been postponed for the last two years. It's an off-year in terms of election of officers, so we dispensed with the business portion of the meeting entirely, and enjoyed club-provided baked ham and potluck sides and deserts provided by members.
Donna Bade masterminded the potluck event. She bought and baked the ham, decorated the tables, made sure we had prizes, and then called Bingo to wind up the evening. Mike Bade took most of the pictures on these pages, which explains why he isn't in any of them, and Jim Wheat provided some photos as well.
This was the last official CPPC function of the year – we take December off entirely, and we'll gather again on the fourth Tuesday of January, 2023.
Follow this link or click on the picture above to see a gallery of pictures from the potluck.
---
October 22, 2022 – Dedication of the Gas Station Mural at Matthews Memory Lane
By Mike Bade
Follow this link or click on the picture at right to open a gallery of photos from the dedication at Memory Lane.
The Cascade Pacific Plymouth Club formally recognizes the transfer of the Plymouth Club Gas Station Mural to Dale Matthews Memory Lane Motors - October 22, 2022.
Here is a little Mural History: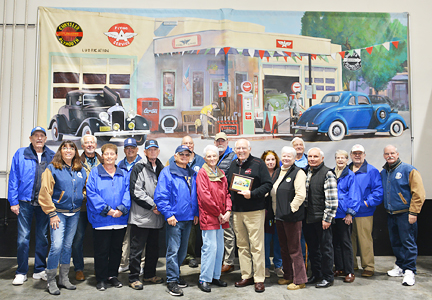 Bill and Dolores Call, instigated the formation of the Plymouth Club in late 1999. Early on he and Dolores were our biggest benefactors in our club's success. There is a story, how Bill, a Ford guy, became a Plymouth convert and became all-in for the Plymouth Club. Today the club is 22 years old and still thriving.
As one example of his dedication to the club, in 2005 Bill Call and his wife, Dolores commissioned Larry Kangas, Northwest Muralist to paint this beautiful mural for the club to use at car shows and events.
The Gladstone Vintage Gas Station, in downtown Gladstone, OR, was the inspiration or backdrop to display his new found love for Plymouths and the club he brought to life. 
Some things to know about the mural:
The Blue 1936 Plymouth in the front is one of Bill's Call's many Plymouth classic cars.
The Black and Brown 1933 Plymouth Coupe owned by Mike and Donna Bade Plymouth Club members.
In the garage is a Green 1939 Plymouth owned by John and Harriet Sweeney, Plymouth Club members.
There are many subtle hints throughout the mural:
For example the clock looks a little different than most.
There are references to the Plymouth Club and Larry Kangas, the Muralist. Photos of the mural do not give it justice, to stand in front of it is amazingly beautiful.
Since it's completion in 2005, the mural has been displayed at several Northwest Car Collector car shows in 2005 and 2006 at the Expo Center, the club participated and the Mural was part of the club's display.
At one of the early Plymouth Club Cruise-Ins, in Oregon City, one of our former Club members Bill Marble, who was an engineer, built a metal support system that allowed the Mural to be freestanding for outdoor events, so it could be used as a background for car owners attending our car show, to pose their cars in front of.
The 2010 the Plymouth Club hosted a National Plymouth Club Meet at the Monarch Hotel in Clackamas, OR. The Mural was the backdrop in the hospitality room for many photos during the week of the meet, where Plymouth owners from around the country attended.
For 12 years the Mural has not seen the light of day, safely being wrapped-up and stored in several locations. In the spring of 2022 there was concern that the Mural was suffering damage being rolled up for so long. When it was once again unrolled, it was a relief to see that it was undamaged after so many years of storage.
The Plymouth Club Board decided that it once again be displayed for everyone to enjoy.  It was decided that it should once again be displayed and that a permanent home should found.
After Plymouth Board discussions there did not seem to be to many options. The one the fact we knew was that Bill Call and Dale Matthews have had a close connection  throughout the years and that at Memory Lanes Motors would be the perfect location for all to enjoy the Mural. As you can see the Mural has found an excellent home here at Matthews Memory Lane Motors for many, many years to come.
If you did not already know, the Mural is in good company here, with other Larry Kangas Murals here at Memory Lane Motors.
On be half of the Bill Call Family and the Cascade Pacific Plymouth Club family we are proud and relieved to know that the Mural will start a new life here for all to enjoy.
---
August 13, 2022 – Mackin's Auto Body's 77th birthday party
Mackin's Auto Body sponsored CPPC's Down By the Riverside Cruise-In for the first time in 2022.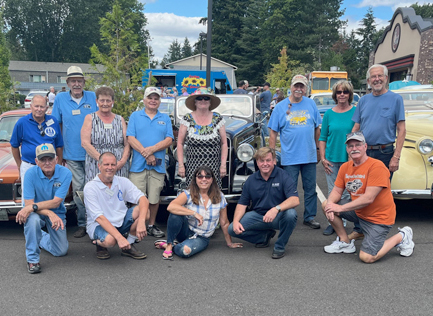 Joanne Dixon sent her customary thank-you note; Larry Mackin liked the note, and called her to invite our club to their anniversary open house.

Makin's Auto Body was celebrating 77 years in business with a Car
Event on August 13 – a show off your car event with free food and a special
guest, TV personality Chip Foose, available for autographs.

Turns out Larry Mackin is a car collector himself, with four of his cars on
display. A 1934 Ford Roadster, a 1950 Divco Milk Truck, 1937 Lincoln Zephyr
Woodie Wagon and a 1935 Chevrolet Business Coupe.
The CPPC crew had a good time, schmoozed with Chip Foose, and enjoyed
the food and the shaved-ice refreshments.
Chip Foose autographed dashboards, shirts and caps.
Mike Bade took lots of pictures. Follow this link to see the photo gallery.
---
Ten people, seven cars, four trophies at Mopar Nationals
on July 17, 2022
Click HERE or on the group image to see a gallery of Mike Bade's photos.
By Dave Benfield
CPPC members had a great time at Woodburn Drag Strip on Sunday 7-17-22 at the 37th Annual MoPAR Nationals. It's a two day event with camping, drag racing, a small swap meet, and a car show.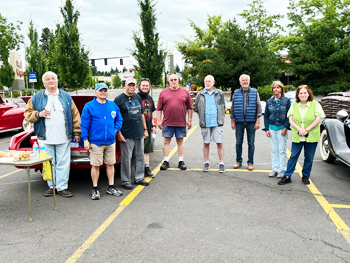 The car show is on Sunday and that's the part that we attended. 10 of us, with 7 of our old MoPARs, met at the Tualatin Fred Meyer's and caravanned down I-5 to the show.
The troop included Tom Nachand, Jerry Klinger, Jim Wheat, Mike Bade, John Cooper and guest Gabe, Rick Naranen and Susan Yates, and Mindy and Dave Benfield. We timed it well so we all got to park together at the show.
The weather was perfect and the MoPAR eye candy was fantastic. When was the last time you saw a hot rodded '57 Dodge Sweptside Pickup?
When it came time for the judging portion of the car show, four of our members won trophies. Jim Wheat won 1st place in MoPAR Related with his stock Dodge Coupe, Tom Nachand won 2nd place in A-body Stock with his Barracuda, Mike Bade won Ladies Choice with his street rod coupe, and Jerry Klinger won 2nd place in Pick Ups and Trucks with his Dodge pick up street rod.
All-in-all it was a good time and hopefully we can do it again next year.
---
Eagle Creek Lavender Farm hosts June 23 tour for CPPC
Click HERE or on the picture at right to see a gallery of Mike Bade's photos.
By Mike Bade
The tour to Eagle Creek Lavender Farm on June 23rd turned out to be pretty cool for the CPPC members who attended. Attending were: Dave & Mindy Benfield, John & Joann Weil, Rick Naranen & Susan Yates, John & Kathleen Cooper, and Mike Bade.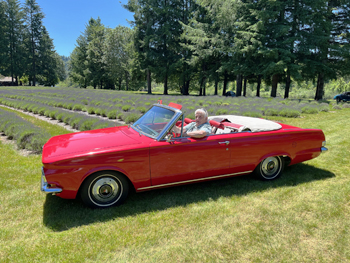 It is a special deal to tour the fields and Bill's Car Collection, as the fields are closed to the public, except by appointment only. The farm is on the banks of the Clackamas River and is a beautiful setting, which also attracts artists to paint the Lavender during the season it is in bloom.
The owner of the farm, Bill Jabs, greeted us at his huge and amazing shop for a tour of his car collection. We were treated to beautiful car after beautiful car and he share a brief story of each. Fords, Packards, A CEO Truck, cars he is restoring, a few rare ones, all in all we were left in awe of his collection.
Next, we got a tour of his wholesale Lavender Business. He ships Lavender all over the world, he makes Lavender Oil with his special Lavender extractor. Using his engineering skills, Bill also made his own Lavender harvesting machine and also manufactures the machines and sells them around the world.

If we do the tour again, you should try and join us, you will not be disappointed.
---
Cruise In Down By the Riverside, June 18, 2022
Follow this link or click on the picture at right to see our photo gallery from the event.
For starters, we didn't cruise in "down by the Riverside." Clackamette Park was too wet after persistent spring rains, and we needed to find a venue at the last minute.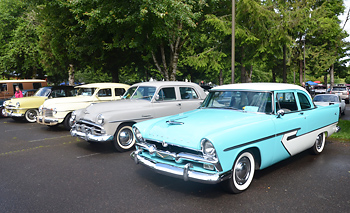 On Wednesday June 15 we learned we had to relocate the car show we had scheduled for Saturday the 18th – spring rains had left Clackamette Park too wet to park cars on the grass.
Before the end of the day, Mike Bade had gotten us into the End of the Oregon Trail Interpretive Center, a venue that was smaller, but offered pavement and shelters.
Mike and Pam Ealy hustled to make certain everybody was notified – emailing those who were pre-registered, changing the club's website and social media.
Then everybody waited to see who would show up.
We ended up with 94 cars – 55 had pre-registered, and another 39 registered the day of the show. That was 120 cars less than our 2019 total in Clackamette Park, but it was a good showing on a rainy day.
The up-side was that these folks spent about the same for raffle items as the larger 2019 crowd. The coffee and donut sales turned out about the same, and the 50/50 jackpot did better..
Award sponsors, raffle items, and donations direct to CPPC's scholarship fund exceeded what we did in 2019, even with the smaller turnout.
Attendees liked the event, and started emailing their thanks and praise the day of the show.
Randy Ealy summed it up.
"This year we received $3650.00 in sponsor donations. We gave $1000.00 to the CCC track team and $2650.00 to CCC auto department for scholarships. In January we sent $1500.00 to the college early so they could hand out the scholarships and not have to miss a year. Now we can send a check for the balance $1150. This leaves $2000.00 from the car show proceeds for the club treasury."
Follow this link to see our photo gallery from the event.
---
Portland Swap Meet, April 1-2-3, 2022
Portland Swap Meet happened on April 1-2-3 this year – the first Swap Meet in two year due to the COVID pandemic restrictions.
There were lots of vacant spaces in the parking lots and inside the halls, and the crowds were smaller than in years past.
Still, sales at the CPPC booth totaled $1171 – not the best we have ever done, and not the worst, either. If we rent four spaces for next year, it will reduce the take by $300. There will be some discussion before we decide how much of a commitment we want to make.
We handed out a lot of flyers for our June 18 cruise-in – interest seemed high.
One family renewed their membership, and one new member signed up – he seemed very interested in help he could get from the Tech Committee.
Several other folks took application forms away, apparently thinking that membership would be a good idea, and we hope we hear from them again.

in the wake of another Swap Meet, we're back to familiar discussions.
We enjoy meeting people and talking about our car club. Loading and unloading the trailer, on the other hand, gets harder every year..
Parking has always been a hassle, and traffic was extra-awful this year. Intermittently, we hear rumors that the city is going to sell the Expo Center. And each year, the people who sign up to work are a year older.
So it is worthwhile to tie up this many people over three days for $871?
We have until June to make up our collective mind about how to approach CPPC's presence at next year's Swap Meet.
Click on the picture above or follow this link to see more Swap Meet pictures.
---
Finn's Auto Restoration Tour, February 26, 2022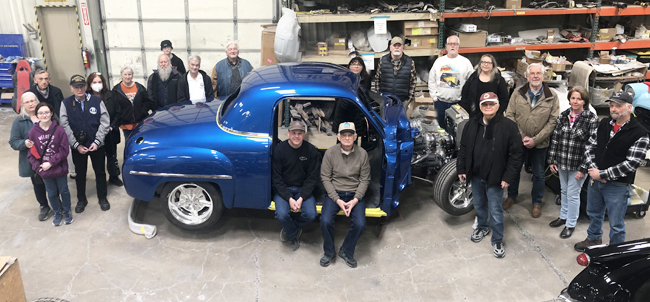 That's Denny Finn sitting next to Jake Higginbotham in the door of Jake's 1949 Plymouth Business Coupe, on the floor at Finn's Restoration & Custom shop in Woodburn, flanked by the CPPC members who came out for the February 26 tour. The friendship between Denny and Jake goes way back, and the coupe, once intended for full correct restoration, is now on its way to becoming a potent hot rod.
Denny's tour of his shop followed the process of restoring a vintage car: get the rust out, fabricate what can't be repaired, maybe custom-fit a modern drivetrain, and paint the car to perfection. The sky is the limit at Finn's – they have a portfolio of extraordinary high-dollar restorations and hot rods – but Denny stresses that he's glad to work with the hobbyist on a budget
to get necessary work done affordably.
Click on the photo above, or follow this link to see more pictures from the tour.
---
Tech Committee Trailer Inventory, Version 2.0
The second big CPPC work party at Rushers' place will be the final one – the last of the donated Swap Meet inventory was tagged and put away on July 31.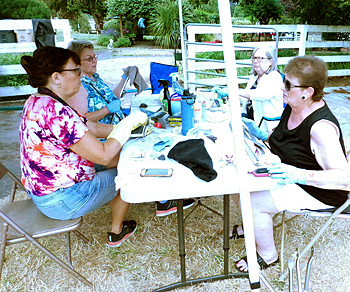 That's better than Gary Rusher and Robin Will had predicted. Both of those gentlemen thought the work was one-third done after the first session, and predicted two more work parties.
Twenty club members and friends tagged about 400 items.
Everything came out of the trailer – again. It was identified, cleaned, logged on one of Pam Ealy's clipboards, then re-packed with its location noted.
Transferring the clipboard information to a computerized spreadsheet, the Ealys came across one item they couldn't explain. "Naked lady" is all it said. They'll be checking on that when they get back to the trailer.
Maintaining this hard-won order will be a challenge, Randy Ealy concedes, the first time we start taking things out of boxes, such as at the next Swap Meet, but he's hoping something can be worked out.
Click here or on the photo above to see a gallery of pictures by Mike Bade and D.J. Freeman
---
Portland Cars & Coffee, July 3, 2021
Four members of CPPC attended the July 3rd., Portland Cars & Coffee Red, White and Blue event.
John Cooper, Jim Wheat, Susan Yates and Rick Naranen all had one thing in common, they had the oldest and most beautiful cars at the event.
Cars started lining up around 6:30 a.m. at Langer's entertainment Center in Sherwood. The ground crew did an excellent job of getting the cars in quickly and lining them up in rows of red, white and blue.
Portland Cars & Coffee is a weekly event, every Saturday, rain or shine there is a different theme, however all cars and drivers are encouraged to attend. Saturday August 7th will be MOPAR day, CPPC alone should be able to fill the featured section of the lot.
Click any picture to see a larger version.
---
Deerfield Village, Milwaukie, Oregon, June 19, 2021
On June 19th members of CPPC Club responded to a request from the Director of the Deerfield Village Assisted living Facility in Milwaukee, OR asking if we could put on a car show for the residents.
Phil Lapin and Jean Graham brought their beautifully restored 1942 Plymouth Deluxe "Mellow Yellow" for its first debut at a Show & Shine event.
It was also great to see Bob Westphal fully recovered from heart surgery driving his 1965 Plymouth Barracuda.
The weather was perfect and the facility provided coffee and doughnuts in the morning and pizza for lunch.
Thank you to everyone that attended, we had a great time visiting and listening to residents saying " I had a car like that when I was a kid and it only cost ……." The event was well received by both the faculty staff and residents. The Director asked if we could come back soon and she would put on a full blown barbecue for us, thanks again to all that attended.
Click any picture to see a larger version.
---
Tech Committee Work Party, June 5, 2021
Click here or on the picture at right to view a gallery of photos from the event.
On June 5, CPPC members celebrated getting out of the house and meeting face-to-face again after COVID – by gathering at Rushers' farm to sort car parts.
To keep the workers' strength up, the club bought hamburgers, hot dogs and cold sodas, and members brought salads and desserts.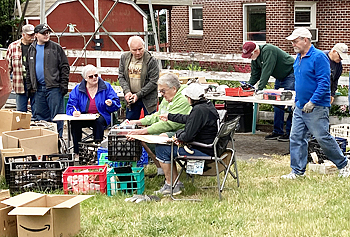 The acknowledged star of the event was Shane Cooper, who uncomplainingly hauled box after box of stuff out of the trailer, and remained agreeable while he was putting it all back at the end of the day.

his project was the brainchild of a couple of Tech Committee members who thought we could use the downtime – there was no Swap Meet for the second year running – to determine what we had in our inventory of donated stuff.
The project got extra impetus because CPPC hasn't had a traditional fundraising event in a long time. COVID-19 showed up in time to scuttle Portland Swap Meet in 2020, and and our Cruise-In Down by the Riverside tanked in 2020 for the same reason. Things didn't clear up in time to plan for early- to mid- 2021 events, so another Swap Meet and our 2021 cruise-in were likewise down the drain.

Bade and Phil Hall started selling inventory on eBay, and so far they have done better than any swap meet ever, with almost $5,000 in net sales as of press time. That's another good reason to figure out what we have, and make it presentable.
The work crew fell into a sort of organization. Pam Ealy had created spreadsheets and furnished them on giant clipboards so data entry was easy. (At the end of the day, Pam took them all home and entered them into a computer, so we have a real database about our inventory!)
Brad Hartley, who donated a lot of this material, was on hand to help identify it for the spreadsheets.
Gary Rusher guesses that the crew got through about one-third of the inventory on June 5. Everything the crew counted is back in the trailer, in labeled boxes so we don't count it again later on.
It looks as if two more of these parties, spread out between now and September while we can count on the weather, will be enough to get things sorted out, labeled, thrown away, or whatever.
We'll need to look at other organizational efforts when we get the inventory under control. Mike Bade and Phil Hall have been cleaning this stuff up and selling it online. Jim Wheat is ready to start selling as well. It would be good to find them some help – if not in actual sales, then in the run-up of sorting, identifying, and cleaning that make selling easier.
In the meantime, thanks to the June 5 crew for the productive work!
---
Wooden Shoe Tulip Festival, April 17, 2021
Click here or on the group picture to see a gallery of pictures.
This year's pilgrimage to the Wooden Shoe Tulip Festival April 17th is in the Record Books and was one of the nicest in recent memory, with temps near 80 degrees.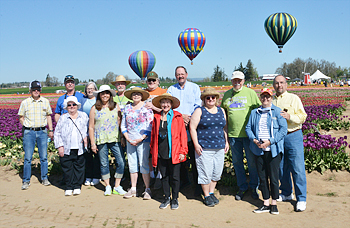 Joanne Dixon made the arrangements for the discount admission tickets for CPPC Members to get in with their Classic Cars on the cheap. For Joanne, this is one of her favorite car events of the year.
There were 20 tickets available for CPPC members. The Studbaker Drivers Club and the WPC were also invited, so there would be a big group of cars. Only 9 cars RSVP'ed and showed to morning for the drive.
Representing the CPPC were: John & Katy Cooper, DJ & Cynthia Freeman, Steve & LaDeane Heaton, Randy & Pam Ealy, Mike & Donna Bade; from the WPC were Dave & Patti Duthie and Tom & Dee Sarpola; from the Studebaker Club were Jerry and Lynn Andrews; lastly was was Martin & Linda Harding, friends of DJ Freeman. Unfortunately Jerry & Joanne Dixon had to cancel for health reasons.
The 24 mile trip is an easy drive from the Shari's Restaurant parking lot in the Oregon City Shopping center. The drive on Hwy 99E through Canby and East on Barlow Rd, the group arrived a little after 10:00 to the Tulip Festival.
The Tulips were in full bloom and the parking lots were filled with cars. Yes, the weather could not be better, but since it had not rained for several weeks, large sections were bloomed
---
CPPC visits Jerry Logan collection, October 31, 2020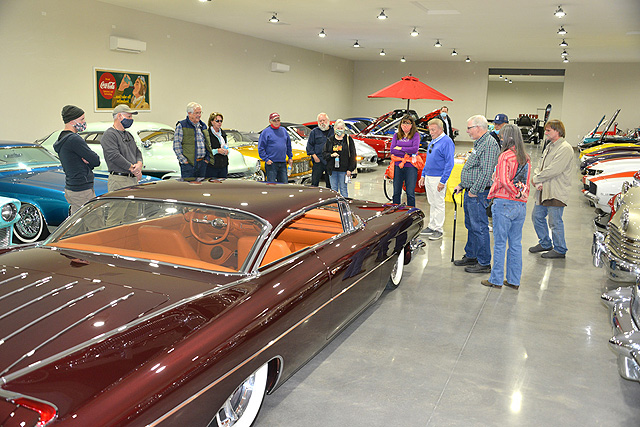 By Jim Wheat
With Covid requirements leading to the cancellation of most CPPC activities this year, we were able to squeeze in a tour of the Jerry Logan Car Collection.  On
October 31, thirty-six CPPC mask wearing members and friends gathered in Boring, Oregon to view the 100 car collection housed in Jerry's newly constructed display facility. 
The highlight of the collection was the 1960 Cadillac known as the "Copper Caddy," built by Dave Kindig-it Designs.  No expense was spared in the design and build of this amazing car.
Jerry, one of the cofounders of American Classics and Hot Rods, started collecting and customizing classic cars several years ago after selling his Portland based Bushwacker business, which produces accessories for off road vehicles.
The collection consisted of a variety of cars from Corvettes, Pace Cars and every kind of American Classic and noteworthy Customs.  A truly great American Car collection.
The four-acre property has a large grass field that Jerry can host car shows when everything is finished, so everyone can enjoy his car collection.
Click on any picture to see a bigger version. 
---
Mayflowers visit the Gordon House on March 11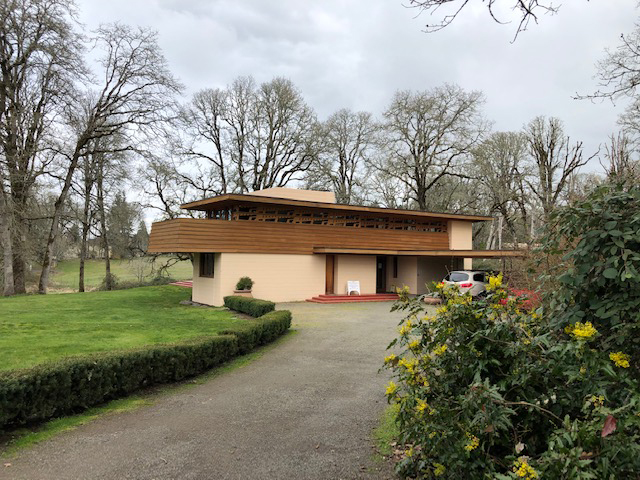 By Mindy Benfield
The Mayflower's March 11th visit to the Gordon House in Silverton, Oregon was entertaining and informative. We met for lunch at the Creekside Grill. It is always interesting to try new restaurants and this one had a nice view of Silver Creek.
After lunch we wandered around town for about a half hour, some of us looked in antique shops while others enjoyed the local park. Next we drove about a mile to the Gordon House, which is at the entrance of the Oregon Gardens. Our docent, Dick, was extremely knowledgeable about Frank Lloyd Wright and the history of the house Mr. Wright designed back in 1957. Our one hour tour extended to an hour and 45 minutes!
This was our last tour for a while. We need to suspend our tours until the Coronavirus precautions are lifted.
Click on the group photo to see a bigger version.
---
Museum of Oregon History and the Oregon City
elevator on a sunny February 19th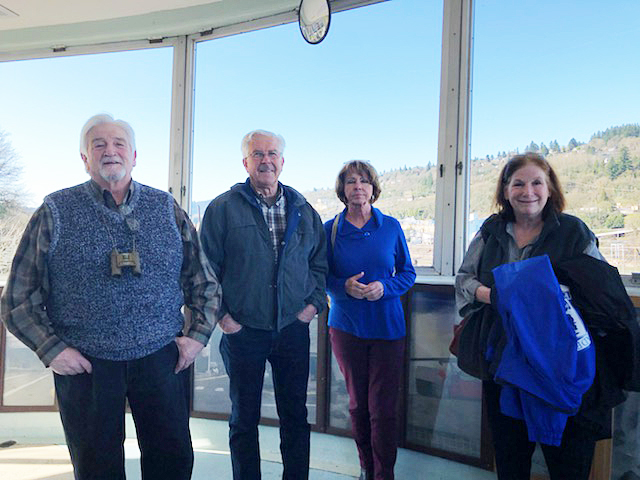 By Susan Yates
Our Mayflower tour on February 19 to the museum of Oregon Territory was a perfect day. The weather was ideal. The museum was one of the best museums to visit. We then went to the historic Oregon city elevator and afterwards we visited the many shops. Lunch at the Rivershore Inn on the river. It was a great time. Look forward to our next Mayflower tour to the Gordon house in Silverton.
Click on a photo to see a larger version.
---
February 1, 2020 – World of Speed, Wilsonville, Oregon

Follow this link to see a gallery of Mike Bade's photos
By Robin Will
On Saturday, February 1, Jim Wheat hosted a CPPC tour to World of Speed in Wilsonville.
The featured exhibit was the Ford Mustang. Some of us were underwhelmed, considering the Barracuda was introduced a full 16 days earlier, but nobody remembers that, which is sort of the point.
It was a thoughtful presentation of lots of iconic Mustangs, which we all grew up with. Some of us in the group were alive on April 17, 1964, when the first one was introduced.
This time we got a behind-the-scenes tour of the shop area. World of Speed is increasingly collaborating with local high school and community-colleges to offer their facilities and expertise to school groups, which is impressive.
Even the kids' play area was automotive-themed, with kid-sized cars that could be safely taken apart, and the kids we saw were loving it. We were happy to see that WOS starts 'em early.
WOS constantly rotates their exhibits, and has access to other high-profile collections, so they never seem to repeat themselves; and their volunteer guides are fun and extremely knowledgeable. World of Speed is a good time, every time.
---
January 31, 2020 – Grand Opening of the New Auto Shop Facility
at Clackamas Community College
By Robin Will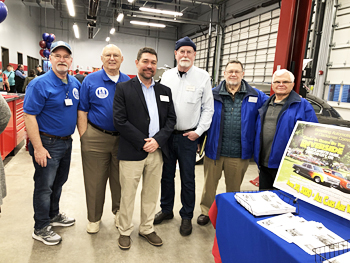 On January 31, Clackamas Community College held a Grand Opening for their newly-expanded automatve facility. Because of our support for their scholarship fund, CPPC was invited to set up an informational table and join in the celebration.
We were the only car club invited to the event.
Mike Bade, Gary Rusher, Robin Will, Phil Lapin and Jim Wheat managed to get in the picture with an unidentified CCC faculty member (right); David and Valerie Martin attended but missed the photoshoot.
It's difficult to overstate what this expansion means to the college, and, of course, to the students; and aside from the usual dignitaries, it was impressive to note how many businesses were represented, hoping to find employees.
Highlight of the evening was meeting the most recent recipient of the Cascade Pacific Plymouth Club scholarship, a young woman who wept as she thanked us for for the opportunity. Our scholarship made it possible for her to go to school this term.
That makes things very real. I think we all choked up just a little.
Follow this link to see a gallery of Mike Bade's pictures.
---
August 31, 2019 – Show & Shine at
Columbia Gorge Interpretive Center
Follow this link to see a gallery of pictures from the Stevenson show.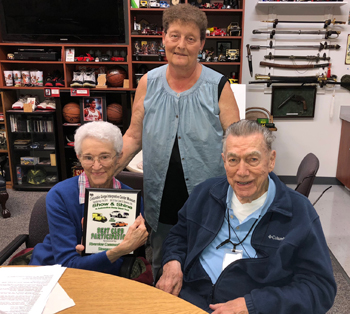 Twelve cars and fifteen club members made room in their Labor Day Weekend plans to attend the Show & Shine at Columbia Gorge Interpretive Center in Stevenson, Washington. It's a pleasant drive up the Gorge on the Washington side, at speeds old cars can manage. The registration fee includes admission to the Columbia Gorge Interpretive Center, one of the region's stellar museums. Plus several Stevenson civic groups turn out to cook hamburgers and sell real strawberry shortcake which by itself is almost worth the drive.
CPPC has been supporting the CGIC event for probably a dozen years, and all that time Joanne Dixon coveted the club participation award on CPPC's behalf. It was a challenge – the Show & Shine draws lots of participation from regional clubs. However, both this year and 2018, CPPC got more cars to the event than any of the other attendees.
Joanne was proud to claim "her" award for the second year running, and once again she brought it home to club founder Bill Call.
---
August 27, 2019 – Hot Dog-Ust Night at the clubhouse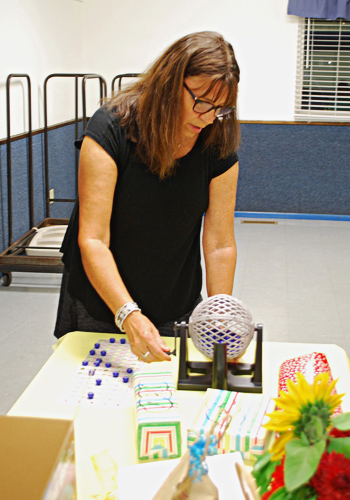 The Annual Hot Dog-ust Night Potluck, has been for many years, a mid summer celebration/reward for all the hard work CPPC members put forth for the Annual CPPC Cruise-In. There was lots of visiting, good food and Bingo. Thanks should go out to Donna Bade for organizing and calling the Bingo, Phil Lapin for cooking the hot dogs and Stephanie Willis for the beautiful flower settings.
Follow this link to see a gallery of photos from out Hot Dog-Ust Night.
---
July-August, 2019 – Summertime activities with CPPC
Follow this link to see the gallery of CPPC pictures.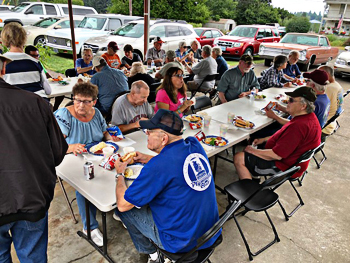 A variety of activities kept CPPC members occupied through the late summer of 2019.
On July 26, the Old Timers' Celebration filled downtown Dayton to overflowing. Dave and Linda Surmon and Terry and Judie Byrnes joined the Ealys in the celebration, and Surmons' early Suburban won the "Coolest Car" award.
On July 31, the Mayflowers toured Salem's Elsinore Theatre, one of the few remaining movie palaces from the 1920s-1930s, and were treated to a concert on the theatre's pipe organ.
Several CPPC members attended the "Summer Finally Got Here" celebration in Colton on August 18, and shared pictures of the event.
The Tech Committee threw a party at Gary and Vera Rushers' farm on August 10, to clean and sort parts in advance of next year's Portland Swap Meet. Lots of people came out to work, chat, and share in the lunch that CPPC provided.
On August 11, Mike and Donna Bade joined Randy and Pam Ealy and an anonymous neighbor with a forklift, and helped install the body on Randy's 1938 Plymouth sedan. Mike captured the event for posterity.
---
June-July, 2019 – Several small events captured CPPC interest
Follow this link to see a gallery of CPPC pictures from June-July.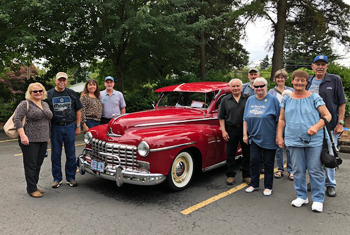 Possibly winding down from our own big Cruise-In Down By The Riverside, late June and most of July were devoted to smaller activities. Members shared pictures.
Late in June, CPPC member Jim Wheat made it to the Festival of Balloons in Tigard, and shared some pictures. (That's Jim's dark-blue 1934 Dodge coupe).
On Friday, June 28, the Hemmings-Hagerty Great Race (Riverside CA to Tacoma WA) overnighted in Vancouver, and a few CPPC members attended the gathering and took pictures.
On July 10, an overcast Wednesday, a CPPC group made it over to Portland Adventist Medical Center's Summer Festival & Car Show. A good time was had by all, and there were shortcakes.
One of the gems of the Northwest is the town of Dayton, a bit east of McMinnville, where they've got something going in the town square every Friday from June through August. They also had a big cruise-in, produced by and benefiting the Dayton High School FFA, and Jim Wheat brought home yet another award.
---
June 13, 2019 – Cruise-In Down By The Riverside
CPPC jumped at the opportunity to take over the Studebaker Club's slot in Clackamette Park when it became available last year, but that gave the Car Show Committee only five months – instead of the usual 12 – to plan the event.
Follow this link to visit the cruise-in page and read all about it.
Follow this link to go straight to the photo gallery.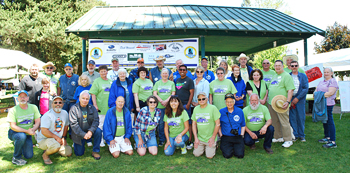 They did it well. CPPC is known among enthusiasts for our friendly attitude and well-planned shows, and the committee came through one more time. They were hoping for better attendance than the old Hot Dog-Ust Day was getting at the Clackamas Community College location, but they couldn't help but be surprised when 223 cars showed up for the brand-new event. The gates opened a half-hour early when the line-up reached McDonalds on Hwy 99, and the rush wasn't over until 10:00AM.
---
March 9, 2019 – Brooks Fire Department Pancake Breakfast and two garage tours
By Jim Wheat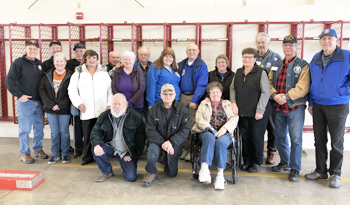 March 9 began with an all-you-can-eat pancake breakfast, and continued with tours of two Salem-area car collections.
Gary Rusher contacted Gene Schuff, social chairman of Willamette Valley Street Rods, with an inquiry about local car collections, and Charlie Wulfer and Marv Shetler, both of Aumsville, responded with invitations to visit their collections. It was the easiest tour he ever organized.
After breakfast we headed east to Aumsville to tour a private collection which included a '69 Pontiac in mint condition that could be operated from a cellphone, a '53 chevy pickup undergoing restoration. He also showed us a collection of valve covers and oil pans converted to race cars similar to pinewood derby.
Following that tour we took a long drive through the back country (blame it on GPS) to the next garage where we were invited to tour an extensive collection of automobilia signs, artifacts including gas pumps, neon signs, posters, several 39 Fords, a mint Corvette and other projects. After the tour we headed over to Sublimity for a late lunch at the Wooden Nickel.

---
February 23, 2019 – Hank Baker Garage Tour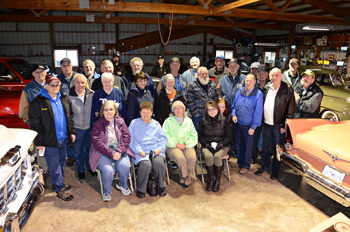 On February 23, CPPC members toured the collection of club members Hank andAngela Baker. Mike Bade took pictures.
Click on the group picture at right to see a gallery of photos from the Baker collection.
---
January 19, 2019 – World of Speed, Wilsonville, OR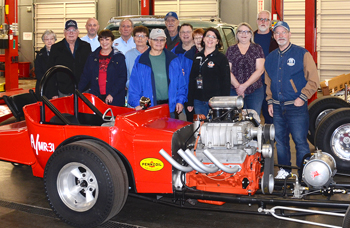 By Mike Bade
In January the tour to the World of Speed, was a good kick off the activities season. There was a nice showing of 14 CPPC members.
The featured display was 1960's Scarab-Offenhauser Formula 1 Race cars, the first American Formula 1 Race Car and Playboy, Chuck Daigh, early Scarab race car driver, who racked up many many wins in the Scarab. On display were two original Scarabs, race cars the best of the day, in the late 50's, breaking records where ever they raced.
Another interesting display was a collection of race car driver Mickey Thompson's Race Cars. These cars set many records at the Air Force Base in Riverside, California in 1961 and land speed racing cars.
A continuing display is of Granatelli race cars; along with all the other race cars on display and racing memorabilia.
I have been to the World of Speed several times, the new thing that I learned was there is a High School Automotive training program. The world of Speed is a former Automobile Dealership with all the service bays and car lifts already installed.
Automotive Instructors donate their time to teach basic automotive classes to 8 area High Schools that do not already have these classes. There is a classroom, and students have as access to the shop facilities to learn auto mechanics.
A new state of the art Hunter Brand, front end alignment machine has been recently installed so students will learn the newest in technology. They are starting to work on clients cars to apply skills they have learned.
The program is ever evolving and they are getting the word out, always looking for donations of dollars, time and materials. Contact them to learn more.
---
October 20, 2018 – Phil's Fall Foliage Tour, joint with
Studebaker Drivers Club-NW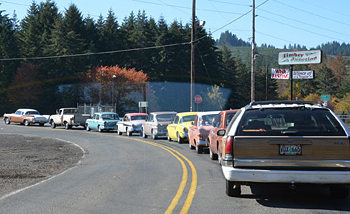 Studebaker Drivers Club members and guests met at Fred Meyers, Cornelius Pass Rd. @ Hwy 26, at 11:00AM and departed at noon sharp for a tour of Coast Range backroads. SDC-NW member Phil Gaffney hosted the event, which ended with a potluck at the Gaffney home in Hillsboro featuring sausage/kraut & chili, with guests bringing side dishes and desserts. Follow this link to see pictures of the event.
---
September 22, 2018 – The B-17 Bomber Museum Salem, OR
By David Muck, Studebaker Drivers Club NW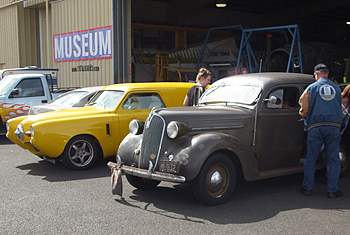 The tour to the B-17 museum and luncheon was Saturday September 22nd.  We had good weather just a few sprinkles while we were at lunch other wise it was a very pleasant day.  We started out at our meeting place at the Oregon City shopping center. 
We toured together to the Flight Deck restaurant on McNary Field in Salem to have lunch.  We took up two floors at the restaurant for all of us.  Good food and good service. 
After lunch we went to the  B-17 hanger / museum for a guided tour of the museum and plane.  It was very interesting to learn about how the B-17 played a very important part in helping us to win World War II.  The guides were very informative telling us all about the operations of the plane during the war and how the ten man crew operated the aircraft.  They also went into great detail of how they are restoring the plane.  This is a huge undertaking and a ten to fifteen year  commitment. 
After the one and half hour tour a few of us went to Bauman's Farm to view the gift shop and have some ice cream.  We had a total of thirty-four people and seventeen cars.  Out of the seventeen cars we had thirteen classics and four brand X's.  This was a tour of three different car clubs, the Cascade Pacific Plymouth Club and two Studebaker chapters, the Willamette chapter and the North West chapter.  It was a lot of fun having all the clubs together and talking about activities of the different clubs.  I hope we can all do this again.  Thanks to all who could make the tour. Follow this link to see the pictures.
---
August 11, 2018 – CPPC's Hot Dog-Ust Day Cruise-In & Car Show
We hoped the stifling heat would break before the Hot Dog-Ust Day Car Show on August 11 – and we got a cool, cloudy day with a chance of rain in the forecast.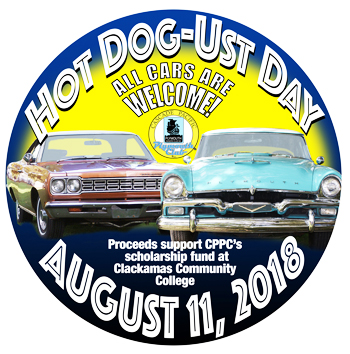 Eighty cars turned out nonetheless. The "chance of rain" turned out to be a half-hour of intermittent and light showers. Some folks didn't even bother to raise their convertible tops.
We were able to turn over $5750 to our scholarship fund at Clackamas Community College for Auto Technology students, and we were happy to contribute $1000 to the CCC tracj team, who helped us set up, park cars, cook hot dogs and tear down/load out.
Click on the round poster image to read the full story of this year's Hot Dog-Ust Day, and see pictures of the event.
---
August 2, 2018 – Shape of Speed at Portland Art Museum
Story and pictures by Mike Bade
Follow this link or click on the picture below to see a gallery of Mike Bade's photos.
August 2nd CPPC, members went to the highly anticipated, Portland Art Museum's exhibit called The Shape of Speed: Streamlined Automobiles and Motorcycles, 1930–1942, a special exhibition featuring 19 rare streamlined automobiles and motorcycles,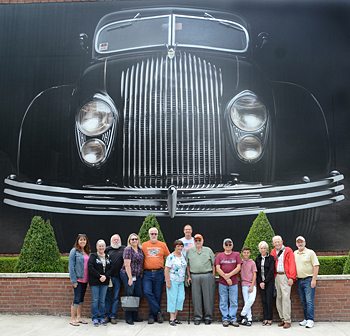 The Shape of Speed presented a select group of rare automobiles and motorcycles that demonstrate how auto designers translated the concept of aerodynamic efficiency into exciting machines that in many cases, looked as though they were moving while at rest.
  
The Museum displayed 17 cars and two motorcycles—the best of that era's streamlined offerings—from Europe and the United States.
Before the entry into the car exhibit, we took a photo in front of the museum, where there was a building size mural of a Chrysler Airflow. The reason why Thursday, was chosen for the tour, was, was because it is free admission to the P.A.M. after 5:00, the first Thursday of the month. F.Y.I. if you have not yet seen the cars.
Once inside the museum it was hard to get a photo of the car, with all the people milling around them. If you were patient you could get a photo without too many folks in the way.
Moving from room to room, yielded still another amazing car was reveled. It was hard to decide what to photograph, first a long shot then close-ups of the detailed styling. The only disappointing thing about the displays was the lighting, making it hard to get some of the photos I would like to have taken.
The cars did not disappoint, because I would not have ever seen these cars besides the museum. Don't forget if you have not seen the cars they are at the museum until September, 16th.
Mike Bade
---
July 24-28, 2018 – Plymouth Owners Club Grand Nationals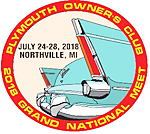 Four members of Cascade Pacific Plymouth Club attended the Plymouth Owners Club Grand Nationals in Northville, Michican, in July of 2018. Phil & Rose Ann Hall drove their 1954 Plymouth Belvedere Hy-Drive to the meet from their home in Roseburg, Oregon. The story of their adventure is at this link. Mike Bade and Jim Wheat left their cars at home and flew to Michigan for the show.
By following this link or clicking on the picture below, readers may view a gallery of Mike Bade's photos.
Story by Mike Bade
The 90 Anniversary of the first Plymouth was celebrated at the Plymouth Owners Club - Grand National Meet in Northville, Michigan, the birthplace of many of the American Automobile manufactures including the eventual start of the Plymouth Automobile in 1928.
The Host region for the meet was the Detroit Region, who started organizing the meet four ago to prepare for the late July meet, this included the current POC President Russ Nardi, who had a hand in the preparations of the meet.  In a away, for me, it was a kind of homecoming, as there were POC members from the 2013 East-West National Tour and our 2010 Regional Meet who I had a chance to meet again. Of course they all asked about our own, Bill Call, who had made quit the impression on everyone on both tours.
Four members of the Cascade Region traveled to the meet. Phil and RoseAnne Hall drove their 1954 Plymouth Belvedere from Roseburg, OR more than 3000 miles by the time they reached the host hotel in Northville, Michigan. Mike Bade, Cascade Region President and Jim Wheat, Cascade Region Secretary flew to the meet to attended the meet.
Follow this link to read more.
---
July 18, 2018 – Mayflowers visit The Grotto
By Mindy Benfield
Follow this link or click on the picture to see Jim Wheat's photos.
On Wednesday July 18th, Philis Vancoelen hosted the Mayflower outing to the Grotto in Portland.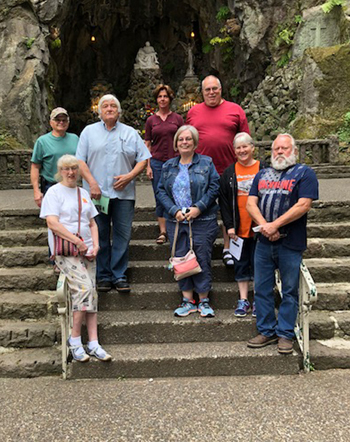 The Grotto is an internationally renowned Catholic shrine and botanical garden, and is visited by more than 300,000 visitors each year. This 62-acre green space is just a few minutes east of downtown Portland.
The lower (plaza) level consists of the parking lot, a chapel, gift shop, conference and vistor center and the shrine of Our Lady's Grotto, which is a rock cave carved into the base of a 110-foot cliff. A life-size marble replica of Michelangelo's Pietà is featured in its center. We took the elevator up to the upper level and were able to see beautiful panoramic views of the Columbia River Valley, the Cascades and Mt.St.Helens. We also walked around the park like setting and looked at the beautiful rhododendrons, fir trees and other native plants as well as many pieces of religious art.
After our tour of the Grotto, we went to the Olive Garden near Mall 205 for lunch. Two of Philis's grandchildren met us there. It was a perfect day for the tour.
---
July, 2018 – Phil & Rose Ann Hall's Great Adventure

By Phil Hall
Rose Ann and I had a great time driving to the Grand National Meet in Northville, Michigan in our 1954 Plymouth Belvedere (HyDrive). 
Follow this link or click on the picture to see more photos of the trip.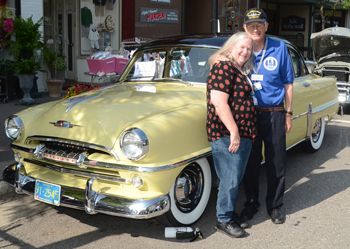 On our way to the meet we toured the Great Lakes around Wisconsin and Michigan, toured the Northern Peninsula of Michigan, and we rode the magnificent old ferry, the SS Badger on a four hour ferry ride across Lake Michigan.  On the way home, we took the modern and much faster Lake Express ferry across Lake Michigan.   We also detoured to Reno, Nevada on our return trip to visit some old family friends.   Total round trip was 6,632 miles; 15 states; 24 days.  We saw a lot of magnificent country and met many truly wonderful people.
On two different occasions we decided to drive all night in order to avoid 100 degree weather in Utah, Nevada and California.  In these instances, we would wait for the sun to go down before proceeding on our trip.   On the all night run between Reno and Roseburg, we took a roundabout route to avoid the heavy smoke from forest fires.  The route consisted of very lonely roads east of the Sierra Nevada Mountains, then eastern Oregon, finally crossing the Cascade Mountains north of Crater Lake, and down the North Umpqua Highway to Roseburg.  We carried and used a 2 ½ gallon gas can since the remote little towns we were passing through did not have gas stations that stayed open after midnight. 
We experienced a number of rain storms on our trip, the fiercest of which was in Michigan.  Then there was that sand storm in northern Nevada.  In addition to the sand, tumbleweeds were flying across the road, several of which hit our car. 
The biggest challenge to our Plymouth was the many long and steep mountain grades.  Quite a number of these grades required miles of driving in second gear at 30 miles per hour.  I am glad to report that after the many long and sometimes hard miles of our trip to Michigan, our Plymouth doesn't seem much worse for the wear.  Plymouth built great cars. 
There is more to tell, but I told Robin that I could be succinct.  It was a great adventure.
---
July 14, 2018 – Philomath Frolic
D. J. Freeman entered both of his Plymouths in the Philomath Frolic Parade on July 14.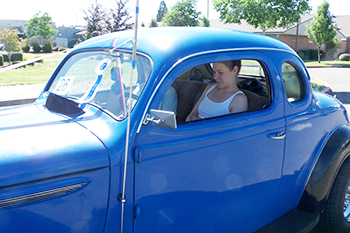 The 1938 business coupe is familar to CPPC members; the 1937 sedan, a fairly recent garage find, will be less so.
Drivers were: daughter Laura Freeman, driving the family's familiar blue '38 coupe, and daughter Anna Freeman, at the wheel of the '37, with grandson Jon in the back seat (start them in the hobby while they're young!).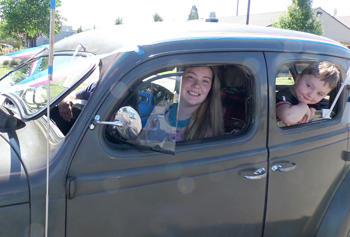 Both cars needed help on the parade route – the '37 overheated and stopped (sounds like vapor lock), and the '38 required a jump start midway. In each case, the cars were able to rejoin and finish what was a fairly long parade, and the Freemans took home a blue ribbon for their entry.
---
July 14, 2018 – The Hazelnut Festival, Donald, Oregon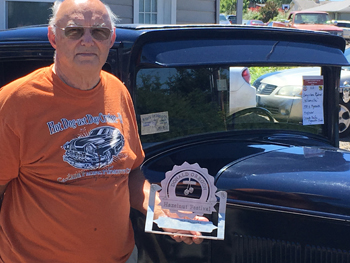 The population of Donald is listed as 979, but it seems to double or triple every year for the Hazelnut Festival. Old cars line the streets. There's a parade, and a street fair. Registration for the car show includes a full meal (choice of beef or chicken), and live music plays all day.
This year the Ealys, the Bades, Gary Rusher, and Robin Will attended.
Gary Rusher came home with an award for his 1930 Plymouth U business coupe.
---
June 16, 2018 – Orphan Car Show, Clackamette Park
Tom Shepherd and his 1956 Plymouth Belvedere drove away from the Orphan Car Meet with the $50 prize that stands in lieu of a trophy for Best of Show.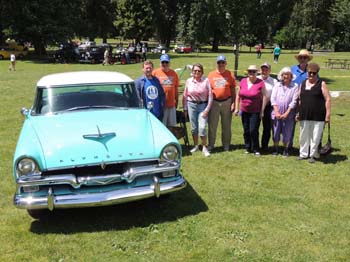 Plymouth, the bread-and-butter make of Chrysler Corporation since 1928, has been an orphan make since 2001, so the reward was appropriate. Previous best-of-show winners have included Willys Whippet, a Rambler American, and a Nash-Healey.
We were glad to see Gary Rusher's 1930 Plymouth U Coupe on the field – the first time it has been out of the garage in a couple of years.
This Orphan Meet was the last, at least in current form.
CPPC will take the wheel for next year's June 15 event, collaborating with Studebaker Drivers Club - NW and the AMC Club to hold space for the excellent and interesting marques that won't be forgotten as long as we have anything to say about it.
See pictures by Ed Salia and Gary Rusher at this link.
---
May 19, 2018 – Aurora Colony Historical Society and the Stauffer-Will Farm
On May 19th, Jim Wheat, Bob Westphal, Elaine Huber and Robin Will met at Shari's in Oregon City for the short drive to the historic town of Aurora. Dave and Linda Surmon met us at the museum.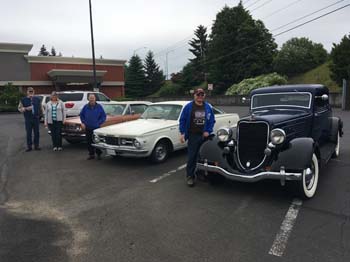 The story of Aurora is unusual in two ways. First, instead of isolated settlers, the Aurora group deliberately brought an entire town, from blacksmith to brass band, and they had an immediate economic impact on the territory. Second, the town operated as a commune for the first 25 years of its existence.
Curator Patrick Harris treated the group to a tour of the 5-building museum complex in Aurora. Around lunchtime, the group drove to the Stauffer-Will Farm, south of Aurora, where Cheryl Burks, an Aurora Colony Historical Society volunteer, had the woodstove going and biscuits in the oven. (Special treatment, because Cheryl is a friend of Donna Bade's, and perhaps because Robin is one of "those" Wills.)
The day was special because it was the 40th anniversary of the date when Elaine Huber bought her Plymouth Satellite.
Jim Wheat took lots of pictures, and they're at this link.
---
April 14, 2018 – Wooden Shoe Tulip Festival
By Jerry and Joanne Dixon
As many of you know Saturday, April 14th began as a rainy, cloudy day and we left for Shari's in Oregon City wondering if any other brave souls would come along for the short drive to the Wooden Shoe Tulip Festival in Woodburn.
We were happy to meet new members Clark and Diane Taylor from Washougal. Bob Maker drove his Viper powered Studebaker Sedan Delivery and joined our small but enthusiastic group. Don Smith joined us at Monitor driving his beautiful 1940 Dodge Sedan.
The tulip fields were absolutely stunning even with the blowing wind and muddy rows. Boots were a very popular wardrobe accessory. We did some shopping (no wind in the crowded gift shop!) and rode the hay wagon. We actually had no rain, and the wind did not deter us from gazing at the incredibly beautiful fields of rainbow like colors of tulips.
Our three cars brought lots of attention – and the possibility of three new members.
Wouldn't you know as we were heading for home the sun decided to show itself and it was a beautiful ending for a small but enjoyable CPPC tour.
---
March 10, 2018 – Brooks Fire Department Pancake Breakfast, and a tour of a private collection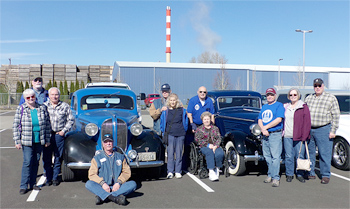 The March 10th tour went to the Brooks Fireman's Breakfast. This is one put on by the Marion County Fire District #1 Volunteer Firefighters. Gary Rusher, the tour host, couldn't remember when it started but it was a long time event when he took over as chief in 1972. They are still at it loud and strong.
Just down the road from the fire station, Gary found a collection CPPC had never seen before. This lady has a large (40X96) car barn with a nice collection of about 10 cars, but a lot of other wonderful stuff as well, including an entire replica Coke-a-Cola soda shop.
The car collection tended toward Fords modified to go fast, but the hostess' mom's 1957 T-Bird was there, looking glorious, and also a prize-winning 1940 LaSalle convertible.
The hosts requested that, due to privacy concerns, no pictures of their collection appear on the Internet, and we're not identifying them by name, either. All we took away was memories.
The picture was taken in the parking lot of the fire station at Brooks, after the CPPC gang had done serious damage to an all-you-can-eat pancake breakfast.
---
February 24, 2018 – Kidd's Toy Museum
By Mike Bade
The first stop on the February 24th Garage Tours was to the Kidd Toy Museum, South East Portland, on Grand Blvd., North of the Hawthorne Bridge.  We had 15 members and a few friends of Tom Shepherd attend the early morning visit.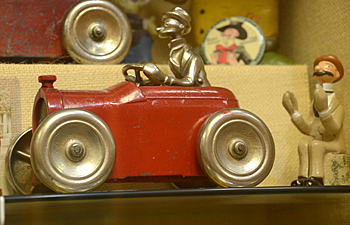 The Kidd Toy Museum has been a fixture in the Portland Area for over twenty years, owned by Frank Kidd and his brother. Frank was a successful businessman, who owned an auto parts business and property in Southeast Portland.
He and his brother had an interest in Pre-War toys, padlocks and banks, just to mention a few of the thousands of treasures that are on display at there museum. Frank tells the story that he and his brother would go, most weekends to toy conventions and bring home suitcases of toys and then go the next weekend, during the conventions season, year after year.
Click here or on the picture to see the gallery of Mike Bade's photos.
The toy museum is full of some of the most amazing cast iron early pre-war toys, one might ever see, not just one or two, but groups of the same type of toy. It is hard to know where to start looking, at the start, just when you have though you saw everything, there is more to see, which is only part of Frank and his brothers collection.
Frank has enlisted the help of his family to keep the museum open. A recent family tragedy in late 2017, left the museum in limbo, not able to be open regularly.  Efforts of find other family members to help keep the museum open are forthcoming. Frank has enlisted his grand children to help with cataloguing, unseen inventory and hopefully, you may be able to enjoy even more in the future.
For sure we will have to have another visit to Kidds in the future, or you should try to go on your own, take the grandchildren. The museum is registered as non profit, future generations will be able to enjoy Frank and his brothers treasures. 
---
February 24, 2018 – Stan Adams collection of cars and petroliana
By Mike Bade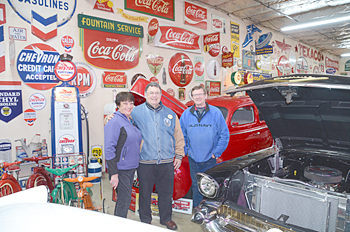 The second stop on the February 25 tour the Stan and Sheryl Adams car Museum, as he calls it, a mile drive from our first stop.
Stan Adams and his wife Sheryl are native Portland residents. Stan and his wife had a successful tire business on the East side of downtown Portland. After selling their business they have enjoyed being able to collect a variety of collector and high performance vehicles and automobillia.
Click here or on the picture to see the gallery of Mike Bade's photos.
Since retiring, Stan and Sheryl have been frequent travelers to the Barrett Jackson Auctions in Scottsdale, Arizona. They have carefully selected cars that are of interest to them and now have approx. 25 beautiful cars. They also have an amazing collection of restored gas pumps, gas signs, peddle cars, vintage bicycles; filling their museum from floor to ceiling, carefully displayed for maximum effect. There are not any collections that would rival Stand Sheryl's in the Portland area, that I know of. 
Of course there is are many back stories, as to how each item was acquired, which Stan shared with the group, too much delight. Too bad Stan does not have any Plymouths, we would recruit him to join our club.
For a photographer, like me much time was spent photographing as much of Stan's cars and collectables as possible, are true treat. See photos on the CPPC website.
Another tour to Stan's may be possible at a later time, hopefully.
---
February 10, 2018 – Garage Tours: Steve's Auto Restorations and Darryl Schroeder's Speed Shop
Story and photos by Mike Bade
Click here or on the photo at right to see Mike's pictures.
The sun came out for the CPPC faithful, Saturday, February 10th, for the tour to Steve's Auto Restorations, owned by Steve Frisbie in East County, Gresham Oregon.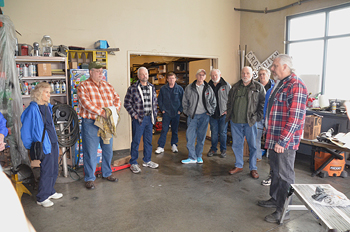 For what would be one of the larger tours in a while, 23 members and friends, answered the 9:00am call, and with the good weather, we had 5 collectors: Bob Westphal's '49 Club Coupe, Mark Child's '68 Fury St. Wag., Dave Benfield's '63 Valiant Conv., and Mike Bade's '30 Coupe.
After some doughnuts and conversation and a confirmed head count, we were invited into Steve's amazing work place. Once inside, greeting us was Steve Frisbie, owner, his wife, Chris Clark, office manager, Chuck Barr, shop foreman, would show us the many facets of their shop.   
Steve has been in business for dabbling in cars for 37 years, starting out in a small garage in high school and growing gradually over the years to the amazing full service restoration and custom car shop, eventually contending at prestigious events such as Pebble Beach and Forest Grove over the years.
Steve and his team of 15 highly skills craftsmen, design, fabricate and paint the amazing creations for clients from all over the United States and around the world.
Last year Steve and his team realized the "Pinnacle" of the car building industry, by winning the Detroit Auto Shows "Ridler Award", for the "Renissance Roadster" a pretty much hand made car, they built for a client from Texas
Throughout the tour we were able to many current projects that Steve's team are currently working on. Cars that have been lengthened, chopped, widened and combined (front of one car and back of another) into beautiful metal creations.
Steve also reproduces "new/real steel" bodies for 32 Ford Convertibles complete with chassis, just add your drive train, paint, upholstery and you have a "New Old Car.
One of the highlights of the tour, was learning the design process each project goes through headed by David Brost, lead designer. We were able to see many of the computer generated concepts for past and current projects created by David.
Thank you to Steve and his team for a truly spectacular tour.
Next stop on the tour was Darrel Speed Shop, a twenty minute drive, in Troutdale, OR.
Darryl has also been a builder and restorer for 31 years. His early work his fabrication talents were perfected, which gave him the foundation to do high quality builds and restorations.
Darryl's shop is does high quality fabrication, a lot of chassis and frame building. He has gigs to build chassis from scratch for a variety early Ford and Chevy projects.
As we toured Darryl's shop there were many custom builds fill he shop in various stages of finish for various clients. We also say a few, stock vintage cars, including one getting last minutes fixes for the 2018 Forest Grove Concours d'Elegance.
Typically, once all the chassis and body fabrication is complete on a project they are sent out for paint and upholstery and then back again for final assembly.
Darryl also has achieved accolades for the work he and his crew have done. In 2016 at the Portland Roadster Show he and his shop was recognized as "Builder of the Year", for a "Bare Metal" 1934 Ford Roadster project.
Darryl, like most shops does smaller projects to help you with your car projects, keep this in mind if you hit a snag with your car projects.
Thank you to Darryl and his team for a truly another spectacular tour.
Two great tours in one afternoon, is truly inspiring, making me want to head into the garage to work and work on my own projects.
Click here or on the photo at right to see Mike's pictures.
---
January 27, 2018 – Tour World of Speed and
Doug Vermeer's garage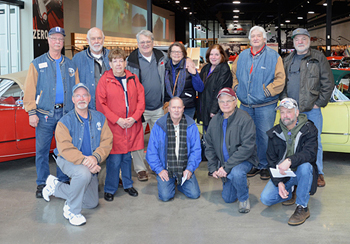 Indoor tours are a good way to start the year in the rainy Northwest, and World of Speed never disappoints. They rotate exhibits in and out of their own archives, and they borrow extensively from nationally-known collections, so they almost never repeat themselves.
Corvettes were featured at World of Speed during CPPC's January 27 visit, also a lot of Indy driver Andy Granatelli's memorabilia.
After lunch the CPPC group visited Doug Vermeer and his collection in Aurora. Aside from his personal cars (he is fond of air-cooled Franklins, among other things) Doug is usually working on at least one antique vehicle that we've never seen before, and so we learn something every time we visit.
Click here or on the picture at right to see Mike Bade's photos.
---
November 27, 2017 – Mayflowers at the Oregon Rail Heritage Center
By Mindy Benfield
On Friday November 17th the Mayflowers had lunch at the Eastmoreland Golf Course before heading over the Oregon Rail Heritage Center (ORHC) in Southeast Portland.  An extended and informative tour of the vintage engines and railcars was given to us by train enthusiast and volunteer docent Barry Strange.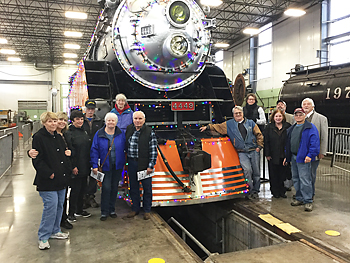 The ORHC opened in September of 2012 and is a nonprofit all volunteer organization. Their primary objectives are to maintain and preserve historic locomotives and railroad equipment, and to educate the public about Oregon's railroad history. The ORHC is open Thursday thru Sunday and is well worth a visit. For more information look at the website for The Oregon Rail Heritage Foundation which is www.orhf.org .   
As an added bonus, after the tour some members took advantage of the sunny weather and had a pleasant walk across the Tillicum Pedestrian Bridge.
---
October 16, 2017 – Mayflowers tour Willamette Heritage Center
By Virginia Dunn
On a beautiful, fall day 17 Mayflowers and friends traveled to Salem for a tour of the Willamette Heritage Center's Thomas Kay Woolen Mill.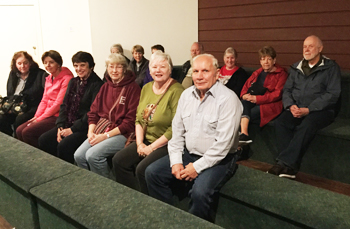 We learned much of the mill's original machinery is intact and operational. During its 62 year history, with one fire and only one worker strike, the woolen mill closed in 1962 mainly due to competition from manmade fabrics. Two years later it was acquired to become a museum with five historic building also moved to the five acre site.
Nineteen members enjoyed a "cool" lunch at Gilgamesh Brewing. Some returned to the museum's grounds to tour the historic buildings and visit the shops.
Follow this link to see Jim Wheat's pictures.
---
September 27, 2017 – CPPC was featured club at the last Beaches-PIR Cruise-In of the season
Six cars and ten CPPC members attended the season-end Beaches Cruise-In on September 27 at Portland International Raceway.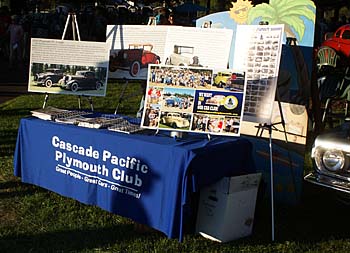 The last cruise-in of the season is always well-attended. By the time PIR opened the gates at 3:00PM, cars were backed up from the ticket booths all the way to the golf course – and back on the other side of the road, the better part of two miles.
Most of us thought we had never seen so many cars, let alone such a crowd of people, at a Beaches event, but on Thursday morning their Facebook page said there had been "only" 1751 cars – the second-most ever.
As featured club for the evening, we got to park in the middle, and as usual, we invited as many non-club Plymouths as possible to join us. We meet some interesting people that way, and occasional attract some new club members.
Aside from "Phil's Phall Poliage Phollies," by invitation from the Studebaker Club on October 21, this was the last outdoor event on the CPPC calendar for the year.
Follow this link to see the Beaches photo gallery.
---
September 2, 2017 – Show & Shine at Columbia Gorge Interpretive Center
Ten CPPC members and eight cars met at the Airport Way Home Depot on Saturday morning, September 2, and made the 40-mile drive to Stevenson, WA.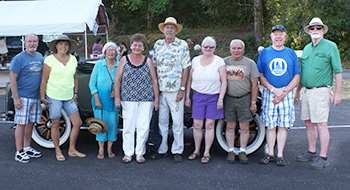 The event is a fundraiser for the Columbia Gorge Interpretive Center, one of the northwest's most impressive regional museums, and it is held in the CGIC parking lot that overlooks the Columbia River in Stevenson. CPPC members Allen and Sharon Tiffany are involved in CGIC, and several CPPC members have made this annual event a tradition. The community of Stevenson turns out in a big way for this event, and the grilled burgers and real strawberry shortcake seriously raise the bar for car show cuisine.
Joanne Dixon keeps hoping that CPPC will bring home the club participation trophy, but we missed by three cars this year. On the bright side, Allen Tiffany's original 1928 Plymouth Q Roadster took the award for Best Car from the 1920s.
As a sad ending to a fun day, the Eagle Creek fire started across the river late in the afternoon, and we watched the smoke plume grow during the awards ceremony and on our drive home.
Click on the picture or follow this link to see pictures of the event.
---
August 12, 2017 – CPPC's Hot Dog-Ust Day
Three years ago, CPPC began holding our annual cruise-in/car show on the campus of Clackamas Community College, and made a point of donating monies to CPPC, earmarked for scholarships to Auto Technology students.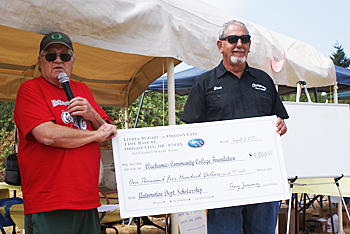 The first year, we were able to turn over $1500 for scholarships, and still show a profit on the event.
This year, we handed over $6000, when all was said and done, including $750 for the track/cross-country team, which shows up every year to help us park cars and cook hot dogs.
Eighty-nine cars turned out – several of them already in line by 7:00AM.
Read more about the event, and see the pictures, at this link.
---
July 16, 2017 – Forest Grove Concours d'Elegance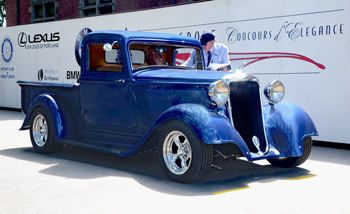 The big news (for CPPC, at least) at the Forest Grove Concours was Jerry Klinger's win in the Light Trucks through 1940 class in his 1934 Dodge. Few CPPC members get to make that memorable drive across the platform at Forest Grove, and Jerry did it with pride. Mike and Donna Bade, Randy and Pam Ealy, and Robin Will attended the show. The Plymouth presence on the field was small, but we did meet former CPPC members Paul and Joan Taylor in the Woodie Corral – they had brought an original 50K-mile 1949 Plymouth Special Deluxe Station Wagon to the show. We gathered up Mike's and Robin's Mopar-related pictures, and you can see them at this link.
---
July 10, 2017 – Mayflowers tour Palm Harbor
By Barbara Rice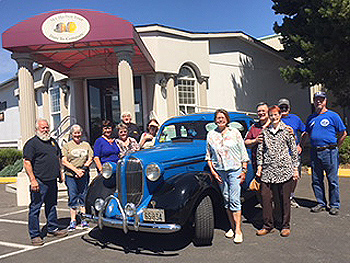 The Mayflower's tour Palm Harbor Mobile Factory in Millersburg on July 10. There were 16 for the tour that saw how they start product to the finish product. Most of the ones made are special ordered and take about three weeks to build.
Philip Lapin & Jean Graham own a mobile home , they had lots of questions and Steve Thomas our tour guide did a great job on answering all questions.
D. J. Freeman drove up from Philomath to join the group. That's his '38 P5 coupe in the picture.
After the group went to Novak's Hungarian Restaurant in Albany for lunch . And time to eat and visit.. Good time by all.
See more pictures at this link.
---
June 22, 2017 – Mayflowers at the Japanese Garden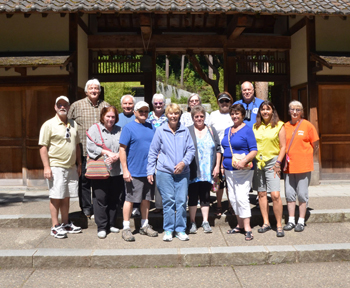 On June 22, Mayflowers visited Portland's Japanese garden. Mike Bade took pictures.
See the pictures at this link.
---
June 17, 2017 – Orphan Car Meet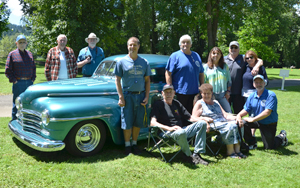 Each year, Studebaker Drivers' Club NW produces its Orphan Car Meet, and attending the gathering has become a tradition for Cascade Pacific Plymouth Club. The setting, in Oregon's City's Clackamette Park at the confluence of the Willamette and Clackamas Rivers, is one of the best sites in the Northwest for a car event. Aside from that, it's the place to see the cars you never get to see anymore: orphan makes, the many wonderful automobiles that are no longer in production. Best of Show this year was a 1929 Willys Whippett, but Don Ryan and Lee Powell placed in their classes, and Steve Herman and the Dixons got honorable mentions. SDC-NW reports that 75 cars attended the show in total, and 100+ pounds of food was collected for the Oregon Food Bank. See the pictures!
---
May 22, 2017 – Mayflowers visit Red Pig Garden Tools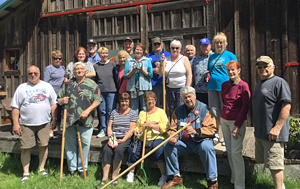 Red Pig Garden Tools makes and sells hand-forged implements to home gardeners, nurserymen, landscapers and farmers, as well as sharpening, repair, tool restoration, and other general blacksmith work. (If it can be hammered from steel, host Bob Denman will make it for you.) Red Pig Garden Tools is located at: 12040 SE Revenue Road, Boring 97009.
---
May 12, 2017 – Celebration of the life of Bruce Kerslake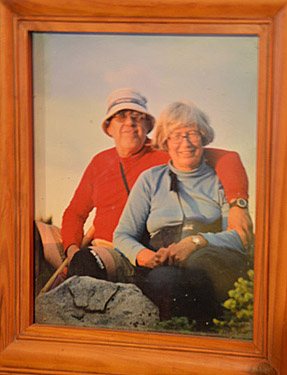 A funeral wasn't really in the cards for CPPC member Bruce Kerslake, who died February 25. Bruce was a member of multiple car clubs, which all joined in a cruise to one of Bruce's favorite spots, Nick's Bar & Grill, in Amboy, WA, on May 12 for a celebration of his life. Bruce belonged to CPPC, Studebaker Drivers Club NW, WPC (Chrysler) Pacific Wonderland chapter, a local club for American Motors enthusiasts, and possibly others. Sue Kerslake coordinated a slide show and display of photos from the years when the couple were hiking and skiing enthusiasts. About three dozen friends attended, and Studebakers appeared to outnumber the other rigs in the parking lot.
Click here to see the photos by Mike Bade.
---
April 15, 2017 – Wooden Shoe Tulip Festival, at last!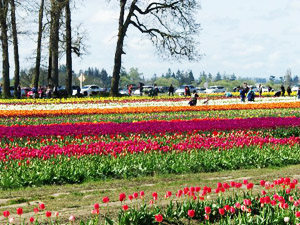 After several years of being thwarted by mud, storms, and chancy blooming seasons, CPPC and friends managed to catch the Wooden Shoe Tulip Farm in full bloom on a sunny day, Saturday, April 15. We were joined by the Studebaker Drivers Club NW and the Pacific Wonderland chapter of the WPC Club. Ten cars and 18 people made the trek and were ushered directly to privileged parking in front of the flowers. We're grateful to the Wooden Shoe Tulip Farm for the opportunity. D.J. Freeman took the pictures.
Click here or on the picture at right to see more photos of the event.
---
February 11, 2017 – World of Speed, Wilsonville, OR
CPPC's season starts with an indoor activity
CPPC's first organized activity of the year happened on Saturday, February 11 with a trip to World of Speed in Wilsonville.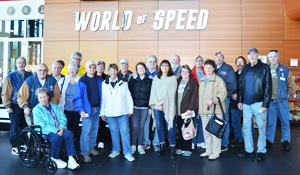 The great thing about World of Speed, aside from being warm and dry on a February afternoon, is the constant turnover of displays, and the extremely high quality of the guided tours. Displays are rotated in and out frequently, so it's possible to visit WOS several times a year and see new things every time.
Mike Bade and Jim Wheat took lots of pictures.
Click here or on the group picture at right to see a selection of Mike's and Jim's pictures.
---
December 7, 2016 – Mayflowers' holiday lunch at Stonecliff Inn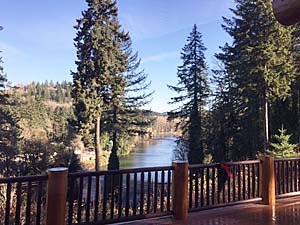 By Mindy Benfield
The Mayflower's like to celebrate the holiday season with a special lunch at a restaurant that is a little bit 'fancier' than where we usually go. The Stonecliff Inn did not disappoint!
On December 7th, twenty three of us sat down to a wonderful meal and a couple hours of great conversation. Although it was too cold to go outside and explore the grounds, the view of the Clackamas River from the large windows was fantastic.
Click here or on the picture to see a gallery of Jim Wheat's pictures of the Stonecliff Inn luncheon.
---
November 8, 2016 – Mayflowers tour Bob's Red Mill
By Mindy Benfield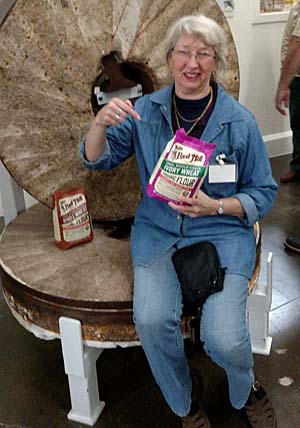 On Tuesday, November 8th, Mayflowers – 14 CPPC members and friends – met at the Bob's Red Mill factory in Milwaukie, OR.
After a detailed and interesting presentation we toured part of the facility. Looking through glass windows we were able to see the inner workings of a specialty grain milling operation.
Afterwards we all drove over to Bob's Red Mill Whole Grain Store, Restaurant and Bakery, where we had lunch and shopped for delicious healthy food.
---
September 21, 2016 – Beaches at PIR: The cruise-in season
begins to wind down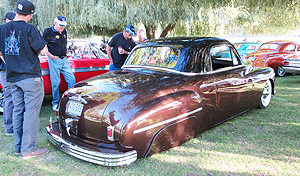 Twenty-five CPPC members and 15 CPPC cars turned out for the next-to-the-last Beaches PIR Cruise-In on September 21.
As featured club for the event, we got to park our Plymouths in the middle of things, under the trees across from the bandstand and close to the food service, so we got a lot of attention.
Our custom is to invite other Plymouth owners to join us in the position of honor, club members or not. We get to meet lots of interesting people that way, and occasionally we recruit some new club members.
Click here or on the picture of the lowrider to see a gallery of Bruce Kerslake's pictures from the event.
---
September 3, 2016 – Columbia Gorge Interpretive Center
Show & Shine, Stevenson, WA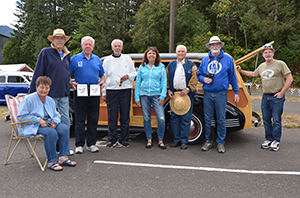 The weather looked chancy starting out, but we got the afternoon clearing that the weatherman promised, and the day was comfortable.
The annual Show & Shine in Stevenson benefits the Columbia Gorge Interpretive Center, where CPPC members Allen and Sharon Tiffany have been heavily involved for years. It's one of the most impressive regional museums in the Northwest, well worth the drive to Stevenson even without a car show.
The Dixons and Bades were at the show; Sharon Tiffany was able to join us on the field for a short visit; Herb Watkins and Russ Ashley came in Herb's hand-built Packard Woody; and Robin Will took pictures. Terry and Judie Byrnes were also at the event with their 1952 Plymouth Cambridge, but they were nowhere to be found when it was time to take the group picture.
As usual, museum supporters turned out to grill hamburgers and hot dogs, putting the menu several cuts above ordinary cruise-in food, and there was real strawberry shortcake, making a couple of us think we should have had dessert first.
Allen Tiffany won in the 1920s category with his 1928 Plymouth Q roadster, and he took best of show with the 1937 Chrysler 4-door convertible.
Follow this link to see the gallery of pictures from Stevenson.
---
August 20, 2016 – CPPC'S Hot Dog-Ust Day Car Show & Cruise-In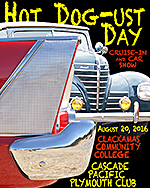 Sixty-five cars turned out on the hottest day of the year for the cruise-in / car show / fundraiser we produce every year to raise scholarship money for Automotive Technology students at Clackamas Community College. It's our way of supporting our community – and keeping car enthusiasts in the pipeline, to keep our hobby strong.
Follow this link to read about the event and see the pictures!
---
July 29, 2016 – Old Timers Festival, Dayton, Oregon
In Dayton it appears the entire town turns out for Friday nights in the park that serves as the town square, and the Old Timers Festival on July 29th drew the Ealys, the Bades, and the Byrnes. Photos are by Mike Bade.
---
July 23, 2016 – Roberson's All-Mopar Cruise-In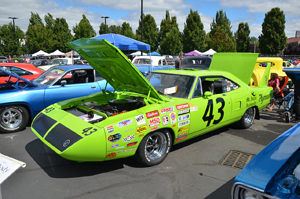 Saturday, July 23, was the date of Roberson's All-Mopar Cruise-In in Salem this year, and as usual, the big boys came out to play such as the Plymouth Superbird at right, which you probably won't see at your local cars-n-coffee event.
Dixons' '67 Barracuda and Bades' 1930 Plymouth hot-rod both placed in their classes.
Follow this link to see a gallery of Mike Bade's photos from the Roberson event.
---
Thunder, lightning and rain add excitement to Orphan Car Show on June 18th
Weird weather kept folks huddled in their cars for part of the Orphan Car Show, but it improved later in the day.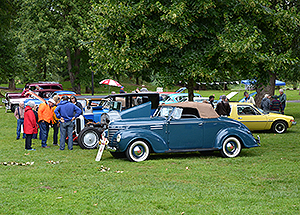 CPPC had a small but faithful turnout, and the Ealys went home with second place in their class, the 1930s decade, for their stellar 1939 Plymouth convertible.
The Orphan Car Show, sponsored by the Studebaker Drivers Club NW, is a quality event in more ways than one. The venue at Clackamette Park is a great place for a car show. But the cars are the point, and folks who are tired of overchromed Deuce coupes and Tri-Five Chevys can refresh their memories among the Studebakers, Nashes, Ramblers and far more obscure makes that aren't often seen at other shows.
Follow this link to see a gallery of Mike Bade's photos.
---
May 21, 2016 Cedar Creek Grist Mill Tour, jointly with the Studebaker Club
By Bruce Kerslake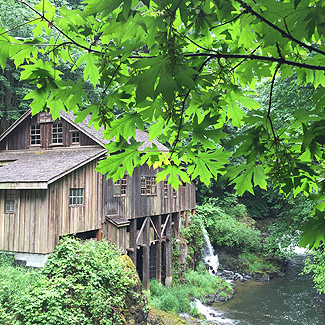 The Cedar Creek Grist Mill tour had the following participants:
Keith and Kathy Reno in their '60 Lark,
John and Pat Bernhart '60 Hawk,
Murl Jones '64 Commander,
Sue and Bruce Kerslake '60 Lark,
Bob and Yvonne Westphal '48 Plymouth Cascade Pacific Plymouth Club,
Pam and Jim Wheat Brand X Plymouth Club,
Terry and Judy Byrmes Brand X Plymouth Club
We left the Gee Creek Rest Area at 10:15 proceeding by back roads to the Cedar Creek Grist Mill. Three grist mill volunteers presented the history and operation and provided samples of stone ground red and white wheat and cornmeal.
Several cookbooks were available for donations as well as products from the mill.
We spent just under two hours at the mill and then drove to Amboy for a tasty lunch at Nick's Bar and Grill.
Pat Bernhart delared this was the best tour she's ever been on.
Follow this like to see a gallery of Jim Wheat's & Bruce Kerslake's pictures.
---
Schreiners' Iris Gardens put on a show for Mayflower visitors
on May 16th
By Lorraine Griffey
What an amazing display of beautiful iris along with peonies, flowering dogwood trees, and all of the accompanying flowers! Those iris are so regal and come in so many different colors, we all did a lot of oohing and ahhing at all of the beauty. Some of us came home with bouquets of a dozen gorgeous iris!! Ed and Diana Parker of Omak, Washington, surprised us by joining in the tour, which was also a surprise for Diana for her birthday - Good Job, Ed!! What a delight to have a chance to get acquainted with out of town members, wish more of you would do this. Also on the tour were Jim & Pam Wheat, Patty Brost, Minday & Dave Benfield, Barbara Rice, Virginia Dunn, Susan Yates & Lorraine Griffey. Coming up next month is a picnic at Council Crest, hope many can join the Mayflowers as we explore and have a good time together each month.
---
April 15, 2016 – Mayflowers at Belmont Fire House
On April 15, CPPC's Mayflowers toured the Belmont Firehouse, SE 35th and Belmont in Portland, formerly a neighborhood firehouse and now a museum that teaches safety and shares the history of firefighting. The venue is usually advertised as a great place to take children, but nobody is too old to enjoy the firetruck simulator, the antique firefighting equipment, and the chance to slide down the brass pole the way the old-time firefighters did. Photo by Jim Wheat.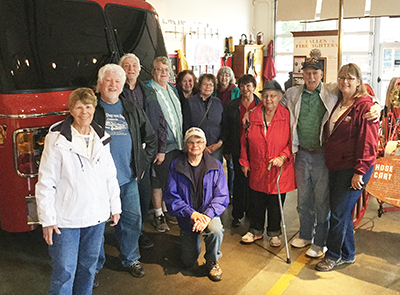 ---
April 1-2-3, Portland Swap Meet
By Robin Will
Every year, there's something to learn at Portland Swap Meet, which I think is why CPPC keeps going back. The parts-scrounging, wrench-turning, hands-on hotrodders and restorers who hang out at Swap Meets are the folks who keep our entire hobby running, and it's only smart to pay attention to the questions they are asking, and the stuff they're buying.
Some years, we bring home substantial amounts of money from Portland Swap Meet.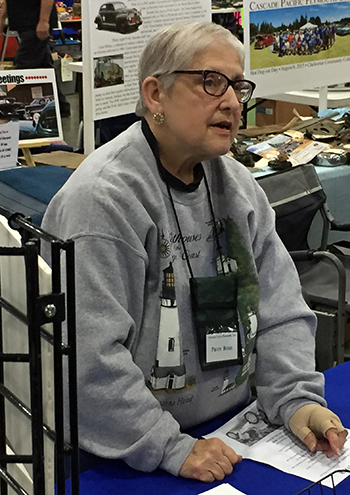 Some years we make friends in the hobby, like the youngster who just hauled a '33 Plymouth coupe out of the woods, and needs to know what the gauges are supposed to look like. Or the 20-something kid, literally with tears in his eyes, holding some rusty piece or other, saying "You're sure you want only twenty bucks for this?" (He's working on a P-15, and I'll bet this guys grandfather wasn't even born when the last new P-15 rolled off of the line.) Or the really old guy, pushing his walker along, who confides that he's got a couple of Plymouth projects he won't be able to get to, and he wants them to go to somebody who will treat them with respect.
Patty Brost helped out with membership questions and was quite willing to talk about the Brost family's '33 Plymouth PD convertible. Photo by Robin Will
Each year, we're reminded that all of us, and all of our cars, are getting older. The last Plymouth was made in 2001, which means kids getting their learners permits this year as 15-year-olds have probably never seen a new Plymouth. We can't ignore that demographic, and it shapes the way we'll approach the business of selling old Plymouth parts in the future.
So we didn't set the world on fire with booth sales this year. It wasn't the worst year we ever had, but we were grateful that we met lots of great people to balance out the disappointing till.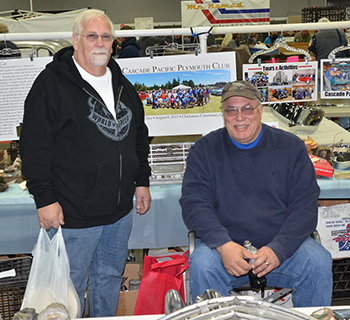 Everybody was blaming beautiful weather for the flat sales. That's ironic, considering the number of years we have endured rain, wind, and hail at the early springime event, waiting for a break before we went outside. This year the sun was so nice that people didn't come inside, and some folks used the balmy weather as an excuse to skip the Swap Meet altogether.
Tim Winchell (L), master electrician, and Tom Nachand, all-around 1933 PD guru, were on hand to swap stories and share technical advice. Photo by Mike Bade
But as things turned out, booth sales weren't everything. We had an outdoor space as well, full of the stuff that was too big to drag inside. At the end of the meet, a friend offered us a generous check for everything that was left out there, provided we'd deliver it on the way home, and that brought us up to just about average income for the meet.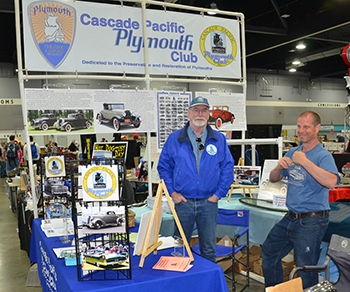 In addition, we sold the Tech Committee's "baby," the 1942 Plymouth Sedan that they have been working on for months. We didn't sell it at the Swap Meet – a club member bought it – but that income will show up on the Swap Meet ticket, when the Tech Committee accounts for everything spent getting The Baby into shape.
Robin Will (L) and Steve Herman did their best to sell parts and promote the club to potential new members. Photo by Mike Bade
As usual, several very attractive items did not sell at the Swap Meet, which, increasingly, is the way things have been working lately. Sometimes the guy who will give you $500 bucks for the donated 1930-only Plymouth wire wheels is in Florida, not strolling past booths at Portland Swap Meet. Our "EBay & Craiglist Committee" takes over at that point, marketing the good stuff to a national audience. For them, Swap Meet lasts all year, and they bring the club hundreds of dollars worth of online sales each year.
The Tech Committee thanks everybody who showed up to to work, or to help with load-in and load-out, at this year's event.
---
March 18-20, 2016 – Portland Roadster Show
At CPPC member Brad Groff's prompting, club members reserved a six-car space at Portland Roadster Show, and took six cars and some club promotional materials to the 60th anniversary show.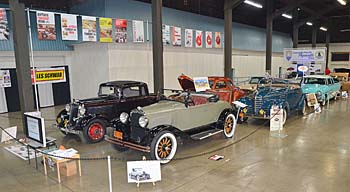 Choosing cars more or less by the decade they represented, the club showed Allen & Sharon Tiffany's original 1928 Plymouth Q Roadster, Mike & Donna Bade's 1933 Plymouth PC Coupe, Randy & Pam Ealy's 1939 Plymouth Deluxe convertible, Bob & Yvonne Westphal's 1948 Plymouth P15 Club Coupe, Tom Shepherd's 1956 Plymouth Belvedere Club Sedan, and Tom Fox's 1959 Plymouth Golden Fury.
Club members were in attendance for most of the hours the event was open, swapping Plymouth stories and sharing club information with visitors.
Portland Roadster Show, with its high-dollar hot rods and customs, might seem to be an unlikely venue for nice old Plymouths, but in terms of competition, CPPC came out well. Bades' 1933 PC coupe took second in the Restored Class, 1931-33; and Tom Shepherds blue-and-white 1956 Belvedere placed second in Restored Class, 1949-57.
Click on the picture to see a gallery of photos from the Roadster Show.
---
March 12, 2016 – Old Aurora Colony Museum &
Stauffer-Will Farm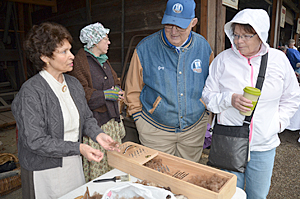 CPPC members visited some historic sites fairly close to home on March 12, when Robin Will hosted a tour to the Old Aurora Colony Museum and the Stauffer-Will Farm.
The town of Aurora was founded as a Utopian Christian communal society in the late 1850s, and since they brought an entire community – craftsmen, orchardists, builders, millwrights – they had a major influence on the commerce of the Willamette Valley.
Their heritage was mostly German; their religion was similar to the Pennsylvania Dutch Amish. The colonists were noted for their arts, crafts, and music, and that tradition carries on in a variety of ways in the historical society today.
March 12 happened to be the Museum's Spinning Wheel Showcase, and the buildings and courtyard were full of spinners and assorted fiberarts displays.
After checking out the museum, the group adjourned to the Stauffer-Will Farm outside of town, for sack lunches and a tour of an 1866 pioneer homestead preserved as close to original as possible. Click on the picture to see a gallery of Mike Bade's photos of the event.

---
March 5, 2016 – Garage Tours: Bill's Place and Gary Parham's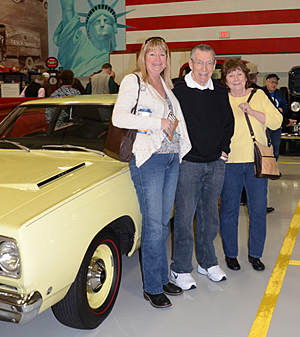 Bill and Dolores Call opened their doors for a tour of their collection on March 5, 2016. Cascade Pacific Plymouth Club was joined by members of the Studebaker Drivers Club, and WPC Pacific Wonderland Chapter – some 40 people in all. Visitors enjoyed coffee and cookies as they took the collection of cars, murals, and other memorabilia Bill has amassed through his years of service as a U.S. Marine and through his involvement in the trucking industry in the northwest. Click on the picture to see a gallery of Mike Bade's photos of the event.
---
February 15 (Monday) – Mayflowers tour Oregon State Capitol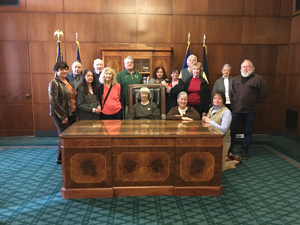 Mayflowers toured the Oregon State Capitol on February 15, 2015, and watched the legislature in session. They were also able to visit the Governor's ceremonial office, and pose for a group picture behind the Governor's desk. It's a great picture, and Philis Van Coelen looks downright gubernatorial sitting in the Governor's chair. Click on the picture to see a larger version.
---
August 8, 2015 – Hot Dog-ust Day at Clackamas
Community College

CPPC was proud to host 81 cars at our Hot Dog-ust Day Cruise-In & Car Show on August 8, 2015.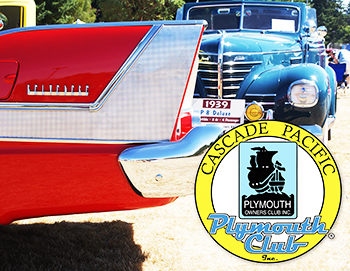 We were able to give a $1500 scholarship to the Automotive Tech department at Clackamas Community College – tuition and fees for one student for an academic term. We also contributed $300 to CCC's cross-country team, who cooked and served hot dogs, and literally served as runners to help park the cars.
Thirty-nine local businesses sponsored trophies, and dozens more supported the event with donations to the raffles which ran all day.
We're already planning next year's event.
We have a couple of photo galleries: one of cars on the field, and another of trophy winners. Feel free to contact info@cascadepacificplymouth.org for high-resolution versions of pictures.
Click on this link to see the cars in the show.
Click on this link to see the trophy winners.
Click on this link to download a list of trophy sponors, raffle donors, and goodie bag donors.
_________________________________________________________________
2013 National Meet in Tucson
This Old Plymouth Makes Another Journey

Click on either of the pictures to see pictures of the trip to and from the 2013 Plymouth Owners Club National Meet in Tucson
By Tom Nachand & Chuck Willis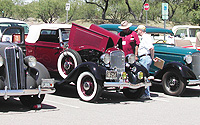 In hindsight the trip started with a little trepidation. Lincoln City to Tucson and back was pretty ambitious, especially in an 80 year old car. I've said for years that the fun of driving overcomes the inconvenience and lack of comfort my old Plymouth gives me. It's true. As uncomfortable as I get it is still an over the top joy to drive. Preparation was easy as the '33 only required a tune-up and repacking the front wheels.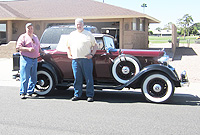 Chuck Willis, once asked, was an enthusiastic passenger. I was glad to have his company. Chuck and I are pretty large. I've quipped "Big & Bigger" a number of times. In spite of having to drag us and our luggage around, the PD Convertible Coupe performed wonderfully last trip to Pacific Grove, so expected the same for this trip.
Day 1 on the trip was 470 miles to Willits, Ca. The first 100 miles started a bit rough. We stopped in Reedsport, Or. as the engine was running rough. After resetting the points again the engine smoothed out. It was a long day with hours of rain or drizzle and Willits was a welcome sight. Day 2 was more of the same. A lot of miles with stops at the Golden Gate Bridge and the hotel stay at the same hotel as the 2007 POC National Meet in Santa Maria, Ca. Day 3 got us through Los Angeles to Blythe, Ca. Only three traffic jams and much warmer temperatures. Day 4 we happened to be stopped in Tonopah, Az taking a break when I received a call from Mick DeSantis. Mick & Ruth invited us to visit their home in Sun City, a Phoenix, Az. suburb. It was an opportune call, we were so close, so we relaxed a bit at their home and enjoyed their new patio. Mick showed Chuck and I the surrounding amenities as we departed – Multiple golf courses and even more community centers. We arrived in Tucson at the end of Day 4, 1540 miles from the start and checked in. Friday was filled with a Club Officer meeting, Board meeting, and Judges meeting. I fit in cleaning up the car as the show and judging was set for the next day. A social hour and Bar-B-Q finished the day.
Thursday through Sunday temperatures were in the mid 90's. Saturday turned out to be a cloudless day, the parking lot adjacent to the Hilton Hotel lined with old Plymouths. It was an enjoyable sight. Once judging was complete, most retired to the shade and rested up for the banquet. More than 100 people attended the evening banquet. A 6 person Regional Club planned and executed the entire POC National Meet. It was an amazing effort and showed what can be done. Chuck and I thoroughly enjoyed our time in Tucson.
We left for the Grand Canyon early Sunday morning. The idea was to get in Sunday afternoon and see some of the canyon. Get up early and take the shuttle bus for some other views of the canyon before departing for Hoover Dam and Las Vegas. The rim trail and views were magnificent. After departing the Grand Canyon the wind picked up blowing from the south and southwest. The Plymouths speed dropped dramatically to the point that I thought something was failing. All the gauges read good but there was no acceleration and the wind noise was so loud we couldn't hear the engine running. I pulled over a couple of times to see what could be wrong. Ultimately, the engine was fine it was just that the wind was so strong it overpowered the 70 horsepower. We turned west after about 50 miles and the driving was easier.
Next stop was Hoover Dam. I was slightly disappointed compared to a visit over 40 years before. I can remember stopping right on the dam and walking around – looking up towards the lake and down the face of the dam. Times have changed. There is a military presence and checkpoint. There is no stopping on the bridge and parking now costs $7. I was also surprised at the number of people walking around. At the end of the day we circled Las Vegas and stayed northwest of town. The newscast that night stated the wind had been blowing at a steady 46 MPH. I thought it was now behind me but the newscast stated the wind was shifting to the northwest. It would still be in my face tomorrow. Our longest day was scheduled the next day.
The next stop - Carson City. I decided to leave Hwy 95 north of Las Vegas and get to Hwy 395 leading to Carson City. To do that was about 80 miles of isolated road (Hwy 266 & 168). The elevation changed dramatically bringing snow showers. At one point the road turned into one lane with a sign stating "yield to oncoming traffic". That was a bit odd because there were so many turns in the road and the canyon walls so close you couldn't see 50 feet or really yield to anything.
We finally arrived in a place called Big Pine, stopped for fuel and lunch and turned north again. The elevation kept rising and topped out at over 8200 feet near Mammoth Lakes. Snow intensified. Fortunately, the roads stayed pretty clear in spite of blowing snow and temperatures in the 20's. Snow was with us all the way to Carson City. We had bypassed a stop at Bodie, Ca. A ghost town due to the bad weather.
Next leg was to White City, Or. AS bad as the weather was the previous day, it was beautiful the next morning. We left Carson City early again and took one break at a little dirt pull off seemingly in the middle of nowhere. WE pulled up next to a tree that was loaded with shoes. There must have been 200 pairs hanging.
The next break was in a small town called Adin, Ca. We had lunch in a place called Adin Supply. It was a catch all store that had wonderful personality. It had lunch, auto parts, clothing, groceries, antiques, and a stunning array of taxidermy. After lunch we headed towards Klamath Falls. Or. and I missed a turn, stopping in Keno, Or. for directions. I thought we would be returning close to Klamath Falls where I could buy more gas . Instead, we hit a Hwy 140 intersection 31 miles from Klamath Falls and 45 miles from Medford. Another place on the sign was Lake of the Woods Resort – 5 miles. We've got 10-15 miles left before running out of gas. We turned off to the resort looking at a big sign that says CLOSED TILL MAY 1ST, found a locked fuel pump next to a store, and no one around. I walked around empty cabins toward a lodge and found a guy working. I explained our dilemma and asked for his help. A couple of phone calls and we were able to get enough gas to get to White City. Plan B was to go on until out of gas and meet my Brother-in-law coming out of White City. Fortunately, we only had to meet him for breakfast the next morning.
The last day was a 5 hour run to Lincoln City. The return trip was 1660 miles totaling 3200 miles, a couple of pairs of chapped cheeks, and more aches and pains than a couple of trips to the hot tub will cure. All in all, an ambitious trip, two willing guys, and an 80 year old automobile that got us there and back and is capable of even more.


________________________________________________________________
Garage Tour: March 10, 2012
Ardie Overby's place in the morning …
By Robin Will
CPPC's activity season started on March 10, 2012, with visits to the collections of Ardie Overby, in Beaverton, and Ken Austin, in Newberg.
Click on the picture of the Ardie's Corvette to open a photo gallery of the Overby tour.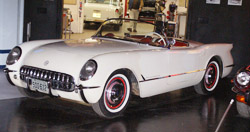 The first stop was breakfast at the Black Bear Diner in Beaverton, followed by a short motorcade to Ardie's place. Our group had 18 members at that point.
In terms of total floorspace, the Overby establishment is about 60% serious restoration shop, 20% reference library, and 20% showroom of finished cars. The shop is clean and ultra-organized, with work-in-progress on the benches and everything else out of the way. The reference library is astounding: dealer training films, sales manuals, posters, and technical publications that establish Ardie among the ranks of internation experts on Chevrolets. No kidding. And the showroom . . . a half-dozen or so of the absolutely exemplary cars that Ardie decided to keep.
Ardie's main thing is Chevrolets and Jaguars, and of the Chevys, he leans most heavily towards the 1937s. A '37 Chevy was the first car he ever drove, he explains, and just sorta stayed with them.
But he had an early Chevy V8 – a 1918 roadster in his shop, in the early stages of restoration, and a '54 Corvette in his showroom, plus a 1937 coupe that looked brand new – a factory demonstrator and was loaded with every option available in 1937.
Ardie also makes models of his cars, and had some bookend-size depictions of his cars as he originally found them.
An entire room of the building is devoted to a library of Chevrolet-specific books, filmstrips, and factory catalogs and manuals, and Chevy posters and memorabilia cover the walls.
… Ken Austin's collection in the afternoon
The group left the Overby garage and headed via backroads over the river and through the woods to Newberg. After lunch at Little Cooperstown Pub, we visited Ken Austin and his collection. We had picked up a few people along the way, and our group numbered 20 by that time.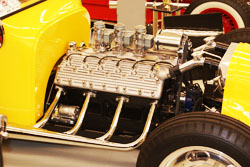 Ken did something he claimed he had never done: he abandoned his prepared talk, and strolled through the collection with his visitors, answering questions as they came up. It was a pleasant and informative afternoon with a gracious host.
Click on the picture of Ken's hot-rod Lincoln, at right, to open the photo gallery of the Austin tour.
Ken was a hot-rodder when he was young, and he still builds and sells speed equipment when he can get a break from his real job, manufacturing tools and equipment for dentists. A few of the cars in the collection are replicas of things he built as a young man, and each car has its story.
Lined up along one wall were a series of early Fords in which Ken can see the evolution of Henry Ford's thinking as he worked towards the Model T. The star of that lineup is the dead-original 1907 Model K roadster.
There were several other Fords, but the eye-popping one for many of us was the yellow roadster with the seriously overcarbureted flathead V-12 in it. This is an extreme "Hot Rod Lincoln," with 12 cylinders instead of 8. Better than the song!
Ken Austin's collection was our last stop for the day. We said our thank-yous and goodbyes, and drove home in the rain.
__________________________________________________________________