November 27, 2017 – Mayflowers at the Oregon Rail Heritage Center
By Mindy Benfield
On Friday November 17th the Mayflowers had lunch at the Eastmoreland Golf Course before heading over the Oregon Rail Heritage Center (ORHC) in Southeast Portland.  An extended and informative tour of the vintage engines and railcars was given to us by train enthusiast and volunteer docent Barry Strange.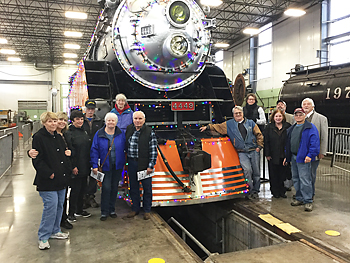 The ORHC opened in September of 2012 and is a nonprofit all volunteer organization. Their primary objectives are to maintain and preserve historic locomotives and railroad equipment, and to educate the public about Oregon's railroad history. The ORHC is open Thursday thru Sunday and is well worth a visit. For more information look at the website for The Oregon Rail Heritage Foundation which is www.orhf.org .   
As an added bonus, after the tour some members took advantage of the sunny weather and had a pleasant walk across the Tillicum Pedestrian Bridge.
---
October 16, 2017 – Mayflowers tour Willamette Heritage Center
By Virginia Dunn
On a beautiful, fall day 17 Mayflowers and friends traveled to Salem for a tour of the Willamette Heritage Center's Thomas Kay Woolen Mill.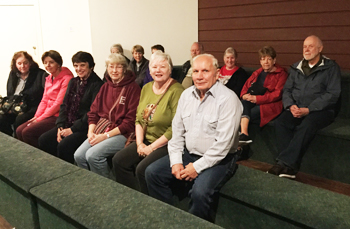 We learned much of the mill's original machinery is intact and operational. During its 62 year history, with one fire and only one worker strike, the woolen mill closed in 1962 mainly due to competition from manmade fabrics. Two years later it was acquired to become a museum with five historic building also moved to the five acre site.
Nineteen members enjoyed a "cool" lunch at Gilgamesh Brewing. Some returned to the museum's grounds to tour the historic buildings and visit the shops.
Follow this link to see Jim Wheat's pictures.
---
September 27, 2017 – CPPC was featured club at the last Beaches-PIR Cruise-In of the season
Six cars and ten CPPC members attended the season-end Beaches Cruise-In on September 27 at Portland International Raceway.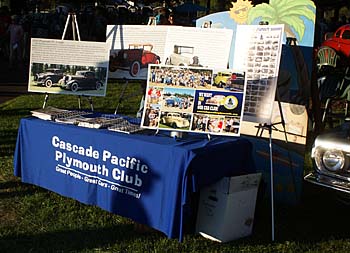 The last cruise-in of the season is always well-attended. By the time PIR opened the gates at 3:00PM, cars were backed up from the ticket booths all the way to the golf course – and back on the other side of the road, the better part of two miles.
Most of us thought we had never seen so many cars, let alone such a crowd of people, at a Beaches event, but on Thursday morning their Facebook page said there had been "only" 1751 cars – the second-most ever.
As featured club for the evening, we got to park in the middle, and as usual, we invited as many non-club Plymouths as possible to join us. We meet some interesting people that way, and occasional attract some new club members.
Aside from "Phil's Phall Poliage Phollies," by invitation from the Studebaker Club on October 21, this was the last outdoor event on the CPPC calendar for the year.
Follow this link to see the Beaches photo gallery.
---
September 2, 2017 – Show & Shine at Columbia Gorge Interpretive Center
Ten CPPC members and eight cars met at the Airport Way Home Depot on Saturday morning, September 2, and made the 40-mile drive to Stevenson, WA.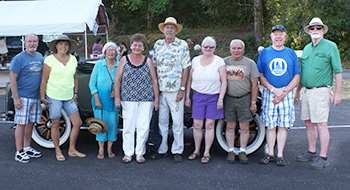 The event is a fundraiser for the Columbia Gorge Interpretive Center, one of the northwest's most impressive regional museums, and it is held in the CGIC parking lot that overlooks the Columbia River in Stevenson. CPPC members Allen and Sharon Tiffany are involved in CGIC, and several CPPC members have made this annual event a tradition. The community of Stevenson turns out in a big way for this event, and the grilled burgers and real strawberry shortcake seriously raise the bar for car show cuisine.
Joanne Dixon keeps hoping that CPPC will bring home the club participation trophy, but we missed by three cars this year. On the bright side, Allen Tiffany's original 1928 Plymouth Q Roadster took the award for Best Car from the 1920s.
As a sad ending to a fun day, the Eagle Creek fire started across the river late in the afternoon, and we watched the smoke plume grow during the awards ceremony and on our drive home.
Click on the picture or follow this link to see pictures of the event.
---
August 12, 2017 – CPPC's Hot Dog-Ust Day
Three years ago, CPPC began holding our annual cruise-in/car show on the campus of Clackamas Community College, and made a point of donating monies to CPPC, earmarked for scholarships to Auto Technology students.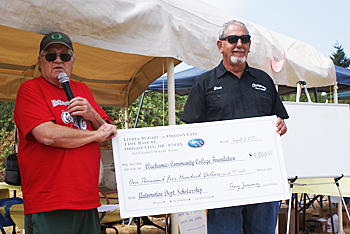 The first year, we were able to turn over $1500 for scholarships, and still show a profit on the event.
This year, we handed over $6000, when all was said and done, including $750 for the track/cross-country team, which shows up every year to help us park cars and cook hot dogs.
Eighty-nine cars turned out – several of them already in line by 7:00AM.
Read more about the event, and see the pictures, at this link.
---
July 16, 2017 – Forest Grove Concours d'Elegance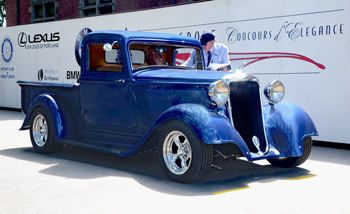 The big news (for CPPC, at least) at the Forest Grove Concours was Jerry Klinger's win in the Light Trucks through 1940 class in his 1934 Dodge. Few CPPC members get to make that memorable drive across the platform at Forest Grove, and Jerry did it with pride. Mike and Donna Bade, Randy and Pam Ealy, and Robin Will attended the show. The Plymouth presence on the field was small, but we did meet former CPPC members Paul and Joan Taylor in the Woodie Corral – they had brought an original 50K-mile 1949 Plymouth Special Deluxe Station Wagon to the show. We gathered up Mike's and Robin's Mopar-related pictures, and you can see them at this link.
---
July 10, 2017 – Mayflowers tour Palm Harbor
By Barbara Rice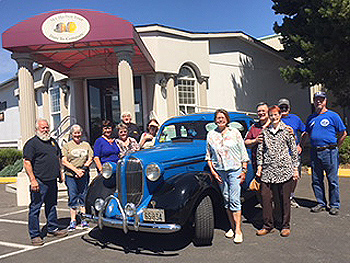 The Mayflower's tour Palm Harbor Mobile Factory in Millersburg on July 10. There were 16 for the tour that saw how they start product to the finish product. Most of the ones made are special ordered and take about three weeks to build.
Philip Lapin & Jean Graham own a mobile home , they had lots of questions and Steve Thomas our tour guide did a great job on answering all questions.
D. J. Freeman drove up from Philomath to join the group. That's his '38 P5 coupe in the picture.
After the group went to Novak's Hungarian Restaurant in Albany for lunch . And time to eat and visit.. Good time by all.
See more pictures at this link.
---
June 22, 2017 – Mayflowers at the Japanese Garden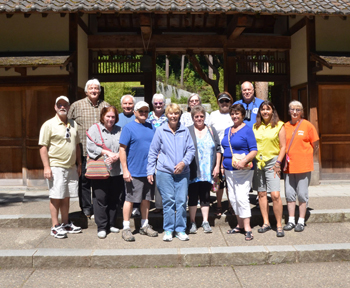 On June 22, Mayflowers visited Portland's Japanese garden. Mike Bade took pictures.
See the pictures at this link.
---
June 17, 2017 – Orphan Car Meet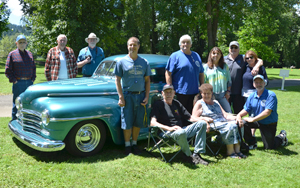 Each year, Studebaker Drivers' Club NW produces its Orphan Car Meet, and attending the gathering has become a tradition for Cascade Pacific Plymouth Club. The setting, in Oregon's City's Clackamette Park at the confluence of the Willamette and Clackamas Rivers, is one of the best sites in the Northwest for a car event. Aside from that, it's the place to see the cars you never get to see anymore: orphan makes, the many wonderful automobiles that are no longer in production. Best of Show this year was a 1929 Willys Whippett, but Don Ryan and Lee Powell placed in their classes, and Steve Herman and the Dixons got honorable mentions. SDC-NW reports that 75 cars attended the show in total, and 100+ pounds of food was collected for the Oregon Food Bank. See the pictures!
---
May 22, 2017 – Mayflowers visit Red Pig Garden Tools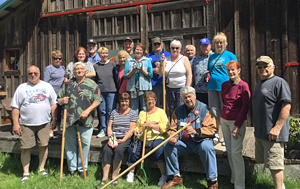 Red Pig Garden Tools makes and sells hand-forged implements to home gardeners, nurserymen, landscapers and farmers, as well as sharpening, repair, tool restoration, and other general blacksmith work. (If it can be hammered from steel, host Bob Denman will make it for you.) Red Pig Garden Tools is located at: 12040 SE Revenue Road, Boring 97009.
---
May 12, 2017 – Celebration of the life of Bruce Kerslake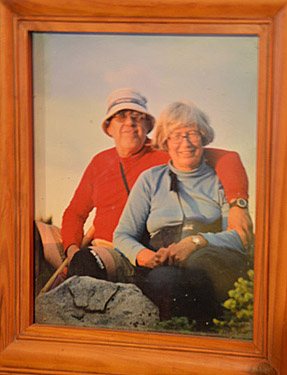 A funeral wasn't really in the cards for CPPC member Bruce Kerslake, who died February 25. Bruce was a member of multiple car clubs, which all joined in a cruise to one of Bruce's favorite spots, Nick's Bar & Grill, in Amboy, WA, on May 12 for a celebration of his life. Bruce belonged to CPPC, Studebaker Drivers Club NW, WPC (Chrysler) Pacific Wonderland chapter, a local club for American Motors enthusiasts, and possibly others. Sue Kerslake coordinated a slide show and display of photos from the years when the couple were hiking and skiing enthusiasts. About three dozen friends attended, and Studebakers appeared to outnumber the other rigs in the parking lot.
Click here to see the photos by Mike Bade.
---
April 15, 2017 – Wooden Shoe Tulip Festival, at last!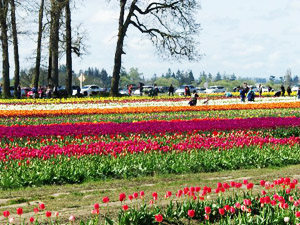 After several years of being thwarted by mud, storms, and chancy blooming seasons, CPPC and friends managed to catch the Wooden Shoe Tulip Farm in full bloom on a sunny day, Saturday, April 15. We were joined by the Studebaker Drivers Club NW and the Pacific Wonderland chapter of the WPC Club. Ten cars and 18 people made the trek and were ushered directly to privileged parking in front of the flowers. We're grateful to the Wooden Shoe Tulip Farm for the opportunity. D.J. Freeman took the pictures.
Click here or on the picture at right to see more photos of the event.
---
February 11, 2017 – World of Speed, Wilsonville, OR
CPPC's season starts with an indoor activity
CPPC's first organized activity of the year happened on Saturday, February 11 with a trip to World of Speed in Wilsonville.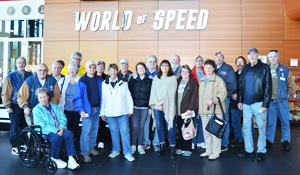 The great thing about World of Speed, aside from being warm and dry on a February afternoon, is the constant turnover of displays, and the extremely high quality of the guided tours. Displays are rotated in and out frequently, so it's possible to visit WOS several times a year and see new things every time.
Mike Bade and Jim Wheat took lots of pictures.
Click here or on the group picture at right to see a selection of Mike's and Jim's pictures.
---
December 7, 2016 – Mayflowers' holiday lunch at Stonecliff Inn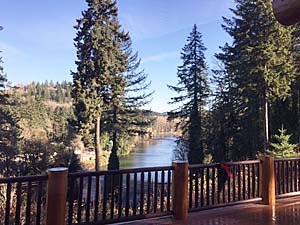 By Mindy Benfield
The Mayflower's like to celebrate the holiday season with a special lunch at a restaurant that is a little bit 'fancier' than where we usually go. The Stonecliff Inn did not disappoint!
On December 7th, twenty three of us sat down to a wonderful meal and a couple hours of great conversation. Although it was too cold to go outside and explore the grounds, the view of the Clackamas River from the large windows was fantastic.
Click here or on the picture to see a gallery of Jim Wheat's pictures of the Stonecliff Inn luncheon.
---
November 8, 2016 – Mayflowers tour Bob's Red Mill
By Mindy Benfield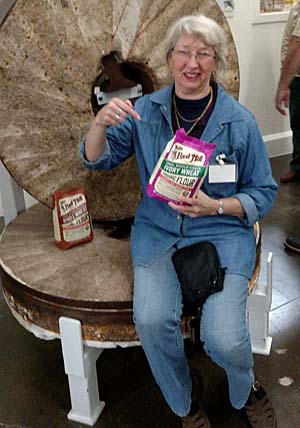 On Tuesday, November 8th, Mayflowers – 14 CPPC members and friends – met at the Bob's Red Mill factory in Milwaukie, OR.
After a detailed and interesting presentation we toured part of the facility. Looking through glass windows we were able to see the inner workings of a specialty grain milling operation.
Afterwards we all drove over to Bob's Red Mill Whole Grain Store, Restaurant and Bakery, where we had lunch and shopped for delicious healthy food.
---
September 21, 2016 – Beaches at PIR: The cruise-in season
begins to wind down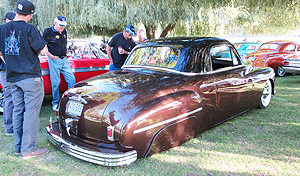 Twenty-five CPPC members and 15 CPPC cars turned out for the next-to-the-last Beaches PIR Cruise-In on September 21.
As featured club for the event, we got to park our Plymouths in the middle of things, under the trees across from the bandstand and close to the food service, so we got a lot of attention.
Our custom is to invite other Plymouth owners to join us in the position of honor, club members or not. We get to meet lots of interesting people that way, and occasionally we recruit some new club members.
Click here or on the picture of the lowrider to see a gallery of Bruce Kerslake's pictures from the event.
---
September 3, 2016 – Columbia Gorge Interpretive Center
Show & Shine, Stevenson, WA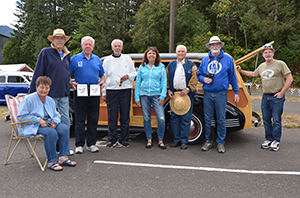 The weather looked chancy starting out, but we got the afternoon clearing that the weatherman promised, and the day was comfortable.
The annual Show & Shine in Stevenson benefits the Columbia Gorge Interpretive Center, where CPPC members Allen and Sharon Tiffany have been heavily involved for years. It's one of the most impressive regional museums in the Northwest, well worth the drive to Stevenson even without a car show.
The Dixons and Bades were at the show; Sharon Tiffany was able to join us on the field for a short visit; Herb Watkins and Russ Ashley came in Herb's hand-built Packard Woody; and Robin Will took pictures. Terry and Judie Byrnes were also at the event with their 1952 Plymouth Cambridge, but they were nowhere to be found when it was time to take the group picture.
As usual, museum supporters turned out to grill hamburgers and hot dogs, putting the menu several cuts above ordinary cruise-in food, and there was real strawberry shortcake, making a couple of us think we should have had dessert first.
Allen Tiffany won in the 1920s category with his 1928 Plymouth Q roadster, and he took best of show with the 1937 Chrysler 4-door convertible.
Follow this link to see the gallery of pictures from Stevenson.
---
August 20, 2016 – CPPC'S Hot Dog-Ust Day Car Show & Cruise-In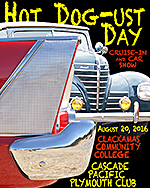 Sixty-five cars turned out on the hottest day of the year for the cruise-in / car show / fundraiser we produce every year to raise scholarship money for Automotive Technology students at Clackamas Community College. It's our way of supporting our community – and keeping car enthusiasts in the pipeline, to keep our hobby strong.
Follow this link to read about the event and see the pictures!
---
July 29, 2016 – Old Timers Festival, Dayton, Oregon
In Dayton it appears the entire town turns out for Friday nights in the park that serves as the town square, and the Old Timers Festival on July 29th drew the Ealys, the Bades, and the Byrnes. Photos are by Mike Bade.
---
July 23, 2016 – Roberson's All-Mopar Cruise-In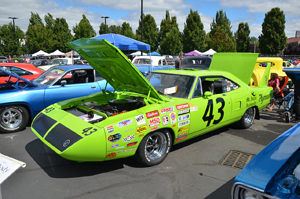 Saturday, July 23, was the date of Roberson's All-Mopar Cruise-In in Salem this year, and as usual, the big boys came out to play such as the Plymouth Superbird at right, which you probably won't see at your local cars-n-coffee event.
Dixons' '67 Barracuda and Bades' 1930 Plymouth hot-rod both placed in their classes.
Follow this link to see a gallery of Mike Bade's photos from the Roberson event.
---
Thunder, lightning and rain add excitement to Orphan Car Show on June 18th
Weird weather kept folks huddled in their cars for part of the Orphan Car Show, but it improved later in the day.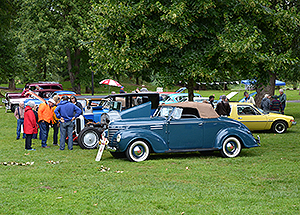 CPPC had a small but faithful turnout, and the Ealys went home with second place in their class, the 1930s decade, for their stellar 1939 Plymouth convertible.
The Orphan Car Show, sponsored by the Studebaker Drivers Club NW, is a quality event in more ways than one. The venue at Clackamette Park is a great place for a car show. But the cars are the point, and folks who are tired of overchromed Deuce coupes and Tri-Five Chevys can refresh their memories among the Studebakers, Nashes, Ramblers and far more obscure makes that aren't often seen at other shows.
Follow this link to see a gallery of Mike Bade's photos.
---
May 21, 2016 Cedar Creek Grist Mill Tour, jointly with the Studebaker Club
By Bruce Kerslake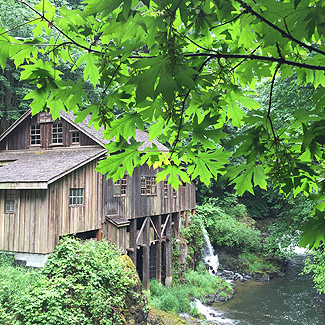 The Cedar Creek Grist Mill tour had the following participants:
Keith and Kathy Reno in their '60 Lark,
John and Pat Bernhart '60 Hawk,
Murl Jones '64 Commander,
Sue and Bruce Kerslake '60 Lark,
Bob and Yvonne Westphal '48 Plymouth Cascade Pacific Plymouth Club,
Pam and Jim Wheat Brand X Plymouth Club,
Terry and Judy Byrmes Brand X Plymouth Club
We left the Gee Creek Rest Area at 10:15 proceeding by back roads to the Cedar Creek Grist Mill. Three grist mill volunteers presented the history and operation and provided samples of stone ground red and white wheat and cornmeal.
Several cookbooks were available for donations as well as products from the mill.
We spent just under two hours at the mill and then drove to Amboy for a tasty lunch at Nick's Bar and Grill.
Pat Bernhart delared this was the best tour she's ever been on.
Follow this like to see a gallery of Jim Wheat's & Bruce Kerslake's pictures.
---
Schreiners' Iris Gardens put on a show for Mayflower visitors
on May 16th
By Lorraine Griffey
What an amazing display of beautiful iris along with peonies, flowering dogwood trees, and all of the accompanying flowers! Those iris are so regal and come in so many different colors, we all did a lot of oohing and ahhing at all of the beauty. Some of us came home with bouquets of a dozen gorgeous iris!! Ed and Diana Parker of Omak, Washington, surprised us by joining in the tour, which was also a surprise for Diana for her birthday - Good Job, Ed!! What a delight to have a chance to get acquainted with out of town members, wish more of you would do this. Also on the tour were Jim & Pam Wheat, Patty Brost, Minday & Dave Benfield, Barbara Rice, Virginia Dunn, Susan Yates & Lorraine Griffey. Coming up next month is a picnic at Council Crest, hope many can join the Mayflowers as we explore and have a good time together each month.
---
April 15, 2016 – Mayflowers at Belmont Fire House
On April 15, CPPC's Mayflowers toured the Belmont Firehouse, SE 35th and Belmont in Portland, formerly a neighborhood firehouse and now a museum that teaches safety and shares the history of firefighting. The venue is usually advertised as a great place to take children, but nobody is too old to enjoy the firetruck simulator, the antique firefighting equipment, and the chance to slide down the brass pole the way the old-time firefighters did. Photo by Jim Wheat.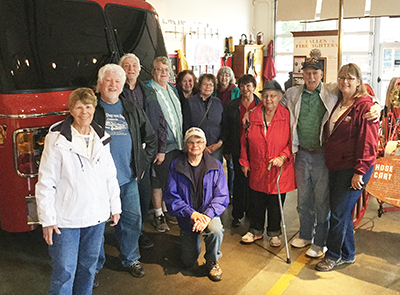 ---
April 1-2-3, Portland Swap Meet
By Robin Will
Every year, there's something to learn at Portland Swap Meet, which I think is why CPPC keeps going back. The parts-scrounging, wrench-turning, hands-on hotrodders and restorers who hang out at Swap Meets are the folks who keep our entire hobby running, and it's only smart to pay attention to the questions they are asking, and the stuff they're buying.
Some years, we bring home substantial amounts of money from Portland Swap Meet.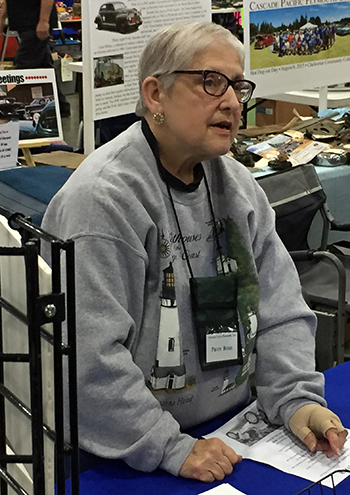 Some years we make friends in the hobby, like the youngster who just hauled a '33 Plymouth coupe out of the woods, and needs to know what the gauges are supposed to look like. Or the 20-something kid, literally with tears in his eyes, holding some rusty piece or other, saying "You're sure you want only twenty bucks for this?" (He's working on a P-15, and I'll bet this guys grandfather wasn't even born when the last new P-15 rolled off of the line.) Or the really old guy, pushing his walker along, who confides that he's got a couple of Plymouth projects he won't be able to get to, and he wants them to go to somebody who will treat them with respect.
Patty Brost helped out with membership questions and was quite willing to talk about the Brost family's '33 Plymouth PD convertible. Photo by Robin Will
Each year, we're reminded that all of us, and all of our cars, are getting older. The last Plymouth was made in 2001, which means kids getting their learners permits this year as 15-year-olds have probably never seen a new Plymouth. We can't ignore that demographic, and it shapes the way we'll approach the business of selling old Plymouth parts in the future.
So we didn't set the world on fire with booth sales this year. It wasn't the worst year we ever had, but we were grateful that we met lots of great people to balance out the disappointing till.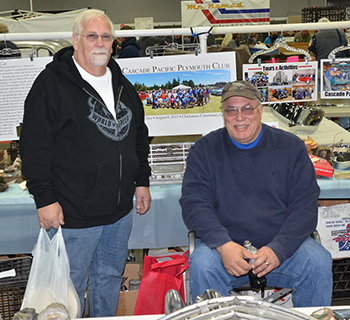 Everybody was blaming beautiful weather for the flat sales. That's ironic, considering the number of years we have endured rain, wind, and hail at the early springime event, waiting for a break before we went outside. This year the sun was so nice that people didn't come inside, and some folks used the balmy weather as an excuse to skip the Swap Meet altogether.
Tim Winchell (L), master electrician, and Tom Nachand, all-around 1933 PD guru, were on hand to swap stories and share technical advice. Photo by Mike Bade
But as things turned out, booth sales weren't everything. We had an outdoor space as well, full of the stuff that was too big to drag inside. At the end of the meet, a friend offered us a generous check for everything that was left out there, provided we'd deliver it on the way home, and that brought us up to just about average income for the meet.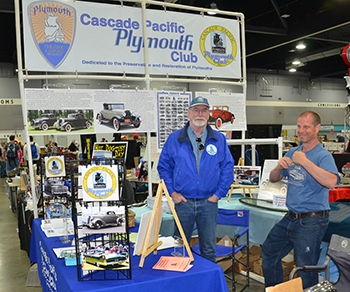 In addition, we sold the Tech Committee's "baby," the 1942 Plymouth Sedan that they have been working on for months. We didn't sell it at the Swap Meet – a club member bought it – but that income will show up on the Swap Meet ticket, when the Tech Committee accounts for everything spent getting The Baby into shape.
Robin Will (L) and Steve Herman did their best to sell parts and promote the club to potential new members. Photo by Mike Bade
As usual, several very attractive items did not sell at the Swap Meet, which, increasingly, is the way things have been working lately. Sometimes the guy who will give you $500 bucks for the donated 1930-only Plymouth wire wheels is in Florida, not strolling past booths at Portland Swap Meet. Our "EBay & Craiglist Committee" takes over at that point, marketing the good stuff to a national audience. For them, Swap Meet lasts all year, and they bring the club hundreds of dollars worth of online sales each year.
The Tech Committee thanks everybody who showed up to to work, or to help with load-in and load-out, at this year's event.
---
March 18-20, 2016 – Portland Roadster Show
At CPPC member Brad Groff's prompting, club members reserved a six-car space at Portland Roadster Show, and took six cars and some club promotional materials to the 60th anniversary show.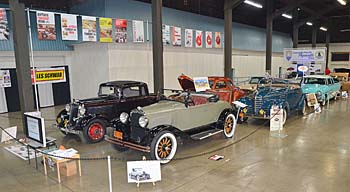 Choosing cars more or less by the decade they represented, the club showed Allen & Sharon Tiffany's original 1928 Plymouth Q Roadster, Mike & Donna Bade's 1933 Plymouth PC Coupe, Randy & Pam Ealy's 1939 Plymouth Deluxe convertible, Bob & Yvonne Westphal's 1948 Plymouth P15 Club Coupe, Tom Shepherd's 1956 Plymouth Belvedere Club Sedan, and Tom Fox's 1959 Plymouth Golden Fury.
Club members were in attendance for most of the hours the event was open, swapping Plymouth stories and sharing club information with visitors.
Portland Roadster Show, with its high-dollar hot rods and customs, might seem to be an unlikely venue for nice old Plymouths, but in terms of competition, CPPC came out well. Bades' 1933 PC coupe took second in the Restored Class, 1931-33; and Tom Shepherds blue-and-white 1956 Belvedere placed second in Restored Class, 1949-57.
Click on the picture to see a gallery of photos from the Roadster Show.
---
March 14, (Monday) – Mayflowers tour Bonneville Power Administration Visitor Center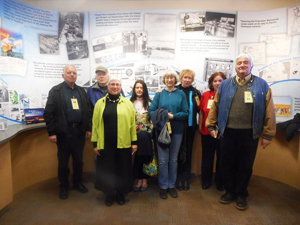 Bonneville Power Administration recently did a remodel of their visitor center in northeast Portland, and BPA now has an archivist keeping track of the agency's history. Mayflowers went to check it out on March 14, getting a look at pictures and artifacts preserved throughout the history of this New Deal program that electrified most of rural Oregon and Washington in the 1930s. Click on the picture to see a larger version.
---
March 12, 2016 – Old Aurora Colony Museum &
Stauffer-Will Farm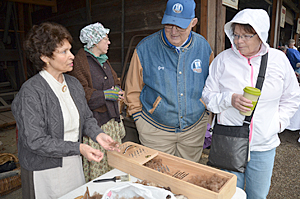 CPPC members visited some historic sites fairly close to home on March 12, when Robin Will hosted a tour to the Old Aurora Colony Museum and the Stauffer-Will Farm.
The town of Aurora was founded as a Utopian Christian communal society in the late 1850s, and since they brought an entire community – craftsmen, orchardists, builders, millwrights – they had a major influence on the commerce of the Willamette Valley.
Their heritage was mostly German; their religion was similar to the Pennsylvania Dutch Amish. The colonists were noted for their arts, crafts, and music, and that tradition carries on in a variety of ways in the historical society today.
March 12 happened to be the Museum's Spinning Wheel Showcase, and the buildings and courtyard were full of spinners and assorted fiberarts displays.
After checking out the museum, the group adjourned to the Stauffer-Will Farm outside of town, for sack lunches and a tour of an 1866 pioneer homestead preserved as close to original as possible. Click on the picture to see a gallery of Mike Bade's photos of the event.

---
March 5, 2016 – Garage Tours: Bill's Place and Gary Parham's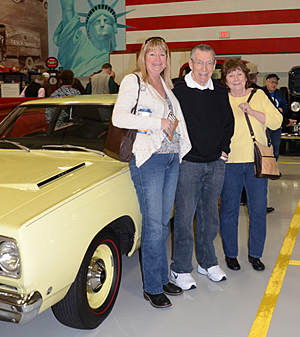 Bill and Dolores Call opened their doors for a tour of their collection on March 5, 2016. Cascade Pacific Plymouth Club was joined by members of the Studebaker Drivers Club, and WPC Pacific Wonderland Chapter – some 40 people in all. Visitors enjoyed coffee and cookies as they took the collection of cars, murals, and other memorabilia Bill has amassed through his years of service as a U.S. Marine and through his involvement in the trucking industry in the northwest. Click on the picture to see a gallery of Mike Bade's photos of the event.
---
February 15 (Monday) – Mayflowers tour Oregon State Capitol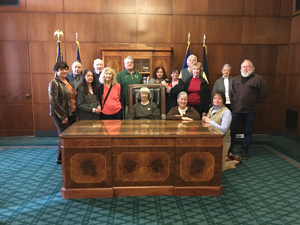 Mayflowers toured the Oregon State Capitol on February 15, 2015, and watched the legislature in session. They were also able to visit the Governor's ceremonial office, and pose for a group picture behind the Governor's desk. It's a great picture, and Philis Van Coelen looks downright gubernatorial sitting in the Governor's chair. Click on the picture to see a larger version.
---
February 13, 2016 – Sidedraught City Garage Tour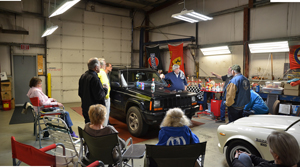 The folks at Sidedraught City have been involved in the Portland automobile community since 2001. They sell a variety of racing supplies which don't necessarily apply to Plymouths, and since 2012, they have also been the northwest dealership for Griot's car care products. They gladly host garage tours for local clubs, providing hands-on experience with the line of Griot products, and giving a chance to try before you buy. Sidedraught City is likely to be a frequent stop for CPPC, since something different happens every time. On this rainy February morning, several CPPC members got hands-on experience using a clay bar. Click on the picture to see a larger version.
---
November 7, 2015 – World of Speed, plus tours of the Andrews and Vermeer garages
Click here or on any of the pictures to see a gallery of photos.
By Robin Will
On November 7, 2015, CPPC members toured Wilsonville's World of Speed, ate lunch, and then visited the garages of a couple of local car collectors.
World of Speed is a class act no matter how you look at it. Among other things, a couple of us were impressed at how well the local speed- and hot-rod scene had been documented, recalling names we hadn't heard since we were kids, checking out the older guys' hot rods when Eisenhower was President.
After lunch we made the short drive to George Andrews' place. He's a Ford guy, and can talk all day about Model Ts, but the pride of his collection is a 1936 Pierce Arrow sedan.
The car, priced new at $7000 when Fords cost about $700, was bought new by a local public servant who, on paper at least, didn't have the means to buy so expensive a car. Without much prodding, George will tell you the story of Terry Schrunk's career as a sheriff and mayor. He'll also tell you that the 6000-plus pound sedan can cruise at 90mph, a fact he personally verified.
The next stop was Doug Vermeer's. Doug is a woodworker by trade, and his collection includes cars from the Teens and Twenties that required replacement of their structural wood. The Vermeer cars all get driven – it appears that a couple of family members enjoy classic car tours – and though they're all impressive, it's clear they're treated like cars and not priceless sculpture.
Being as we're a Plymouth Club, Doug thought we might be able to help with a restoration that's still in process – and that's where the mystery comes in. He said he needs a grille for a 1931 Plymouth PA, and showed us the grille – too rouch to restore – that he had taken off of the car.
The car it came off of, however, is clearly not a Plymouth PA, a fact that had several CPPC members out in the driveway in the rain, swarming over a coupé body which looks for all the world like a 1932 Plymouth PB, rectangular rear window and all.
The coupé – at least the pieces of the coupé – got as much attention as the Franklins, Maxwells and the Zephyr (under construction) that were inside!
We took a lot of pictures, and Gary is doing some online research to see if anything like this ever left the factory, or if the combination is a more recent, homemade adaptation.
---
November 6, 2015 – Mayflowers visit Aurora
Crowds in Aurora? Who knew?
The Mayflowers found themselves behind a tour bus full of exchange students in Aurora on November 6, a group which overwhelmed the small business on their agenda.
The Mayflowers skipped one of their destinations because of the crowd – but found themselves behind the same group at another spot late in the day.
As a result, they missed a candy factory and the holiday display at Fir Point farms.
However, they had a good time at Aurora Mills Architectural Salvage, where interesting bits from old buildings are preserved – and for sale. It's as much museum as it is store, full of memories as well as things we'd like to take home.
"There was lots of neat old stuff to look at, reports Mindy Benfield. "We learned that Jim Wheat is quite the antiques collector- so much so that his wife, Pam, says that they need a second house just for his collectables!"
(They also found the perfect sign for Chuck and Stephanie, in case the Willis' decide to open a new business.)
After a leisurely tour of the Aurora Mills collection, the group enjoyed an early lunch at Langdon's Grill located just north of the Aurora Airport at Langdon Farms Golf Club. The food and service were good and it was a perfect end to an otherwise less than perfect outing.
Jim Wheat provided the photos on this page. Click on any picture to see a larger version.
---
October 14, 2015 – Ridgefield National Wildlife Refuge
By Jeanette Dimick
Eleven cars and 20 members showed up on a beautiful day to tour the Ridgefield National Wildlife Refuge and have lunch on October 14, 2015.
The drive around showed us a lot of herons … did you know they only weigh 4-5 pounds, large as they are? Bruce and Sue Kerslake said they had a photo from earlier this year out there of a snake losing his battle with a heron … egads!
Some saw a beaver swimming in the stream. Several other birds spotted, identities ??
Lunch was to be catered at the Holy Grill in Ridgefield, when I called to confirm, the caterer was on I-84 with a blown tire after leaving her dad in Spokane with terrible injuries from a grinder accident. So, Plan B which we didn't have of course.
We found Gouger Winery, they served us brats and tuna melts and some mighty fine wine.
Then, on to Schurman Machine Shop which was an interesting tour and story.
We were especially pleased to have Les and Nancy Connors join us for lunch.
Click on each picture to see a larger version.
Pictures by Jeanette Dimick
---
September 23, 2015 – CPPC is host club at Beaches PIR:
we had 19 Mopars and one Stanley Steamer in attendance
Cascade Pacific Plymouth Club was featured group at Beaches PIR Cruise-in on Wednesday evening, September 23, at the next-to-the-last Beaches event of the year.
Follow this link or click on the picture to see the rest of the Beaches pictures.
Beaches Cruise-In is held Wednesdays, June through September, at Portland International Raceway, sponsored by Beaches Restaurant in Vancouver, and all profits go to children's charities. At an educated guess, there were 1500 pre-1974 cars there this evening, plus lots of motorcycles. The gates open promptly at 3:00, and by 2PM cars were backed up for a mile.
Organizer Joanne Dixon shared these facts: We had 19 Members and 14 member cars. Two of our members brought guests. As is our custom, we invited four non-member Plymouths to park with us (plus the Stanley Steamer). This is a bigger turnout than previous years: In 2014 we had 11 cars and 18 members, and 2013, 8 cars and 11 members. Just some interesting stats. It was a great success and lots of fun.
---
September 11, 2015 – Mayflowers Tour Fort Vancouver and Officers Row
Mayflowers had a great day on September 11 at Fort Vancouver, WA, touring Officers Row and the original stockade.
The tour was comprehensive, beginning at the Pearson Air Museum with a short fi
lm and tour, then a short drive to two of the houses on Officer's Row, with lunch at the Grant House, then another short drive to old fort and stockade.
Philis Van Coelen organized and hosted the event for the Mayflowers, and Jim Wheat supplied all of the pictures on this page.
Click on the picture or follow this link to see the rest of the Officers Row pictures.
---
August 8, 2015 – Hot Dog-ust Day at Clackamas
Community College

CPPC was proud to host 81 cars at our Hot Dog-ust Day Cruise-In & Car Show on August 8, 2015.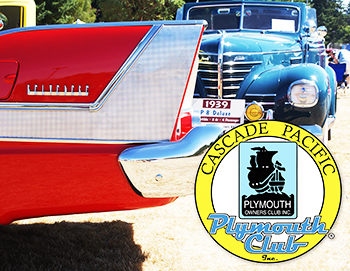 We were able to give a $1500 scholarship to the Automotive Tech department at Clackamas Community College – tuition and fees for one student for an academic term. We also contributed $300 to CCC's cross-country team, who cooked and served hot dogs, and literally served as runners to help park the cars.
Thirty-nine local businesses sponsored trophies, and dozens more supported the event with donations to the raffles which ran all day.
We're already planning next year's event.
We have a couple of photo galleries: one of cars on the field, and another of trophy winners. Feel free to contact info@cascadepacificplymouth.org for high-resolution versions of pictures.
Click on this link to see the cars in the show.
Click on this link to see the trophy winners.
Click on this link to download a list of trophy sponors, raffle donors, and goodie bag donors.
_________________________________________________________________
July 26, 2015 – Mopar Nationals, at Woodburn Drag Strip
By Dave Benfield
MoPAR Nationals at Woodburn Drag Strip is a combination car show, swap meet, and drag race. The car show participants get to park in the pits rather than the regular parking lot, so they're right in the middle of all the action. Dave Benfield and Lloyd Schulz host this event as a regular thing, and there's a faithful cadre of CPPC members who turn out each year for the excitement.
Mopar Nationals represents the grittier side of the car hobby, and members are advised to bring sun shades and sunscreen, hats, ear plugs, and their own food and drink, if they don't like the usual dragstrip fare.
We've had a real good turn out in the past so let's keep it up!!
Lloyd and I usually bring a sun umbrella to tie off to the hand rail in the bleachers due to the lack of shade. We also bring sunscreen, hats, ear plugs, and our own food and drink.
Follow this link to see the Mopar Nationals Pictures!
Four for four isn't bad at all! At Mopar Nationals, July 26 at Woodburn Drag Strip, CPPC members brought four cars, and took home
four trophies.
In the Street Rod Pre '49 class, Mike Bade's 1930 Plymouth Coupe took first place, and Dave Benfield's 1948 Plymouth Club Coupe took second.
In the Projects class, Gino DeSantis' 1934 Plymouth 4Dr. PE took first, and Mark Childs's 1968 Plymouth Fury Wagon placed second.
---
June 20, 2015 – Orphan Car Show at Clackamette Park
The Studebaker Drivers Club's Orphan Car Show becomes a bigger hit with Plymouth people every year!
It doesn't hurt that CPPC member Bruce Kerslake is also heavily involved in the Studebaker Club. And it's due in part to the fact that Plymouths joined the field of "orphans" those marques which are no longer produced, with the end of the 1999 model year.
The Clackamette Park venue – on the grass, in the shade, near the water – makes it a pleasant place to spend an afternoon.
And if you're a little jaded about rows of Tri-Five Chevys or chromed-up flathead Fords, this is the place you want to be for true variety. Against all odds, there was not one, but two '54 Nash Healeys at the show, and when was the last time you saw even one of those?
Randy and Pam Ealy came home with First Place for the 1930-39 decade, with their lovely and driveable '39 Plymouth rumble seat convertible – and a good time was had by all.
Follow this link to view pictures from the Studebaker Drivers Club.
__________________________________________________________________
May 16, 2015 – Hazeldell Parade of Bands, Armed Forces Day
Hazeldell, WA, celebrates Armed Forces Day with their Parade of Bands, and, for the third year, CPPC was there. Car clubs and civic organizations join the parade with just about every maching band in the region, and a good time is had by all.
Click on the picture of the CPPC gang to see the rest of the images.
Joanne Dixon says organizers specifically ask parade participants not to throw candy from cars, and get pretty much ignored every year.
This year, eight members and five cars from CPPC were part of the parade. Jerry and Joanne Dixon host the event, which starts in a staging area before cars are ushered into the parade.
Of the five CPPC cars, four were convertibles – Bades' 1935 Plymouth, Steve Herman's 1937 Plymouth, the Ealys' 1939 Plymouth, plus Westphal's later-model Chrysler LeBaron. The Ealy and Bade convertibles were taken to the front of the parade to escort dignitaries.
__________________________________________________________________
May 9, 2015 – Portland Transmission Cruise-In &
Papa's Toys
The weather forecast – days ahead of time – was for sunny and warm weather, and the turnout for the 2015 Portland Transmission Cruise-In was the biggest anyone had ever seen.
Click on the picture to see the Portland Transmission pictures.
The neighborhood south and west of SE 11th & Hawthorne filled up for blocks, and the designated area overflowed. Some CPPC members – notably Charles & Velva Stewart and Tim McCarthy – gave up and parked outside the show area.
Portland Transmission hosts a no-frills event. Folks arrive at the crack of dawn. Cars jam the streets in the neighborhood, and every available parking lot. By noon it's all over.
When milling around is the order of the day, it's difficult to keep track of club members and their cars. Chuck Willis, Russ Ashley and Herb Watkins were there: we spotted Herb's Packard Woody, and allegedly Russ' '39 Ford was there as well, but we missed it. The McCarthy and Stewart cars were parked blocks away. We know Mike Bade was there because we spotted his '35 Plymouth Convertible, but we never saw Mike. Mark Childs was enthusiastically showing off his '68 Plymouth Suburban (the Great Pumpkin), and we found JulieAnn Edman securing Sarah (the 1935 Dodge pickup) while Marlo circulated and checked out the cars.
There were a few nice Mopar cars at the event which didn't belong to CPPC members, and – even for a hotrod show – an extraordinary number of Deuce coupes (1932 Fords).
Papa's Toys Cruise-In & Car Show is almost always held the same day at the Portland Transmission event – a double-header for hardcore car lovers.
Click on the red pickup to see the pictures from Papa's Toys.
It's the once-a-year opening of the Jim Davis Collection, a benefit for Doernbecher Children's Hospital, held at the former Stewart-Stiles Trucking terminal in Cornelius, Oregon.
The Davis collection occupies a warehouse on the grounds, and if visitors are driving old cars, they're invited to park inside the fence at the terminal. The result is two car shows: the Davis cars inside, and 20-30 acres of visitors' cars outside in the parking lot.
Twelve CPPC members and seven cars made it to Papa's Toys (including some that had spent the morning at Portland Transmission.)
___________________________________________________________________
April 10-11-12, 2015 – Portland Swap Meet
Follow this link or click on the picture to see Swap Meet photos by Mike Bade and Robin Will.
Portland Swap Meet is one of CPPC's two fundraisers in an average year. It's also a change to meet almost every Plymouth enthusiast in the Northwest, recruit some new members, and make some new friends.
This year the Swap Meet was good to us financially, and it once again underlined the value of networking in the old car hobby.
Volunteers in the booth dealt with lots of questions about restoration parts, with 1933 models being the most popular for reasons we couldn't figure out.
Joanne Dixon reported she spoke to more than one person who was surprised that we had women in our club, which gave us some ideas about marketing for future events.
Several visitors took advantage of our offer of free one-time newsletter ads for items they either wanted or had for sale.
Many people took away membership applications, and three couples signed up on the spot.
The takeaway lesson from the 2015 Swap Meet is that Plymouth parts and mechanical know-how are becoming increasingly scarce, and if we can focus on parts and networking, we'll be in business for quite a while.
___________________________________________________
March 12, 2015 – The last operational US Navy PT Boat
March 12 was a sunny day – a good day to drive down to the river and visit a PT Boat.
Bob and Jeanette Dimick hosted this event, with members gathering at North Portland's Overlook Restaurant before heading to Swan Island.
PT stands for Patrol Torpedo, a class of boat designed to strike at larger warships with torpedoes, protected mostly by their high speed and small size.
PT 658 was built late in World War II, and apparently didn't see combat.
A group of volunteers formed the organization Save the PT Boat, Inc., and restored PT 658 to original condition beginning in 1995. It is the only US Navy PT Boat that is fully operational today.
After inspecting every inch of the boat, CPPC members returned to the Overlook Restaurant for lunch, and then returned to the island to visit Mike Slama's warehouse and collection of gas pumps.
__________________________________________________________________
March 7, 2015 – the Legendary SMS Auto Fabrics
On March 7, 2015, ten CPPC members joined a joint tour to SMS Auto Fabrics, in Canby, Oregon, with the Studebaker Drivers Club and Pacific Wonderland WPC Club.
SMS claims to be the largest supplier of auto interior products in the world, and it would be difficult to argue with them. They have an enormous inventory of OEM fabrics, and can offer reproductions of what's not on hand, for every American car from 1930-2000. Aside from seat materials and seat welt, they offer door panels (or door panel skins, for the do-it-yourselfer), carpet, windlace, trunk liners, headliners, and most likely some things that ordinary restorers haven't figured out names for.
They are almost legendary in the restoration hobby for having obscure stuff, or being able to reproduce it, as long as your timeline and budget hold out. CPPC members reported having a great time.
__________________________________________________________________
October 4, 2014 – Tour to Ape Caves
Click here to see the rest of the pictures from the Ape Caves Tour.
Story and photos
by Jeanette Dimick

Ape Caves Tour, Mt. St. Helens led by Bob and Yvonne Westphal and Gerry and Kena Petersen followed by Dennis and Jeanne Mowery, Jerry and Joann Dixon, Bruce and Sue Kerslake and Bob and Jeanette Dimick.
A beautiful drive thru Clark County via Yacolt and Amboy.'A right and left turn instead of a left and right turn but we figured out to turn around when we saw the "private driveway" sign. Lunch in Amboy at the Grill on the Cedar Creek, outside…great food.
Arrived at Ape Caves about noon, Bruce and Sue disappeared pretty quickly with their backpacks being the hikers that they are. We assume they made it out.
6 more went down into the very dark cave with their flashlights. Assume they made it out too as we left a little early.
The fall colors were starting, some nice oranges and yellows and sunshine sparkling through the trees.
A great day, we all enjoyed.
__________________________________________________________________
October 1, 2014 – Closing Day at Beaches/PIR
Follow this link to see pictures of the event.
The phenomenal Beaches Cruise-In at Portland International Raceway takes place every Wednesday from June through September.
For four years running, CPPC has been Featured Club for the last event of the year, usually on the last Wednesday of September.
"Featured Club" means we get to park together as a club, right in the middle of things in front of the bandstand, and we have space to set up a membership table and some display materials.
This year the weather didn't cooperate. Down along the slough, it takes only a little rain to turn a meadow into a mudhole, and Beaches/PIR postponed their September 24 closing event for a week.
Even on October 1, it wasn't a sure thing. However, the rain held off, and at 1:00 in the afternoon the field was pronounced dry enough to park on. By the time the gates opened at 3, classic cars were lined up for a good half-mile.
CPPC showed well, in spite of the last-minute notice, delivered by hosts Jerry and Joanne Dixon. Thirteen members, in 12 cars, were able to get to the event, and as usual, we invited non-member Plymouths to join us.
And the sun came out!
Two new members joined CPPC at the show.
___________________________________________________________________
September 14, 2014 – Covered Bridge Tour
Click here to view Mike Bade's pictures of the Covered Bridge Tour.
CPPC teamed up with the WPC (Chrysler) Club, and the Studebaker Drivers Club, for a Covered Bridge Tour on September 14.
Mick and Ruth DeSantis, Bruce Kerslake, Randy & Pam Ealy, Dennis and Jeannie Mowery, and Mike & Donna Bade attended.
There is a full account of the tour, and a lot more pictures, on Sue Kerslake's excellent website for the Studebaker Drivers Club. Look at the "Recent Events" listings on the left side of the page.
Click here to visit the SDC website.
___________________________________________________________________
September 13, 2014 - Mopar Summit, Columbia River Mopars
Click here to view Gary Rusher's Mopar Summit pictures.
By Jerry Dixon

On September 13th, Columbia River Mopars held their Mopar Summit at Gresham Chrysler Dodge Jeep Ram Dealership. They had 102 car entries, a new high for this location.
CPPC had seven members attend with five cars. The CPPC cars did quite well with four 1st in class awards, Gary Rusher/30 Coupe, Bill Call/88 Police Car, Jerry Dixon/67 Barracuda, and Herb Watkins/55 Dodge. Jerry Becker and Chuck Willis also attended, and we were visited by member Glen Gordon, from Hermiston, who was in town picking up his 1933 coupe from the paint shop and stopped to check out the show on his way home. We thank our friends with the Columbia River Mopars Club for putting on a fine all Mopar event.
___________________________________________________________________
August 30, 2014 – Columbia Gorge Interpretive Center
Show-N-Shine
Follow this link to see the photo gallery!
The Show-N-Shine in Stevenson, WA, is a traditional CPPC event, because of CPPC members Alan and Sharon Tiffany's ties to the Columbia Gorge Interpretive Center – and because the 50-mile drive up the Washingon side of the Columbia Gorge is a great run in an old car.
This year, it rained probably half of the time. One squall after another came in so low that we couldn't see across the river, and unloaded. Most, if not all, of the participants stubbornly stayed put for the day – waiting for pauses in the rain to stroll around, check out the other diehards' cars, and purchase the impressively good hamburgers and strawberry shortcake served up by the museum volunteers. At least a few participants purchased souvenir t-shirts and stashed them, so they'd have something dry to wear home.
CPPC had 6 cars at the meet: Tiffany's 1928 Plymouth Q Roadster, Gary Rusher's 1930 Plymouth U coupe; Bob Westphal's 1948 Plymouth Coupe, Herb Watkins' Packard Woody; Jerry & Joanne's 1967 Barracuda; and Robin Will's 1997 Buick. That didn't quite equal the Gorge Cruisers' 9-car turnout, so we came home without the club participation trophy one more time.
However, the Dixons' Barracuda was recognized for best stripes, and the Watkins Packard was recognized for Best 40s Car, and also won the Peoples Choice Best of Show award.
___________________________________________________
August 16, 2014 – Cruise Independence with Central Lions Club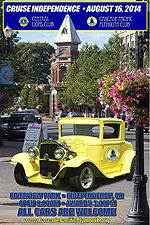 This event marked the third – and final – year of CPPC's teamwork with the Central Lions in creating this stellar event in the town of Independence, Oregon. It turned out well for all concerned. We taught the Lions Club how to produce a first-class car event. We had a great time in the lovely atmosphere of Riverview Park, which is one of the pleasantest venue for a car show that we have ever seen, plus the joint venture was profitable for both clubs.
Mike Bade's brash, yellow 1930U coupe was the poster car, looking good against the backdrop of Independence' Main Street. Click on the poster or follow this link to see see a full account of this great summertime show.
___________________________________________________________________
June 21, 2014 – Orphan Car Show
Click here or on the picture of the winners to see a gallery of photos.
This perennially-popular event is hosted annually by the Studebaker Drivers Club, and CPPC traditionally attends in large numbers. The venue – under the trees in Clackamette Park – is pleasant. Plus it's a gathering place for cars that we don't often get to see: the unusual and beautiful independent marques that fell by the wayside as automobile production grew more concentrated and homogenized in the name of progress.
CPPC took our share of honors this year: Mike and Donna Bade's 1933 Plymouth PC coupe took first place in the '30s category. Herb Atkins' handmade Packard Woody took second place in its class, and Bill Call's 1957 Studebaker pickup took first place in the Trucks category.

__________________________________________________________________
May 17, 2014 – Hazel Dell Parade of Bands
On Armed Forces Day, the town of Hazel Dell puts on a parade, and invites car clubs to participate. For the second year running, CPPC has had a presence in the parade. Click on the group picture, or on this link, to see the pictures Mike Bade took of the event.
____________________________________________________________________
May 10, 2014 – CPPC turnout is scant at Portland Transmission and Papa's Toys
Click here or on the picture to look at the photo gallery.
The second Saturday in May always presents a challenge to Portland-area folks in the car hobby: the Portland Transmission Cruise-In and the once-a-year opening of the Papa's Toys Collection happen on the same day.
The Portland Transmission event fills an entire SE Portland neighborhood, south of Hawthorne, east of 12th. It starts at approximately the crack of dawn, and the streets clear out right around lunchtime.
That gives the faithful a chance to boogie the 20+ miles out to Cornelius, where the Davis collection reposes in an old trucking company warehouse. A donation to Doernbecher Children's Hospital will get you inside, but old cars are invited inside to park inside the fence, so there's a show in the parking lot, as well.
This year, three CPPC members (with two cars, among them) showed up at Portland Tranmission. Marlo Edman brought Sarah, the 1935 Dodge pickup. Mark Childs attended in The Great Pumpkin, his 1968 Plymouth Fury Suburban. Robin Will was there taking pictures.
Mark Childs also made the drive to Cornelius, and The Great Pumpkin got photographed again – in the sun, this time.
The other picture in this [small] collection was not a CPPC club car – but who can look away from a bright-red 1958 Plymouth Belvedere convertible?
__________________________________________________________________
April 12, 2014 – Sun eventually shines on four-club outing to Tulip Festival
Click here to see the Tulip Tour Photo Gallery
In the morning of April 12, several club members were wondering if they had dressed warmly enough, but by afternoon we were shedding our jackets and enjoying the sunny day.
Cascade Pacific Plymouth Club teamed up with the Northwest Chapter of the Studebaker Drivers Club, and the Pacific Wonderland Chapter of the WPC Club for this event, and some American Motors drivers also joined us. Jerry and Joanne Dixon hosted the event, and the procession of 18 cars made quite an impression at the gate of the Wooden Shoe Tulip Farm.
Drivers and passengers quickly scattered to stroll through the 40 acres or so of blooming tulips, so a group picture was not possible.
Against all odds, two of the individuals who came over for a closer look were restoring 1967 Plymouth Barracudas, so Jerry Dixon had a lot to talk about, and hopefully CPPC can be of assistance as their projects develop.
__________________________________________________________________
April 4-6, 2014: Making new friends at Portland Swap Meet
Click here to view the Swap Meet Picture Gallery.
Club members had a good time at the 2014 Portland Swap Meet, did a lot of networking, and made some new friends.
One new member joined at the show; several members renewed, and we handed about about 100 applications to prospective members. Many people expressed interest – especially from folks who had Plymouth projects underway – so we'll wait and see how many applications come back.
We made several friends by promising free one-time newsletter ads to anybody looking for Mopar-related items, or having the same for sale (page 7).
Grand total income for the three-day meet was $483.73, which was down from the $982.80 we netted last year.
Going farther back in history, it's not as bad as the $244 that remained in the till in 2011, but not as good as the $1000-plus that we saw in earlier years.
Up and down the aisle, the news was similar: sales weren't all that vendors had hoped for this year.
And rent went up by 25% for next year's spaces – from $60 to $75.
As a result, CPPC has regrouped and re-strategized somewhat for next year's event.
Instead of 5 spaces, we'll be renting four, and Mike Bade had already paid for one of the four for his photography. That serves us well: folks stop to look at Mike's pictures, and we talk to them about joining the club!
One of the remaining spaces will be devoted to our now-iconic membership tower, and the other two will house a concentrated display of quality Plymouth parts.
We sorted inventory one more time at the end of the meet as we took down the booth. One stack of unidentifiable or unimpressive stuff went straight to recycling. A second pile was reserved for "pretty good" stuff that a couple of Tech Committee members will try to sell for the club on craigslist or EBay. The third pile will be cleaned up and prepared for sale in next year's booth.
CPPC thanks all of the members who worked in the Swap Meet booth this year.
__________________________________________________________________
March 15, 2014 – Dealer tour gets CPPC members and cars
out in the sunshine
It doesn't always happen this way in March, but the sun came out – and stayed out – for the first CPPC activity of the year.
Three dealers and a shop were on the agenda for March 15: Juan Ruiz' Affordable Classics in Gladstone, Dale Matthews' Memory Lane, Bad Boy Auto, and North American Muscle Cars.
Four members brought their old cars, and nine more joined up in their daily transportation on this loop through Gladstone and southeast Portland.
Affordable Classics greeted the gang with coffee and donuts, and North American Muscle Cars put out a fine spread of chips, fruit,and cheese and crackers.
And if that wasn't enough, CPPC members ended the day with pizza and conversation at the Red Baron.

Jerry and Joanne Dixon were CPPC's hosts, planning the itinerary and the lunch stop – and arranging for the beautiful weather(!)
Click here or on the picture to see Colleen Miles' photos of the North American Muscle Car visit.__________________________________________________________________
__________________________________________________________________
September 25, 2013 – Law of averages catches up with Beaches Cruise-In
Click on the picture at right to see pictures from the cruise-in.
It was bound to happen: after two years of beautiful weather at the last Beaches Cruise-In of the year, rain almost canceled the event entirely.
It wasn't until mid-day Wednesday, September 25, that Beaches/PIR decided the floodplain-meadow had dried out enough to support car traffic. Jerry and Joanne Dixon phoned everybody who had signed up to attend, and 13 CPPC members and 8 CPPC cars showed up to park front-and-center in the hosts' spot, sharing the honors with the Hot Rod Council.
As usual, we tried to flag down every Plymouth entering the gate, whether a club car or not, to invite them to park with us on the grass under the trees. We made some new friends, and got a look at some Plymouths we don't ordinarily see.
The sun actually came out, towards evening.
__________________________________________________________________
August 31, 2013 – Show & Shine, Columbia Gorge
Interpretive Center
CPPC tries to give special attention to the Show & Shine at Columbia Gorge Interpretive Center because CPPC member Sharon Tiffany is executive director at CGIC. Also because it's a great event, a pleasant drive to get there, and we get to see cars that we don't see if we stay closer to metro Portland.
Also, one of these years, we're going to take home the Club Participation Trophy.
That didn't happen this year, but CPPC cars did well in all of the judged classes. Allen and Sharon Tiffany won twice – with their 1928 Plymouth Roadster and the '37 Chrysler convertible. Mike Bade took home a trophy for his yellow '30 coupe. Herb Watkins won Peoples Choice with his Packard woody.
Click here or on the picture at right to see Mike Bade's photos of the event.
___________________________________________________________________
August 27, 2013 – CPPC's Hot Dog-ust Night
After a long, hard summer of cruise-ins and tours, CPPC traditionally celebrates with a hot-dog feed in August. The club provides hot dogs and fixings, and members bring desserts. Donna Bade did the heavy organizing, purchasing the sausage dogs, buns, fruit, potato salad and chips for the club. Jerry Klinger grilled the hot dogs. Stephanie Willis brought flowers for all of the tables, Tim McCarthy brought his guitar and sang, the Mowerys provided backup help in the kitchen, and Don Hufschmid called a couple of rounds of Bingo when the meeting was over. Click here or on the pic of Chef Jerry Klinger to see Mike Bade's pictures of the event.
___________________________________________________________________
August 17, 2013 – Cruise Independence with Central Lions Club
This marked the second year of CPPC's collaboration with the Central Lions Club in producing a car show in Riverview Park in Independence, Oregon. The shady park on the banks of the Willamette, the bustling farmers' market, with Independence' Main Street businesses just across the street from the park, combine to make this a great place to hold a car show. The 123 folks who registered their cars seemed to agree with us. Click on the car show poster at right to read all about it and link up to the cruise-in pictures!
___________________________________________________
July 21, 2013 – MOPAR Nationals at Woodburn
Article by Dave Benfield, Photos by Mike Bade
Click on the picture at right to see a gallery of Mike Bade's photos.
Screamin' MoPARs, tire smoke, and lots of cool stuff for sale was the order of the day! On Sunday, July 21 several CPPC members and a few friends went to the MoPAR Nationals at Woodburn Drag Strip. This is a one day event, hosted again this year by MoPAR Musclecars and the Woodburn Drag Strip. It consists of an all MoPAR (including Jeep and AMC) car show, a drag race, and a small swap meet. Lloyd and I were met at the Tualatin K Mart by 2 other show goers. After a cup of coffee and a muffin, we took off down I-5, and met a few more on route. Seeing as how the cars were parked more or less as they arrived, and we all got in line together, we were able to park together-except for Lloyd who came in his '71Chevy Pickup. He recently sold his '68 Plymouth Custom Suburban and his '47 P15 4 door is a work in progress.
Attending were Mike and Donna Bade, Mick DeSantis, Dino DeSantis (Mick's son) and friend Andy Gray, Lloyd Schulz, CPPC guest Rick Webster and his beautiful yellow Prowler, and me. That's a fairly good turn out considering recent numbers for similar events. Lloyd and I will probably host again next year. Let's see if we can get a dozen CPPC entrants. This would probably be a good place to set up the "Recruiting Tent" as well.
In the car show judging CPPC and guests did OK again this year with 2 of the five MoPARs coming home with awards. The Bades' '30 Model U street rod took 1st in Pre-49 Street Rod, and Andy took 2 nd place in projects with his '50 Chrysler.
Also, one of the CPPC attendees came home with a bunch of little goodies and a hot lead on a car that he ended up buying the next Wednesday. By the time this article gets published some of us will have seen Lloyd's "new" '69 Dart GT convertible: a B-5 V8 beauty freshly restored by Washougal High School's metal shop teacher.
___________________________________________________________________
June 29, 2013 – 28 CPPC friends & members attend
3-stop garage tour
Click on the Pierce Arrow Archer to see pictures from this event.
By Gary Rusher

Gary Rusher set up a tour of three garages in the Wilsonville area that the club had never been to before. So on Saturday, June 29th a group of 28 club members and one guest meet at the Wendy's in Tualatin for a 9:45 departure.
The first leg of the tour was only about 2 1/2 miles to George Andrew's place. But the group actually walked next door from George's to Jim Yeager's first. Jim as a couple garages with a nice collection of cars including a nice 1941 Dodge Coupe, a 55 T-Bird and a 59 Ford Retractable Hard Top as well as some nice pick-ups.
After viewing Jim's cars and getting to know him and listening to some stories about his cars the group walked back to George's. George's wife Evie was there to greet us and Jim tagged along to help tell more stories about all the cars. Some highlights of George's collection would include a 1924 Ford touring sedan that is all original (never restored) and only has about 19,000 miles on it. He has several hot rods and resto-rods and a nice survivor, a 1953 Mercury 2 Dr HT which was the last of the flat heads. There was a super nice Model T pick-up and a 1966 Chevrolet pick-up that drew lots of attention. But the one that stood out to a lot of people was a fully restored 1937 Piece Arrow sedan (serial number 1) that was used as a show car around the country in 1936 with its last stop in Portland, and has only 37,000 miles on it.
From George's the group went to Wilsonville, again only about 3 miles where they had lunch. Most ate a Pizza Schmizza. At 12:45 the group gathered up for another 3 mile ride to Bill Morgan's house. Bill has several nice cars including his wife Janette's 1957 T-Bird. Bill has a couple Model T's that were restored by Doug Vermeer, who's shop we visited a couple years ago. Bill has several other cars including a very nice 1937 Plymouth Sedan and a 1941 Cadillac project car. After enjoying some good social time and some of Janette's frosted pumpkin bars the group was free to go on their way.
Needless to say a good time was had by all, which included Jerry and Joanne Dixon, Mike Bade, Gerry and Kena Petersen, Tim Winchell and his fiance Donna, Tim McCarty and Kris, Don Hufschmid and Lorraine Griffey, Cari Catlow, Lloyd Schultz, Bruce Kerslake, Bob Westphal, Mike Leidig, Marlo Edmon, Dave Benfield and his friend Rick Webster from Mollala. By the way Rick brought his yellow 2002 Prowler. And of course I went along to, but had to ride with Mike.
___________________________________________________________________
June 22, 2013 – Orphan Car Meet
The Northwest Studebaker Drivers Club's annual Orphan Car Meet is one of the pleasantest events anywhere.
The show is held in Clackamette Park, on the grass, under the trees, beside the rivers, with civilized amenities close by.
The cars are primarily orphan makes whose names didn't make it into the present, and many of these vehicles aren't seen elsewhere, so if you're tired of musclecars and Tri-Five Chevys, this show should be on your list.
A 1912 Overland touring car took best of show, but CPPC members also did well: Jerry & Joanne Dixon took first in their class with the 1967 Barracuda S that they bought brand new, and Bill Call placed second in the truck category with his 1957 Studebaker pickup.
When the meet broke up, Mike and Donna Bade, Jerry & Joanna Dixon, Bob Westphal and Robin Will went over to the old Flying A station in Gladstone, and took some more pictures.
Click here or on the group shot above to get to a gallery of CPPC pictures.
Or click here to see the official pics on the SDC website.
_________________________________________________________________
June 15, 2013 – Picnic at Fletcher Anderson's with
the Model A Club
Click on the group pic at right to see a gallery of Mike Bade's photos of the event!
The Cascade Pacific Plymouth Club was once again invited to the Annual Model A Ford Picnic, at Fletcher Anderson's farm near Chehalis, WA.
The theme of the event was The World War II Years, 1943 specifically, a theme reflected by some of the military vehicles in attendance, and certainly in the costumes and uniforms worn by some of the guests, and the music played by the Ridgerunners Society Orchestra.
Don Hufschmid and Lorraine Griffey hosted the event for CPPC. Members met at the McDonald's parking lot at 3208 NW Yeon (Hwy 30) at 9:00 am for donuts & coffee, and started the trek to Chehalis on back rounds, beginning around 9:30.
___________________________________________________
April 20, 2013: 3 clubs tour to Tulip Festival
Click on the picture to see a gallery of Bruce Kerslake's photos of the tour.
For a few weeks in April, there is no more colorful and photogenic spot in Oregon than the Wooden Shoe Tulip fields, out in the country east of Woodburn.
Three car clubs joined forces for the tour: Cascade Pacific Plymouth Club, the Studebaker Drivers Club, and the Pacific Wonderland Chapter of WPC joined forces on this tour.
CPPC's Pat Brost organized the group, which met at Shari's Restaurant in Oregon City, and motored to Monitor on backroads that suited the cars perfectly.
Patty Brost furnished this account:
On Saturday, March 20th, 16 people and eight cars left Oregon City under cloudy skies and headed for the Wooden Shoe Tulip Farm near Woodburn. The skies brightened, the sun came out and the tulips showed us why the Spring is such a wonderful time of the year.
We were able to park our cars in a special place on the grass near the tulips.It made for some wonderful pictures, tire kicking and comments from the public. Most important a lot of "tip-toeing thru the tulips."
The following people were in attendance:
Pat & Patty Brost; Bob & Yvonne Westphal; Duane & Katherine Benedict; Jerry & Joanne Dixon; Carl & Chris Nordstrom; David & Patti Outhie; Bruce & Sue Kerslake; Carl, Theresa & Tanya Chilcott.
_________________________________________________________________
2013 National Meet in Tucson
This Old Plymouth Makes Another Journey

Click on either of the pictures to see pictures of the trip to and from the 2013 Plymouth Owners Club National Meet in Tucson
By Tom Nachand & Chuck Willis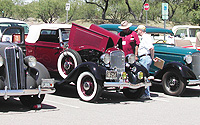 In hindsight the trip started with a little trepidation. Lincoln City to Tucson and back was pretty ambitious, especially in an 80 year old car. I've said for years that the fun of driving overcomes the inconvenience and lack of comfort my old Plymouth gives me. It's true. As uncomfortable as I get it is still an over the top joy to drive. Preparation was easy as the '33 only required a tune-up and repacking the front wheels.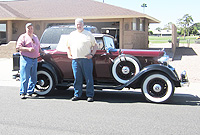 Chuck Willis, once asked, was an enthusiastic passenger. I was glad to have his company. Chuck and I are pretty large. I've quipped "Big & Bigger" a number of times. In spite of having to drag us and our luggage around, the PD Convertible Coupe performed wonderfully last trip to Pacific Grove, so expected the same for this trip.
Day 1 on the trip was 470 miles to Willits, Ca. The first 100 miles started a bit rough. We stopped in Reedsport, Or. as the engine was running rough. After resetting the points again the engine smoothed out. It was a long day with hours of rain or drizzle and Willits was a welcome sight. Day 2 was more of the same. A lot of miles with stops at the Golden Gate Bridge and the hotel stay at the same hotel as the 2007 POC National Meet in Santa Maria, Ca. Day 3 got us through Los Angeles to Blythe, Ca. Only three traffic jams and much warmer temperatures. Day 4 we happened to be stopped in Tonopah, Az taking a break when I received a call from Mick DeSantis. Mick & Ruth invited us to visit their home in Sun City, a Phoenix, Az. suburb. It was an opportune call, we were so close, so we relaxed a bit at their home and enjoyed their new patio. Mick showed Chuck and I the surrounding amenities as we departed – Multiple golf courses and even more community centers. We arrived in Tucson at the end of Day 4, 1540 miles from the start and checked in. Friday was filled with a Club Officer meeting, Board meeting, and Judges meeting. I fit in cleaning up the car as the show and judging was set for the next day. A social hour and Bar-B-Q finished the day.
Thursday through Sunday temperatures were in the mid 90's. Saturday turned out to be a cloudless day, the parking lot adjacent to the Hilton Hotel lined with old Plymouths. It was an enjoyable sight. Once judging was complete, most retired to the shade and rested up for the banquet. More than 100 people attended the evening banquet. A 6 person Regional Club planned and executed the entire POC National Meet. It was an amazing effort and showed what can be done. Chuck and I thoroughly enjoyed our time in Tucson.
We left for the Grand Canyon early Sunday morning. The idea was to get in Sunday afternoon and see some of the canyon. Get up early and take the shuttle bus for some other views of the canyon before departing for Hoover Dam and Las Vegas. The rim trail and views were magnificent. After departing the Grand Canyon the wind picked up blowing from the south and southwest. The Plymouths speed dropped dramatically to the point that I thought something was failing. All the gauges read good but there was no acceleration and the wind noise was so loud we couldn't hear the engine running. I pulled over a couple of times to see what could be wrong. Ultimately, the engine was fine it was just that the wind was so strong it overpowered the 70 horsepower. We turned west after about 50 miles and the driving was easier.
Next stop was Hoover Dam. I was slightly disappointed compared to a visit over 40 years before. I can remember stopping right on the dam and walking around – looking up towards the lake and down the face of the dam. Times have changed. There is a military presence and checkpoint. There is no stopping on the bridge and parking now costs $7. I was also surprised at the number of people walking around. At the end of the day we circled Las Vegas and stayed northwest of town. The newscast that night stated the wind had been blowing at a steady 46 MPH. I thought it was now behind me but the newscast stated the wind was shifting to the northwest. It would still be in my face tomorrow. Our longest day was scheduled the next day.
The next stop - Carson City. I decided to leave Hwy 95 north of Las Vegas and get to Hwy 395 leading to Carson City. To do that was about 80 miles of isolated road (Hwy 266 & 168). The elevation changed dramatically bringing snow showers. At one point the road turned into one lane with a sign stating "yield to oncoming traffic". That was a bit odd because there were so many turns in the road and the canyon walls so close you couldn't see 50 feet or really yield to anything.
We finally arrived in a place called Big Pine, stopped for fuel and lunch and turned north again. The elevation kept rising and topped out at over 8200 feet near Mammoth Lakes. Snow intensified. Fortunately, the roads stayed pretty clear in spite of blowing snow and temperatures in the 20's. Snow was with us all the way to Carson City. We had bypassed a stop at Bodie, Ca. A ghost town due to the bad weather.
Next leg was to White City, Or. AS bad as the weather was the previous day, it was beautiful the next morning. We left Carson City early again and took one break at a little dirt pull off seemingly in the middle of nowhere. WE pulled up next to a tree that was loaded with shoes. There must have been 200 pairs hanging.
The next break was in a small town called Adin, Ca. We had lunch in a place called Adin Supply. It was a catch all store that had wonderful personality. It had lunch, auto parts, clothing, groceries, antiques, and a stunning array of taxidermy. After lunch we headed towards Klamath Falls. Or. and I missed a turn, stopping in Keno, Or. for directions. I thought we would be returning close to Klamath Falls where I could buy more gas . Instead, we hit a Hwy 140 intersection 31 miles from Klamath Falls and 45 miles from Medford. Another place on the sign was Lake of the Woods Resort – 5 miles. We've got 10-15 miles left before running out of gas. We turned off to the resort looking at a big sign that says CLOSED TILL MAY 1ST, found a locked fuel pump next to a store, and no one around. I walked around empty cabins toward a lodge and found a guy working. I explained our dilemma and asked for his help. A couple of phone calls and we were able to get enough gas to get to White City. Plan B was to go on until out of gas and meet my Brother-in-law coming out of White City. Fortunately, we only had to meet him for breakfast the next morning.
The last day was a 5 hour run to Lincoln City. The return trip was 1660 miles totaling 3200 miles, a couple of pairs of chapped cheeks, and more aches and pains than a couple of trips to the hot tub will cure. All in all, an ambitious trip, two willing guys, and an 80 year old automobile that got us there and back and is capable of even more.


________________________________________________________________
Roy & Beverly Asbahr garage tour, November 3, 2012
By Stephanie Willis
(Editor's note: Roy and Beverly Asbahr are gracious hosts, and the car collection is dazzling, but due to security concerns, they request that we don't publish photos. Instead, we're publishing a picture of Chuck & Stephanie Willis' 1939 Plymouth Coupe, which was laid up all season, and finally got to go on a tour!)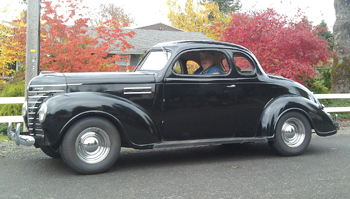 We had a very nice time at Roy and Beverly's house.  We were greeted at the service station with hot coffee and cookies, yum. The service station was full of memorabilia from the 30's through the 50's.   We then went onto the  dealership floor  and saw their beautiful collection of cars.  They were all picture perfect. I think everyone, including the ladies, oohed and awed.  Beverly invited the girls to meander through the house and view all her awesome collections.  Her home was decorated for the season, Halloween.  Oh all the pretties we ladies got to see. Thank you Roy and Beverly for allowing us to see your garage and home.  Stephanie & Chuck
We had a pretty good turnout for our garage tour which included Bob Westfall, Jerry and Joanne Dixon, Les and Nancy Conner, Larry and Joyce Catt, Bob and Jeanette Dimick, Dennis and Jeanne Mowery, Mike Leidig, Tim Winchell, Tim McCarthy, Chuck and Stephanie Willis
LeMay Museum in Tacoma – A CPPC train trip! October 20, 2012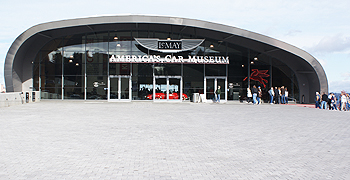 Click on the picture at right to see a gallery of photos by Dennis Rice and Robin Will
Mike and Donna Bade coordinated CPPC's train trip to visit the new LeMay Museum in Tacoma on October 20, 2012. The group hiked up the hill from the AMTRAK station to the Museum, and spent the day wandering through the Museum's many levels. The LeMay features traveling exhibits, as well as rotating in vehicles from the voluminous LeMay collection, so it's reasonable to plan twice-yearly visits to this facility, just to keep up with changes.
Beaches PIR Cruise-In, September 26, 2012 (Wednesday)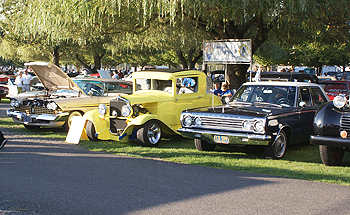 By Robin Will
The picture at right links to a gallery of pictures by Mike Bade and Robin Will.

After two years, it feels almost like a tradition – CPPC's last outdoor event of the year, under the willows at Beaches' last cruise-in of the year.
Last year, the Wednesday night event drew more CPPC cars than any club activity all summer, so the moment the 2012 calendar opened up, Joanne Dixon signed us up to do it again.
We broke our previous record by one car: we had 18 member cars, and 33 club members, in attendance. Last year, we had "only" 17.
It seems likely that Beaches set some records as well. Total attendance on September 26 was 1,761 cars and motorcycles. The place was packed.
Seven people took CPPC new members packets home to fill out.
To make it even better, three CPPC cars won trophies: Bobby Burden with his 1920 Dodge Depot Hack S.R.; Darren Soderberg with his 1934 Plymouth Rumble Seat Coupe; and Tom Fox, with his 1959 Plymouth Fury.
It's a good bet we'll be back next year.
Macleay Cruise-In, Macleay, OR, September 22, 2012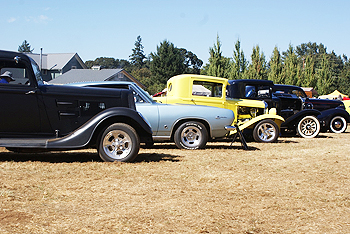 The Macleay Cruise-In happens annually as a fundraiser, sponsored by the Silverton Flywheels, for a scholarship in memory of the son of CPPC member Virginia Dunn.
Macleay is a crossroads town east of Salem, and the gathering is held in field behind the Macleay Inn.
CPPC members Mick DeSantis, Jerry Dixon, Mike Bade, and Gary Rusher convoyed through picturesque countryside to the event, and member Chris Chytka drove his 1938 Plymouth PT 50 over from Aumsville (below). Mick DeSantis (right) won a trophy for "Work In Process" for his 1934 Plymouth 4-door custom.
For more about the event, visit:
http://www.silvertonflywheels.org/page_master.php?page=Events

MOPAR SUMMIT, September 15, 2012
(Saturday) – MOPAR Summit, Gresham Dodge, Gresham, OR. They are again having seminars and classes, and are OK with banners and club materials. This is the same show as Timberline and Newberg venues in the past. We have had very large turnouts of CPPC members cars at these events in the past. Learn more here.

Stevenson Show & Shine, September 1, 2012
Story and pictures by Jerry Dixon
The coffee was hot and the donuts yummy when CPPC members Jerry & Joanne Dixon, Chuck & Stephanie Willis, Bob & Jeanette Dimick, Marlo & JulieAnn Edman, Bill Marble & Mary Eccleston, and Bob & Yvonne Westphal met on Saturday September 1st at the Home Depot and headed to the Show & Shine at the Columbia Gorge Interpretive Center in Stevenson Washington.
Herb Watkins and Russ Ashley were already parked, and Russ was working at registration. Stephanie Willis also worked at registration, and Chuck again took care of the grilling duties. Luckily we were all able to park together. George Wessitsh was able to move his 1936 Dodge pickup over and park behind Marlo's 1935, a very rare pairing of two great trucks.
We were an interesting group, Herb's Packard Woodie Wagon, the Westphals' 63 Corvair Convertible on its first outing, the two Dodge pickups, the Dimicks' Corvette which had its top down for the first time, and the Marbles' and Dixons' Plymouths.
The weather was perfect, and we all enjoyed a day of fun cars and conversation.
Alan Tiffany who was the official greeter for the day said that 153 cars were registered as participants, and that the total attendance including spectators was in excess of 1200 people. The 50/50 prize reflected the great attendance and was an all time high of $255 each.
Marlo & JulieAnn were the only winners for the day with a Best Stripes award.

If only six more CPPC members had brought cars we would have won the club participation award for the first time. Hopefully we can do better in supporting Alan & Sharon Tiffany and the Interpretive Center in 2013 with more club cars.
________________________________________________________________
Annual CPPC Hot-Dog Feed, August 28, 2012
It was a warm, summer's evening – the perfect time for a parking lot party.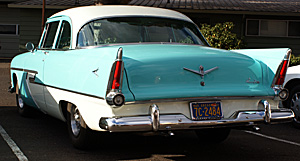 Donna Bade went shopping for hot dogs and coordinated the rest of the food. Jeannie and Dennis Mowery brought the picnic supplies. Stephanie Willis decorated the tables with floral centerpieces, which all left as door prizes at the end of the evening. Tim McCarthy provided a musical prelude, and Jerry Klinger grilled the hot dogs.
Lots of members brought their cars. Click on the picture at right to see a gallery of all the pictures Robin and Mike took at the event.
_________________________________________________________________

Joint Independence Cruise gets a solid start
Scroll down the page for a list of the businesses and individuals who supported this event with their donations of awards and raffle items.
By Robin Will

"A good first-year showing," was the consensus following the joint
CPPC-Central Lions Cruise-In of August 18, in Independence.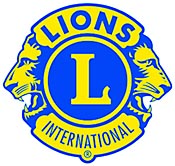 After a week of blistering heat, Saturday morning's clouds and rain showers went a bit too far in the opposite direction. Members of both clubs expected visitors who promised to attend but never showed up, most likely because of the early-morning rains. Although organizers hoped for 100 guests or more, the final registration count stuck at 90 cars.
Considering the chancy weather, and the big Chevrolet (Obsolete Fleet) meet being held across the river in Salem, it was an encouraging turnout for a first-ever event. The folks who brought those 90 cars had a great time.
Judges, participants and spectators all named Shirley & Glenn Slack's 1915 Kissel Kar the Best of Show at Independence. Click on the picture at right to see a gallery of photos from August 18, 2012, cruise-in in Independence.
Riverview Park is a wonderful venue for a cruise-in. The cars parked on the grass, and the big shade trees were nice when the sun finally came out.
This 1950 Plymouth Suburban custom also rated high on everybody's favorites list at Independence. Click on the picture to see the gallery of cruise-in photos.
Both CPPC and the Central Lions Club had hustled on awards and raffle donations. The thank-you brochure listed 16 award sponsors, 40 raffle donations, 23 contributors to goodie bags, and a handful of donations that could not be categorized. Raffle activities went on non-stop, and lots of people went home with trophies from this event.
Judging for trophies was a relaxed process. Five members each from CPPC and Central Lions Club rated their favorites from the open field of cars. People with cars in the show had an opportunity to vote on their favorites, and spectators were given ballots as well.
Several CPPC members brought their cars to the show, but Jerry and Joanne Dixon had what appeared to be a family reunion going on, with four cars at the event. Jerry and Joanne brought their 1967 Plymouth Barracuda Formula S fastback, of course.
Dixons' youngest daughter, Lisa Conner, brought her 1965 Ford Mustang GT.
Jerry and Joanne's oldest daughter, Cindy Norlen and husband Donnie, brought Cindy's 1967 Pontiac Firebird.
Cindy and Donnie's daugther, Kaela Salaz and her husband Jake, brought the 1967 Pontiac LeMans, which originally belonged to Jake's grandfather.
Dixon's grandson, Andrew Norlen, who began his freshman year at the Boston Conservatory on scholarship in musical theater before this newsletter went to press, sang the national anthem and some other selections at the Independence event.
Our activities are successful because our communities participate to the fullest. Central Lions Club and Cascade Pacific Plymouth Club extend their thanks to everyone who worked, and/or donated goods or services to make our cruise-in wonderful. We hope our members and friends will remember who supported our event this summer, and support these folks with patronage all year!
Award Sponsors
Town & Country Dealerships
East Portland Auto Body
Dick Hannah Dealerships
Tony's Auto Parts
Northwest Accounting & Tax
Abbott Instrument Restoration
LKQ Foster Auto Parts
Les Schwab Tire Center ( Independence)
Bent Wrench Farm & Auto Repair
(Monmouth)
Sterling Savings Bank (Independence)
Joynt Family Chiropractic (Monmouth)
Barb Mylnechuk Insurance Agency
(Independence)
Mungo Shirts, Signs, Designs
(Monmouth)
Brooks and Terry's Espresso (Monmouth/Independence/Dallas)
White's Collision Service (Independence)
Central Lions Club
AMSOIL Independent Agents
Raffle Prize Donations
Cindy's Window Fashions
Parkrose Hardware - Vancouver
Les Schwab - Clackamas
Stereo King
Les Schwab - Gresham
Clackamas Auto Parts
Northwest Auto Paint
America's Tires - Vancouver
Starks Vacuums
Gresham Ford
America's Tires - Clackamas
Meineke Car Care - 82nd Ave
Polish Nails
Discount Tires - Bothell,WA
Pedron Auto/Boat/RV Storage - Vancouver
Vancouver Ford
Baxter Auto Parts
Franz Bakery
Kadel's Auto Body
VanKirk's Florists
Northwest AutoSolutions
Les Schwab - Orchards
North American Muscle Cars
Jerry & Joanne Dixon
Pat & Patty Brost
Bill & Dolores Call
Rob's Upholstery
Parkrose Hardware - Portland
Cost Less Auto Parts - Orchards
Joynt Family Chiropractic (Monmouth)
Second Chance Books (Independence)
NAPA Auto (Monmouth)
Greg Pierce
Rod and Debbie Bach
Figaro's Pizza (Independence)
Central Lions
Prestige Theater (Independence)
Town & Country Hardware (Independence)
Lyn Jobe, Mary Kay consultant
24 Hour Fitness (Independence)
Barb Chrisman, Dallas Lions Club
Leatherman Tool Group
NAPA Auto Parts - Vancouver
Padington's Pizza - Keizer
Rock-n-Rogers - Salem
Indulgence Salon - Salem
Java Crew - Salem
Dennis and Barbara Rice
Goody Bag Donations
Town & Country Dealerships
Instant Inprints
Miller Paints
America's Tire - Vancouver
Speeds Towing
Monarch Hotel
Cindy's Window Fashions
Jerry & Joanne Dixon
Twin Star Credit Union
Geico - Clackamas
VanKirk's Florist
North American Muscle Cars
Wells Fargo Bank – Vancouver
Chuck & Stephanie Willis
Barb Mylnechuk Insurance (Independence)
Oregon Lions Sight and
Hearing Foundation
M-I Chamber of Commerce
Haggerty Classic Car Insurance
Rod and Debbie Bach
Lyn Jobe, Mary Kay consultant
Dairy Queen (Monmouth)
Papa Murphy's Pizza (Monmouth)
Other Donations
Dick Hannah Dealerships
Jan Burks (Lions member)
Roger's Automotive (Monmouth)
Roth's Family Market (Independence)
___________________________________________________________________
July 26-29:
Northwest Regional WPC Meet,
Antique Powerland, Brooks, OR
Click on the picture of Mowery's car, at right, to open the gallery of photos from the WPC meet. Photos are by Mike Bade.
WPC stands for Walter P. Chrysler, and the Northwest Regional Meet of that club was held at Antique Powerland in Brooks, OR, over the weekend of July 26-29, 2012.
Don Hufschmid and Lorraine Griffey coordinated the CPPC group that attended the show on July 28, and stayed for the famous Steam-Up/Parade for which Antique Powerland is famous.
Plymouths were well-recognized in the WPC winner's circle. Pat and Patty Brost won a second place in the Plymouth class with their 1933 Plymouth PD convertible, and Chuck Hamaker, CPPC member from Seattle, won a first place in the Plymouth class with his 1949 Plymouth convertible. Photos by Mike Bade.
__________________________________________________________________
Sunday, July 22, 2012:
MOPAR Nationals at Woodburn Drag Strip
By Dave Benfield
On Sunday, July 22 several CPPC members and a few friends went to the MoPAR Nationals at Woodburn Drag Strip. This is a one day event, hosted this year by MoPAR Musclecars and the Drag Strip, which consists of an all MoPAR (including Jeep and AMC) car show, a drag race, and a small swap meet.
Lloyd Schulz, our friend Rob and I were met at the Tualatin K Mart by the Dixons, and several more CPPCers and guests met up on route. Seeing as how the cars were parked more or less as they arrived, and we all got in line together, we were able to park together-except for Lloyd and his friend Rob who came in Lloyd's Chevy Pickup. His Plymouth was not cooperating.

The weather was threatening, but only enough rain actually fell to get me to put the top up on the Valiant. By 8:00 A.M. that micro shower was over and the rest of the day was quite pleasant.

Attending was Mick DeSantis, Dino DeSantis (Mick's son) and friend Josh, Dennis and Barbara Rice, Lloyd Schulz and friend Rob, Jerry and Joanne Dixon, and me. That's a fairly good turn out concerning the somewhat threatening weather earlier and the fact that this has not been a big event for Club participation.

In the car show judging CPPC did very well, with 4 of the five Plymouths coming home with an award.. The Dixons' '67 Barracuda took 1st in A Body Stock, The Rices' '51 2 Dr. HT took Best 50s and Older, Mick's '65 Satellite took 2nd in B Body Stock and his '34 4 Dr. PE took Best Project.

Let's plan on sending an even bigger contingent next year. This is a truly remarkable, unique event with some out standing MoPAR metal to drool over. Chances are the weather will be better and maybe some one will even race!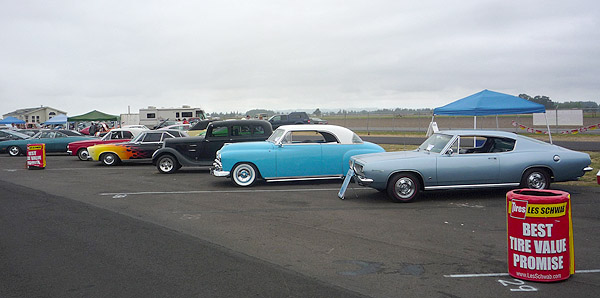 Photo by Jerry Dixon
________________________________________________________________
July 21, 2012:
All-Mopar Show & Shine at Roberson Motors
By Dennis Rice
At the All Mopar Show and Shine held Saturday, July 21, at Roberson Motors in Salem, Cascade Pacific Plymouth Club member cars garnered six trophies.
Richard and Viki Cerruti captured second place in their vehicle class as well as taking the special Sponsor's Award with their 64 Plymouth Sport Fury; Allen and Sharon Tiffany won first place in the Convertible class with their 37 Chrysler convertible. CPPC members swept the Pre-60's class: Dennis and Barbara Rice took the first place trophy with their 51 Plymouth Belvedere and Tom Fox got the second place award in this class with his 59 Plymouth Fury 2. Jerry and Joanne Dixon took home the first place award in the A-Body Stock class with their 67 Plymouth Barracuda Formlula S.
__________________________________________________________________
Big club turnout, lots of awards, at the Orphan Car Show, June 24, 2012
By Robin Will

Click on the picture of the Studebaker to open a gallery of photos from the Orphan Car Show.
Judging by attendance, CPPC likes the Orphan Car Show more and more as time goes by.
Every year, more of us show up at the event.
It's an easy show to like. Clackamette Park is an extended riverside meadow, with big cottonwood trees, perfect for relaxing on a sunny day.
The host club is friendly, and the cars are extraordinary. We saw vehicles we hadn't seen for a long time, if ever: a couple of Willys products, a Cord, a Checker, a Vale, a Crosley pickup, and several handsome Studebaker trucks, among others.
The buzz was mostly about the three DeSoto wagons, huge cars by today's standards but not really big for the 1950s. What are odds that you'll see even one 1955-56 DeSoto wagon, let alone three of them at the same gathering?
The voting was by people's choice, and the people chose the yellow-and-black 1956 DeSoto wagon as Best of Show.
Quite a few CPPC cars took home awards, as well.
Tom Nachand's 1933 PD Convertible and the Rushers' 1930U Coupe took #1 and #2, respectively, in the 1930-1939 category.
Don Ryan's chop-top 1948 Club Coupe took #3 in the 1940-1949 class, and the Rices' 1951 Belvedere was voted #3 in the 1950-1954 category.
Dixons' 1967 Barracuda took the #1 spot in the 1965-1969 class.
__________________________________________________________________
June 16, 2012: An orchestra, a dance floor, a biplane … a cruise-in!
By Robin Will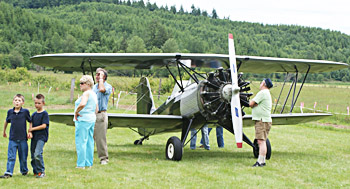 Click on the picture of the biplane to open a gallery of photos from the Fletcher Anderson event.
The June 16 rain showers mostly went around the scene of Fletcher Anderson's party and cruise-in, and a good time was had by all.
CPPC's delegation to the event was led by Bob & Yvonne Westphal, who had scouted a route from Vancouver's north side to the Pleasant Valley location which avoided Interstate 5 almost entirely. It was a pleasant drive through small towns and past real farms
Larry and Joyce Catt caught a ride with Les and Nancy Conner in the Conners' beautiful 1946 P-15; and the Mowerys drove their '48. Jerry and Joanne Dixon brought their 1967 Barracuda. Gary Rusher brought his 1930 coupe on a trailer, and drove the coupe in from Winlock. Robin Will rode shotgun for Gary.
Fletcher Anderson is a CPPC member, and also a Model A Ford aficionado. This event has been a gathering of Model A clubs for years, and recently, Fletcher has been inviting the Plymouth contingent and other car clubs to join in. This year, Packards were almost as plentiful as Model As, and lots of unfamiliar marques were represented.
Club members who don't accept this invitation are missing out, pure and simple. Folks who arrive in old cars get to cross a covered bridge, and assemble along the airstrip.
Yes, airstrip. A biplane buzzes the crowd occasionally, and guests can get rides. The aerobatics are thrilling from the ground, and one can only guess what it's like to be strapped into the plane that's doing them.
When the biplane lands, the orchestra starts up. The Ridge Runners Society orchestra is a serious, rehearsed group of musicians in black tie, who played a few sets of dance tunes from the 1920s '30s and '40s. When the music concluded, there was a fashion show with styles from the eras of the tunes and the cars.
Anticipating the rain that never [quite] appeared, the orchestra, the deluxe seats, the dance floor, and the food service area were all under cover.
__________________________________________________________________
Papa's Toys: the collection inside,
the cruise-in outside, May 12, 2012
By Mike Bade
Click on the picture of the happy group to open a gallery of Mike Bade's photos from the Papa's Toys event.
The Papa's Toys cruise-in is a special event: a chance to see a great car collection, and also a fund raiser for Doernbecher Children's Hospital in Portland, OR. The Davis family holds the annual open house as a tribute to Jim Davis the founder of Stuart Styles Trucking, who passed away in 2006.
Mike and Donna Bade were the tour hosts. They had treats waiting at the meeting place in Portland Heights Park. Bon and Yvonne Westphal brought thir '48 Club Coupe. Bob and Jeanette Dimick brought along some friends from Brush Prairie, Jack and Gayla Brossard, who are also car enthusiasts.
Gary Rusher had been to the Portland Transmission cruise-in, and missed the turn off for Portland Heights Park, but we were able to catch up with him and pull into Papa's Toys as a group.
Other CPPC members meeting us were: Dennis and Jeanne Mowery in thir '48 4 Door, Pat Brost in his '33 Convertible Coupe, Tim Winchell and Steve Mahoney.
With the weather so good, there were 500-600 cars of every make, model and vintage you could think of, to see in the parking lot. A special treat was a rare 1953 Nash Healey Pininfarina; brought in to publicize the Forest Grove Concours d'Elegance.
The Papa's collection, is amazing to say the least. Most every Domestic car brand is represented, along with some unique and custom cars, so the collection has something for everyone. If you have never been before you must put this on you list of car events to see.
At the end of the afternoon, we stopped just down the street at the shop of A&M Deluxe Customs. A&M Owners, Aaron Atnip and Mark Spurlock and their crew produce the highest quality street rods. On display were many projects in various stages of creation including a 1932 ford, Graffiti Coupe, like the one driven in American Graffiti by John Milner. Their work does not come cheap, but you will not have to worry about some one else having the same car at your local Crusie-In.
__________________________________________________________________
Sun comes out for April 29
Mt. Pleasant School event
By Joanne Dixon
The 29th turned out to be a beautiful sunny day. We met at Shari's Cafe & Pies for brunch/lunch. The Dixons were joined by the Calls, Gary Rusher, and Philis Van Coelen. Gary's '30 died as he pulled into the parking lot, and though it eventually restarted, the fuel system gave him trouble all day.
We all proceeded to the show without Gary, we did save him a spot, and he showed up a few minutes later. Vera Rusher joined us in the afternoon, and we also saw Retha Harden with her friend Dan, and Tim McCarthy with his new 1967 Pontiac Catalina. We had a perfect fun day with Gary being the only award winner, a first place Best Stock Car trophy. The happy trophy winner had to have his son bring the trailer to get him home. We hope the next event has a better turn out of members and cars. Happy Cruisin, Jerry & Joanne
Photos by Jerry Dixon
__________________________________________________________________
Garage Tour: March 10, 2012
Ardie Overby's place in the morning …
By Robin Will
CPPC's activity season started on March 10, 2012, with visits to the collections of Ardie Overby, in Beaverton, and Ken Austin, in Newberg.
Click on the picture of the Ardie's Corvette to open a photo gallery of the Overby tour.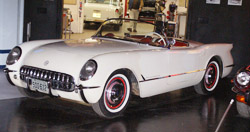 The first stop was breakfast at the Black Bear Diner in Beaverton, followed by a short motorcade to Ardie's place. Our group had 18 members at that point.
In terms of total floorspace, the Overby establishment is about 60% serious restoration shop, 20% reference library, and 20% showroom of finished cars. The shop is clean and ultra-organized, with work-in-progress on the benches and everything else out of the way. The reference library is astounding: dealer training films, sales manuals, posters, and technical publications that establish Ardie among the ranks of internation experts on Chevrolets. No kidding. And the showroom . . . a half-dozen or so of the absolutely exemplary cars that Ardie decided to keep.
Ardie's main thing is Chevrolets and Jaguars, and of the Chevys, he leans most heavily towards the 1937s. A '37 Chevy was the first car he ever drove, he explains, and just sorta stayed with them.
But he had an early Chevy V8 – a 1918 roadster in his shop, in the early stages of restoration, and a '54 Corvette in his showroom, plus a 1937 coupe that looked brand new – a factory demonstrator and was loaded with every option available in 1937.
Ardie also makes models of his cars, and had some bookend-size depictions of his cars as he originally found them.
An entire room of the building is devoted to a library of Chevrolet-specific books, filmstrips, and factory catalogs and manuals, and Chevy posters and memorabilia cover the walls.
… Ken Austin's collection in the afternoon
The group left the Overby garage and headed via backroads over the river and through the woods to Newberg. After lunch at Little Cooperstown Pub, we visited Ken Austin and his collection. We had picked up a few people along the way, and our group numbered 20 by that time.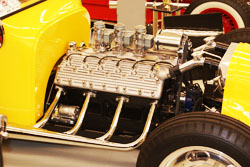 Ken did something he claimed he had never done: he abandoned his prepared talk, and strolled through the collection with his visitors, answering questions as they came up. It was a pleasant and informative afternoon with a gracious host.
Click on the picture of Ken's hot-rod Lincoln, at right, to open the photo gallery of the Austin tour.
Ken was a hot-rodder when he was young, and he still builds and sells speed equipment when he can get a break from his real job, manufacturing tools and equipment for dentists. A few of the cars in the collection are replicas of things he built as a young man, and each car has its story.
Lined up along one wall were a series of early Fords in which Ken can see the evolution of Henry Ford's thinking as he worked towards the Model T. The star of that lineup is the dead-original 1907 Model K roadster.
There were several other Fords, but the eye-popping one for many of us was the yellow roadster with the seriously overcarbureted flathead V-12 in it. This is an extreme "Hot Rod Lincoln," with 12 cylinders instead of 8. Better than the song!
Ken Austin's collection was our last stop for the day. We said our thank-yous and goodbyes, and drove home in the rain.
__________________________________________________________________
__________________________________________________________________
CPPC'S Day at Beaches' Cruise-In at PIR!
September 28, 2011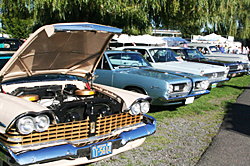 After a couple of dubious days, the sun decided to come out for the last Beaches Cruise-In of the year on September 28.
Click on the picture at right to see the photo gallery. Phillip and Rose Ann Hall drove from Roseburg for this event, and Phillip was all over the place with his camera. There are lots of pictures!
CPPC was the featured club at the event. More club cars turned out for this event than anything else we have done this year. We had a good time. And two guys paid cash on the spot to join the club. What's not to like?
The featured spot is coveted: one club is honored at each of the Wednesday Beaches events, June through September. We parked on the grass, in the shade, near the food, the picnic tables, and the rest rooms. Other folks didn't have it so easy.
Jerry and Joanne Dixon got us on the Beaches calendar, and got us organized for the event.
Joanne is already in touch about doing it again next year. Admission is $5 per pre-1974 car with two people, or $8 per pedestrian or additional passenger. Beaches donates their profits to charities for local children.
__________________________________________________________________
The Macleay Cruise-in, September 24, 2011
This cruise provides a chance to see a lot of historic Willamette Valley farmland, with no freeway driving whatsoever.
Gary Rusher hosted. Macleay is 42.8 miles from the clubhouse, due east of Salem and just north of the Santiam Highway.
The event was the Flywheels 25th Annual Macleay Cruise-Inn, brought to us by the Silverton Flywheels car club and the Macleay Country Inn. The cruise-in benefits a scholarship fund for students of the automotive trades, which was created in part to honor the memory of the late son of CPPC member Virginia Dunn.
Gary provided this account:
As it turned out only two "club cars" made the treck to Macleay of September 24th: Jerry and Joannne Dixon's Baracuda and Bob Westphal's coupe.

Others going along were Gary Rusher, (his 30 Coupe was not up for the trip) riding with Bob, and Don Ryan and Phillis VanCoelen.

We started out at Clackamette Park in Oregon City and made our way south through Woodburn and then south on Howell Prairie Road to Macleay. This is a very nice trip showing off a good part of the farmland east of Salem. If you have never seen the harvesting of onions, it was going strong. Really not that bad of a smell.

Once there we met up with Chris Chytke from Aumsville. who was there with his 38 Plymouth pickup and his son Taylor.
It ran from 8AM-3PM; there was a $15 entry fee; dash plaques were awarded for the first 150 cars, and raffle prizes all day long. Information is available at www.macleayinn.com, or on the Flywheels' website at silvertonflywheels.org.
Only two pictures were taken at the Macleay event, and here they are!
__________________________________________________________________
15th annual Show and Shine at the Columbia Gorge Interpretive Center Museum in Stevenson, WA, Sept. 3, 2011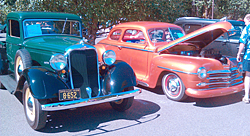 The event is also a swap meet, so you might come back with one or two things to help you along with your car project!
Click on the picture at right to see the photo gallery.
Director at the Museum is our own Sharon Tiffany, and every year several CPPC members have made the 50-mile trek to Stevenson for the cars, concessions, music, door prizes, T-shirts . . . and sunshine.
The Show and Shine is a popular event in the Stevenson area, and it's an opportunity for CPPC members to see lots of cars that don't usually show up at Portland events.
Sharon provided these notes:
"In summary, the weather was perfect in a pristine setting. Nine car clubs participated including CPPC and several members volunteered helping with registration, food service and parking.

Much appreciated. There were 164 registered vehicles, 12 vendors in the swap meet (that has grown slowly!) and 1,176 spectators, a record number for us.

52 Gorge businesses provided either awards, items for the raffles and items for door prizes. At least one registered car never made it; Allen Tiffany's 1928 Plymouth roadster. Ah, well.

He did finally get his 1937 Chrysler on the grounds with the help of one of the museum staff. A special thank you to Chuck Willis for flipping so many hamburgers for the record crowd."
Gates opened at 10AM. Activities begin at noon, and the event wrapped up at 4:00PM.
__________________________________________________________________
Allure of the Automobile
Portland Art Museum, August 27, 2011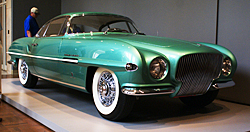 Three CPPC cars ended up with place of honor in the Museum Courtyard on Mopar Day at Portland Art Museum's "Allure of the Automobile" event.
Click on the picture to open the photo gallery.
Prizes weren't awarded at Allure – the real focus was on the cars inside the museum. However, coordinators of "Cars in the Park," the outside event, were on the lookout for excellent examples from different stages of Mopar history.
Marlo and Julie Ann Edman's 1935 Dodge pickup, Allen and Sharon Tiffany's 1938 Chrysler Convertible Sedan, and Tom and Phyllis Fox' 1959 Plymouth Golden Fury were all offered parking spaces of honor in the Museum Courtyard.
There were 75 cars at the event, and 15 of them belonged to Cascade Pacific Plymouth Club members.
__________________________________________________________________

Hot-Dogust Night!
CPPC's annual hot dog feed & parking lot party,
August 23, 2011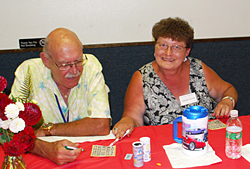 August 23 was Hot-Dogust Night, CPPC's own parking lot party and hot dog feed. The festivities included hot dogs, and lots and lots of desserts, plus BINGO with real prizes! Click on the picture and right to see all the rest of the party pictures.
Click on the picture to open the photo gallery.
___________________________________________________________________
Sunbust! All-Mopar Show-n-Shine
Graham, WA • August 21, 2011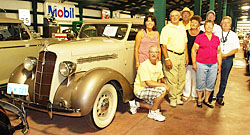 It went according to plan, Jerry Dixon reports: CPPC members met on the morning of August 20 at the airport Home Depot, and headed north for the Sunbust Show-and-Shine, an All-Mopar event in Graham, WA.
Click on the picture to open the photo gallery.
Ed and Diana Parker from Omak, WA, who have a '66 Fury Convertible, joined the group at the beginning of the tour.
The  first stop was the LeMay Car Museum.  The group toured the buildings for two and a half hours and  then drove to the Best Western Hotel near Graham. 
Many CPPC members brought home awards from the Sunday Car Show. 
The award-winners were: Tom Fox, Mike and Donna Bade, Mick and Ruth DeSantis, George Haley, and Michael Sieg. 
The journey home almost had some drama. Dennis and Barbara Rice made it home in spite of a suspicious sound that developed in their engine compartment on the drive up to Washington. Tom Fox's return trip was prolonged by a problem wheel bearing on his trailer, but he got home safely as well.
___________________________________________________________________
Rockin' Around the Block, Gresham, Oregon
August 13, 2011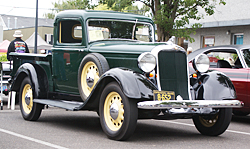 Rockin' Around the Block takes up all of downtown Gresham for one Saturday every August for one of the Northwest's biggest car events. There's music, food, hobby-related vendors, and of course, the cars themselves, around every corner, for blocks in every direction.
Click on the picture to open the photo gallery.
Tom Fox thought far enough ahead to reserve space so CPPC could set up our membership booth and park our cars nearby. Sam Stafford delivered the booth in the early morning, and picked it up again after the festivities were over.
In-between, a number of CPPC members took turns staffing the booth, making club information available to prospective members and generally chatting up everybody who walked by.
Tom Nachand, Gary Rusher, Mike Bade, Tom Fox, Bob Westphal, Lorraine Griffey, Don Hufschmid, Robin Will and Marlo Edman all took turns as proprietor of the booth, which made the "work" of the membership booth pretty manageable. Tom Fox took first in his class with the 1959 Golden Fury, and CPPC came away with a group award for member participation.
The pic of Marlo's truck on the right links to the rest of the pics from the event.
__________________________________________________________________
Oregon Steam-Up, Brooks, Oregon
August 6, 2011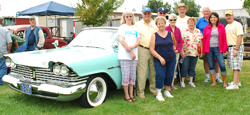 The Brooks Steam-Up spanned two weekends in late July-early August. It is the largest event at the Antique Powerland, involving all of the museums in the complex: the Pacific Northwest Truck Museum, Willow Creek Railroad, NW Vintage Car & Motorcycle Museum, and the Oregon Electric Railway Museum.
Click on the picture to open the photo gallery.
The neat – and pretty much unique – thing about Brooks is that most of the equipment is actually operating, and there is a parade at the Steam-Up each day that features all of it.
Some CPPC members got down to Brooks for the last day of the Steam-Up, and shared these pics. As usual, click on the pic at the right to link to the rest of them.
___________________________________________________________________
Carlton Walk in the Park
July 23, 2011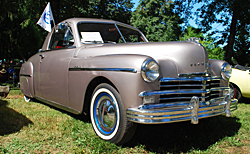 CPPC members from Newberg, Don and Bonnie Turner have participated in Carlton's Walk in the Park car show for the last several years. They have extended an invitation to other CPPC members who have also participated in the past and really enjoyed the event.
Click on the picture to open the photo gallery.
This year the car show organizer has offered our club 15 free tickets to the event which takes place Saturday and Sunday July 23rd and 24th. The club tickets would be for the Saturday show.
This is an invitation only car show. This is a great laid back show on the grass in beautiful Wennerberg Park along a river in Carlton. Really this is a day to relax with your friends and a lot of nice old cars as well as partake in the other Walk in the Park Activities.
Activities include over 65 artists displaying and selling their art, a quilt show that lines the entrance to the park, live entertainment on the stage (watch the Turner's cut a rug to the entertainment!), many of wine country's local restaurants offer their fare as well as wine tasting from many of the local wineries and a beer garden provided by McMenamins.
This is a great family event that would also be a great club activity. There are only 15 tickets (includes one car and two people and a nice parting gift at the end of the day) so I am sure they will go quickly. Please only request a ticket if you are serious about attending. Once we have a list of people we will provide further details as to where we will meet and caravan out to the park. The drive out to the park through wine country is an event in itself.
___________________________________________________________________
Getting There Can Be Half the Fun:
Reminiscences of the Plymouth Owners Club
2011 National Summer Meet
in Pacific Grove, California
By Phil Hall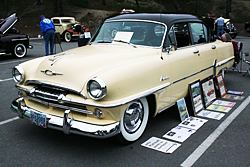 Although we have been retired for over three years now, Rose Ann and I are still in the process of learning to act retired. It seems that we continually take on ambitious projects both at home and for others and then carry them out as if we were on a payroll, punching in and punching out, and consistently putting in overtime.
Besides running ourselves ragged our retirement "To Do" list actually includes some more relaxing things such as becoming more active in the old car hobby after a lifetime of watching from a distance and reading about fun events in magazines such as the Plymouth Bulletin.
As part of learning to act retired and granting ourselves some time off from our self-inflicted busy schedule, we joined the Cascade Pacific Region of the Plymouth Owners Club. Although we need to drive 175 miles to attend meetings and activities, we have found the people, the meetings, and the activities to be quite enjoyable and worthwhile.

The 2010 National Summer Meet in Portland hosted by the Cascade Pacific Region was not only a great delight for Rose Ann and me, our daughter Christina and son Vince, but it was also a great learning experience. Even though our 1954 Plymouth is a "20-footer", Mike Bade and others encouraged us to register our car at the meet, and so we did.
At the meet, I learned that club members and spectators treat all cars with respect and interest, even our 20-footer. We felt welcomed; everyone was so friendly and congenial, and we could not have had more fun. With this experience, we decided to register our 54 Plymouth for the 2011 National Summer Meet in Pacific Grove, California.
Registering our car at the 2011 National Meet motivated us to do work on the Plymouth that would likely not have otherwise made it to the top of the "To Do" list. I replaced a number of stainless steel trim pieces with new old stock that I had been collecting over the years. I sent the pieces out to be professionally polished and they came back gleaming like chrome. The big project, however, was the interior.

On one of the 2009 Mayflower tours, I learned from Pat Brost where we could find new old stock material for our Plymouth (SMS in Canby). We had only completed the inside panels of the front doors by the time of the 2010 National Meet.
With the 2011 Meet weeks away, we launched into the project with energy. We pulled the seats out and stripped them down to bare springs. We also stripped down the seats from our parts car. Combining the best with the best we repaired, cleaned the rust, and painted the springs. Although it was not possible to make complete patterns, Rose Ann was able to perform magic in cutting out the new material. A friend of ours from Reno bequeathed to Rose Ann an old commercial sewing machine for the project. The rear door panels along with the front and rear seat were installed less than 12 hours before we were to leave for Pacific Grove. After looking at the beautiful work, we both decided that we needed a seat cover to protect the front while driving. Rose Ann was able to buy the material, cut out and sew the temporary seat cover in a little over an hour.

In between helping Rose Ann with the reupholstering, I had removed, disassembled and cleaned the generator and installed new brushes. I had also removed and disassembled the distributor, repaired its wobbly shaft, its sticking centrifugal advance and its non-functioning vacuum advance, and of course replaced the points, condenser, rotor and cap.

With these things done, Rose Ann hastily packed our suitcases while I washed and loaded up the Plymouth. I test drove my mechanical work by running a last minute errand to the post office. Everything seemed to function just fine.
The next morning we happily set off for Pacific Grove but did not even get out of town before finding to our dismay that the Plymouth would not go over 50 miles per hour. The test drive to the post office had not exceeded 35 miles per hour, but who would have thought? Back home we went.
I quickly retraced my work in the distributor and found that the spring which makes the points close seemed weak. I tried an extra set of points which I had and Bingo! Suspicion confirmed. We were back on our way to Pacific Grove with only about an hour's delay.
The Plymouth had no further trouble in our 1600 mile round trip to the National Meet. I have already written about our drive down to Pacific Grove in an article for the Cascade Pacific Newsletter and the Plymouth Bulletin, so I will pick up the story upon our reaching Pacific Grove.

Arriving Wednesday evening at the Sea Breeze Inn and Lodge in Pacific Grove, we knew we were at the right place the moment we saw the many old Plymouths which filled the parking lot. We discovered that the Golden State Region had picked a charming and pleasant place for us to stay.

Thursday morning we signed in at the hospitality room, met and talked with the folks there, wandered about looking at Plymouths and began to meet and get to know the many people who make the club so much fun. The Golden State Region had arranged for a place at the Sea Breeze where we could wash off the Plymouth's bug collection and road grime. Later that afternoon we participated in a 36 mile tour down the wonderfully beautiful California Highway 1 to Big Sur. Highway 1 was built between 1919 and 1937. It winds down the coast, hugging cliffs and overlooking the spectacularly blue Pacific.
As we drove along, folks at viewpoints would turn to admire the Plymouths, waving and smiling at us as we drove by. Our tour stopped at several of the viewpoints including one near the magnificent Bixby Bridge built in 1932. The Nepenthe Restaurant which is perched high on a mountain overlooking the ocean and green forest below was the turnaround spot for the tour, and where we all had a relaxed lunch and conversed with our fellow travelers. Then, recharged and ready to go, we pointed the Plymouths back to Pacific Grove. That evening, the Golden State Region treated us to a delightful catered barbecue on the lawn and under the trees of the Sea Breeze Inn. The food was great and apparently Plymouth people never run out of entertaining things to talk about.

The next day, Rose Ann and I did a number of self-guided tours. We walked about downtown Pacific Grove, visiting some antique shops, and treating ourselves to a little ice cream. Robert Louis Stevenson, one of Rose Ann's ancestors, wrote about Pacific Grove back in 1879, "I have never been in any place so dreamlike." Well, it is still nice. Later, we walked along the shore; toured the nearby Pont Pinos Lighthouse, the oldest continuously operating lighthouse on the west coast (1855); and strolled the famous Cannery Row. All of these places were within a few minutes' drive from the Sea Breeze.

Saturday was the central event; the big Plymouth show which was held at the Pacific Grove High School. You know, I just cannot get used to, and never get tired of seeing all those beautiful old cars and talking with their owners. The Golden State Region had arranged for a professional photographer to take pictures. The Plymouth Store was set up at one end of the show field under a tent. (A guy can always use another Plymouth hat.) Many of the cars in attendance were familiar from the 2010 Summer Meet in Portland but the majority were new to us. What fun.

The awards banquet that evening was a nice mix of music, good food, interesting conversation and many presentations. Our table certainly had its share of car stories before the presentations began. Sitting next to us were a couple who had been married over 50 years and who told the most delightful stories of their time together.

Sunday morning as we loaded our car, we waved to the Plymouths leaving for home. It was a pleasant feeling as smiling club members kindly waved at us in turn when our 54 Plymouth departed the Sea Breeze parking lot headed home to Roseburg. With a couple of beats on the horn and a hand waving good-bye out the window, we left the 2011 National Summer Meet. What a pleasant week, what beautiful cars, what fine people, what an enjoyable experience. On the way home, Rose Ann and I wondered where next year's meet would be and talked of how we would love to do this again.
___________________________________________________________________

National Plymouth Owners Club Meet
Pacific Grove, CA, July 16, 2011
By Mike Bade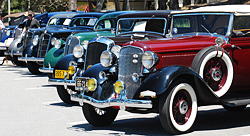 The 2011 Plymouth Owners Club National Meet in Pacific Grove, California is in the record books. Twelve Cascade Region members and there cars were in attendance, along with Plymouth owners from Califonia, Arizona, Utah, Indiana and Florida.
Click on the picture to open the photo gallery.
CPPC members attending were: Gary and Arlene Peterson, Jerry and Joanne Dixon, Tom Nachand, Chuck Willis, Mick DeSantis and his son Geno, Phillip and Rose Ann Hall, and Mike and Donna Bade.
The meet was hosted by the Golden State region, Because the Golden State members are so far apart, the bulk of the work to plan for the event fell on the shoulders of Nick Desimone, the National Plymouth Club President, who attended our 2011 Meet in Clackamas Oregon. Nick did an out standing job pulling together a successful meet with despite the long distance between his home in the Los Angeles area and Pacific Grove.
There were many familiar faces in attendance, Plymouth club members who had come to Oregon last June for our meet were abundant and the opportunity to catch up with each made the meet even more enjoyable.
Pacific Grove is a very quaint place, with some rich history and beautiful scenery.
The two tours; one to Big Sur south for Pacific Grove and the second, to a local winery gave as chance to take in sights in the area. There were opportunities to see how the rich and famous live and shop driving through Carmel and the famous 17 mile drive along the ocean near Pebble Beach golf course.
The weather was cooler than anticipated, so all the warm weather close never made it out of the suitcase. Most days started out overcast and maybe a little sun in the afternoon, except the day of the car show, when the sun came out and most everyone came away with sunburn somewhere.
Of course there were some nice cars amongst the cars in attendance, there was plenty of opportunities to get technical advice, trade stories and make new acquaintances.
Saturday evening at the awards banquet, the Pacific Region had reason to be excited. Tom Nachand's 1933 PD Convertible placed 3rd in it's Class, Jerry and Joanne Dixon's 1967 Barracuda placed 1st in it's Class. Jerry and Joanne Dixon were recognized for the Long Distance award, having driven their car the furthest to come to the meet. Finally the Cascade Pacific region was presented the Regional Attendance Banner for having the most members out side the host region attending the meet; Mike Bade accepted the traveling banner on behalf of the Cascade Pacific region.
All in all the meet was a very fun event. Opportunities like this are what it is all about, getting the cars and people together to share and learn.
___________________________________________________________________
Orphan Car Show, Clackamette Park
June 26, 2011
By Robin Will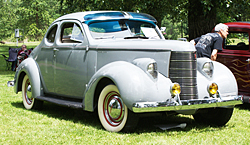 On Sunday, June 26, 2011, the northwest chapter of the Studebaker Drivers Club hosted their annual Orphan Car Meet in Clackamette Park, Oregon City. Sixty-six cars showed up.
Click on the picture to open the photo gallery.
This is a good place to see cars you won't ordinarily see. The Best of Show award went to a 1915 Kissel Kar. There was a 1929 Durant. Somebody brought a Crosley Hotshot. There was one Edsel, one Willys Aero, two DeSotos, and a Mercury.
Studebakers and AMC products showed up in large numbers.
The foreign entries included several Triumphs, a couple of Citroëns, and a Ford Consul.
Plymouths were well-represented: Tom Fox, Mike and Donna Bade, Jerry and Joanne Dixon, and Gary and Vera Rusher all brought their cars to show.
One CPPC member showed up in the winner's circle, but not with a Plymouth: Bruce Kerslake's '38 Studebaker Commander Coupe was honored. That's the car pictured above at right. Click on it to see pics of the show taken by the CPPC members who were there.
The Studebaker Drivers Club did a great job documenting the show on their own website. To see all of the cars go to http://www.sdc-nw.org and click on Recent Events.
___________________________________________________________________
Stan & Shirley Adams' Car Museum
June 12, 2011
By Mike Bade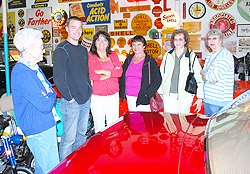 What a good time was had by all at the recent Car Tour to visit Stan & Shirley Adams' Car Museum on June 12th. 
Click on the picture to open the photo gallery.
Stan and Shirley have a collection of custom restored cars, Automobilia & Petrolina.
There are 16 Stock and Muscle cars, including a '56 Thunderbird, '69 Camaro, '56 Chevy, '40 Ford, '37 Ford, '67 Nova, to mention a few. Each car is beautifully restored to beyond perfection.
For over thirty years this couple has worked together to accumulate an amazing collection: neon signs, gas pumps, gasoline related signs, bicycles, pedal cars … and more. In scope and quality, there is nothing quite like this collection. I felt like I was in the Smithsonian, in Washington D.C. with the quality and amount of items on display.
Stan and Shirley frequently have folks by to see their collection, if missed the tour we may be invited to go back again.
___________________________________________________________________
Sherwood Cruise-In
June 11, 2011
By Robin Will
Sherwood was invaded on June 11, 2011 by custom cars, hot rods, and the occasional restored antique.
Click on the picture to open the photo gallery.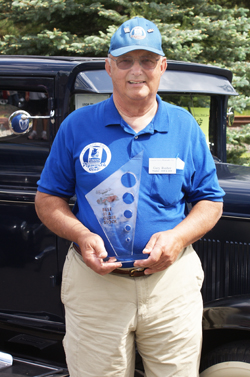 Bill Call sponsored a CPPC membership booth at the event, and several club members showed up to help.
With many people rotating through the booth, "work shifts" were short and everybody had time to wander around the show. Plus we came away with the addresses of 19 people who want more information about CPPC!
There was an overall aura of organization that did Sherwood proud, and some of the crew at the event admitted their work day had started at 3:30AM!
I spotted one Plymouth from the '50s, and a couple from the '60s and '70s, and Gary Rusher took home a trophy for his 1930 U.
___________________________________________________________________
Papa's Toys Cruise-In
May 14, 2011
(Click on the group pic at right to see some of Mike and Robin's pics from the cruise to Papa's Toys.)
By Robin Will
The Papa's Toys Collection, in Cornelius, Oregon, is open to the public exactly one day a year. It still manages to be one of the biggest events on the collector-car scene in Oregon. The show benefits Doernbecher Childrens' Hospital.
Click on the picture to open the photo gallery.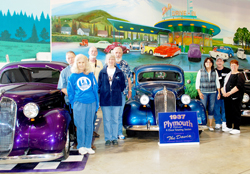 There are reportedly 167 cars in the Davis collection. The collection is eclectic: if John Davis liked it, he brought it home, spruced it up, and parked it in his enormous warehouse with murals on the walls. There are rare classics parked alongside of tough-looking hot rods and jaw-dropping customs. But there is nothing ordinary. (Papa's Toys has a website at http://www.papastoyscarcollection.com/).
The other show is outside in the parking lot. Visitors who are driving old cars are ushered into the 20+ acre parking lot in this complex which once was the terminal for a trucking company. Might still be, for all that I know. I have seen cars in the lot at Papa's Toys that I have never seen anywhere else: hotrods, customs, restorations . . . and lots of works-in-progress that look pretty danged interesting. (New, non-custom rigs are forced to find parking on the street, possibly taking up every available parking space in the town of Cornelius!)
Gary Rusher gathered a CPPC group in Tualatin, and we drove through the boonies of Washington County to get to the Cornelius site.
Inside Papa's Toys, May 14, Mike Bade lined up the usual suspects next to some attractive Plymouths, then managed to get in the pictures himself.
___________________________________________________________________
Portland Transmission Cruise-In
May 7, 2011
(Click on the pictures of Les' car to see the Mopar gleanings from the Portland Transmission show.)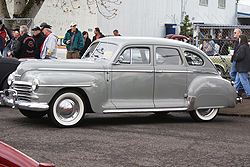 It looked like rain all day at the Portland Transmission Cruise-in, May 7, and it frequently felt like rain as well. Marlo and Julianne Edmon were there with Sarah-the-truck; Gary Blodgett was there with his '48 Club Coupe; and Les Conner was somewhere trying to stay warm when we photographed his '46 Special Deluxe sedan. Les took home a trophy for the best restoration for his '46. There was one non-club Plymouth, a '50 Deluxe looking for somebody to go home with, and one non-Plymouth Mopar product: a glorious, really, really red 1960 DeSoto Adventurer hardtop.
Click on the picture to open the photo gallery.
___________________________________________________________________
Wooden Shoe Tulip Farm,
Saturday, April 23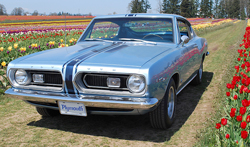 Pat and Patti Brost coordinated this tour, set for the day before Easter, and invited HACO along. The drive to Woodburn-and-beyond was pleasant, and the cars looked wonderful in the fields of tulips. A good time was had by all, but some members reported that other visitors to the event apparently thought the cars were props provided by the management, and there was some concern about uninvited visitors in, on and around the cars. Pat says they'll probably try to go midweek next time. Photos are by Mike Bade.
Click on the picture to open the photo gallery.
____________________________________________________________________
2011 Portland Swap Meet
April 1-2-3, 2011
(click on the picture at right to view the other Swap Meet pics)
By Vicki Williams
Perhaps we need to call this year's Portland Swap meet a "fun" raiser and not a fund raiser because we did have fun but didn't raise a lot of funds.
Click on the picture to open the photo gallery.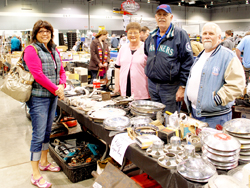 That sentiment was echoed by many vendors this year so perhaps it was just a reflection of the economy.
The CPPC booths were in a different location this year, same building just two rows over but no longer on the end where people couldn't help but pass by. We did fill 13 tables this year and our booth looked really nice after setting up on Thursday. We also had a designated area for membership information that looked really impressive and got lots of activity and resulted in five new paid members. There were also three current members who paid their past dues so those areas were quite successful.
We may have been lacking in revenue but we weren't lacking in enthusiastic CPPC members helping out. Allen Tiffany had stored last year's leftovers at his business in Camas and a group of members went there on March 26th to price and tag everything for this year's meet.
We had some great donations from members and all was loaded into Allen's trailer and he kindly brought the trailer out to the Swap Meet on Thursday after Gary Rusher arrived in his truck with the tables which were set up and ready to fill with the trailer contents. Thank you CPPC members who were there on Thursday to set everything up. We were done in record time this year.
Dave and Vicki Williams "camped" on site for the four days again this year and were able to coordinate opening and closing the booth each day. They have announced this was their last year doing this.
Thanks to all the members who volunteered to work the 2 hour time slots in the booths. A special thanks to Bob Westphal who was there three days in a row and signed up for almost the entire day each day.
Another special thanks to Joann Dixon who provided the workers her wonderful homemade chocolate chip cookies!
Tear down on Sunday went really smoothly. It's always a challenge with every vendor doing it at the same time and jockeying rigs around. Gary Rusher had kept Allen's trailer and generously donated his time and effort to get the trailer back to Camas loaded with all the leftover parts. Thanks to all that showed up on Sunday to help with this process.
We may end up with our old booths for next year if they were available after the meet, otherwise we will be in the same place as we were this year. So it's not too early to start looking for your unwanted goodies to donate to next year's cause.
___________________________________________________________________
March 2, 2011 –
The Curtis Family's collection of
horse-drawn carriages
By Gary Rusher
(Click on the pic at right to see the photo gallery.)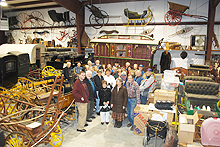 The evening of Wednesday March 2nd found members of the club meeting at a warehouse at Curtis Trailer Sales on East Powell in Portland. Retha Harden had heard that they had a building with a collection of horse drawn wagons and arranged for the club to tour the facility. Nobody could have envisioned what was to be found when we arrived.
Click on the picture to open the photo gallery.
The collection included an "Express" wagon form 1905, a huge "Connestoga" wagon, a mail wagon built by Studebaker Bros, in South Bend, Indiana in1903, and a milk wagon built by the Winkler Bros. in 1915. Besides this beautiful collection of original unrestored wagons, buggies, coaches and hearses there was even an original Vardo Romani Gypsy Wagon circa 1885. The one restored carriage was done so it could be used by one of the family members in their wedding. The wall areas added to the display with all kinds of horse related transportation and farming equipment.
There is also a good representation of WWII vehicles, most of which looked like they had just been delivered new. Everything from a Command Vehicle to a DUYK and all kinds of related supplies.
For those of you like me, with a fire background, there was a very unusual collection of fire engines. From an old horse drawn steam engine, with a ton of chrome,, to a 1913-14 American LaFrance wooden aerial ladder truck. The collection includes several old hand pumpers and hose wagons. Hundreds of pieces of early firefighting equipment from leather water buckets to pompier ladders were on display.
Everything from old baby buggies to Cushman Scooters were there, if you looked for them. And yes, there were four old vintage campers as well. But, it appears that they have another large building that houses the true collection of campers and other goodies. Maybe another tour for another day.
Cammie Pierson and Mylo Curtis, two of the children of Myron Curtis, Sr., the founder and collector were our guides and did an amazing job showing us around and explaining what the items were and how their father had come by them. It was a great opportunity to see history in the raw.
Leaving the Curtis's we went to Elmer's just off I-205 for a great dinner. Retha had arranged for us to have the meeting room area so we could just socialize with fellow members.
All in all it was a great evening, and a wonderful tour that was enjoyed by all.
___________________________________________________________________
February 26, 2011 –
Garage tour to Roy Asbahr's & Jack Corley's
By Mike Bade
(Click on the image at right to see pics from the garage tour.)
Saturday, February 26th, Garage Tour to Roy Asbahr's and then to Jack Corley's Parts Warehouse in Gresham.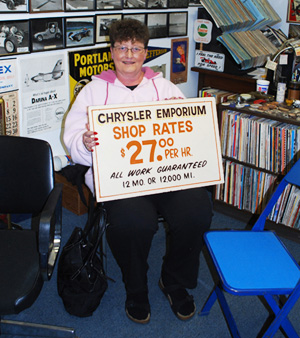 Tour hosts Pat and Patty Brost made the arrangements for the tours and lunch. Approx 26 CPPC members met early in the Bi-Mark parking lot off of Powell Blvd., on one of the coldest mornings of the year. Several members drove their Plymouths despite the record cool weather.
Click on the picture to open the photo gallery.
At the stroke of 10:15am Pat Brost led the way (in his 1933 Plymouth Roadster) to Roy and Bev Asbahr's. Hidden from plain site just off the main road on 17 acres, the first thing you see when arriving is a replica Associated Gas Station and a car dealership. Bev and Roy greeted the Plymouth Club faithful with coffee, hot chocolate and cookies.
Roy's car collection consists mainly of GM products, a Model A Ford and a 1932 Studebaker Coupe he inherited from his uncle. Some of these cars he has owned since high school and some were owned by his parents.
Roy gave a brief history of how he acquired his many cars over the years and the work that he did to restore them to the condition that they are in today. There is nothing half way about Roy and Bev's collection, which consists of Oldsmobile's, Buick's, Cadillac's, a Chevy, a classic truck and a few vintage bikes.
In on corner of the room was a 1950 Oldsmobile Tribute Car, to Oregon native, Hershel McGriff. According to the Legends of NASCAR web site, his NASCAR K&N Pro Series West (previously Winston West) career includes 37 wins, 105 top fives, 156 top 10s and 43 pole positions over 32 years (1971-2010) and 236 starts. He has been inducted in the West Coast Stock Car Hall of Fame and Motorsports Hall of Fame of America.
Before leaving we had a chance to see a couple of Roy's new project cars in a separate garage area, which were also a hit with everyone.
If you have been to Roy and Bev's previously, they have added additional space for their car collection, so don't miss a chance to go and see the added displays if you get the chance.
It was time for a little lunch so Pat and Patty lead the group to Billy Bob's restaurant at S.E. 257th & Division St. A special treat for the group, the owner of Billy Bob's came out to talk with us and told us that during the summer months, they will be having weekly car shows on Wednesdays starting at 4:00pm.
After lunch we drove to Jack Corley's Parts warehouse in Gresham, just off Division street, at 909 N.E. Cleveland Ave. In his early years, Jack worked as a parts distributor for Neihoff and TRW. Jack is still in the parts business after all these years selling Specialty Parts for collector cars. Amongst the row and rows of parts you are sure to find the part you may be looking for.
The most interesting part of the tour was looking at his has vast collection of race car memorabilia. The walls of his warehouse and office area are a virtual museum of race car history. We spent most of the tour at Jack's looking at the photos, memorabilia, models, trophies, pennants, etc, etc, almost too much to take in.
Starting in 1952 and ending 1973, Jack spent his leisure time on the race tracks of Washington, Oregon, California, Idaho, Montana and Canada; driving Midget, Sprint and Super Modified Race Cars. His biggest claim to fame is winning the race in Meridian Speedway in Idaho, driving his Ford V-8 Series 60.
Many in the group reminisced about stories of going to see races at the Portland Speedway in their younger years, Jack seemed very pleased to share his history with everyone and invited us back to see more at a later time.
__________________________________________________________________
First garage tour of 2011 -- Gary's Mustangs
& Bill's Place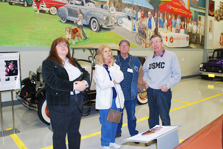 Click on the picture at right to see the photo gallery.
On February 5th, CPPC members gathered for the first garage tours of 2011.
Click on the picture to open the photo gallery.
Gary's Mustang's in Clackamas, OR was the first stop of the day.
Gary Stevens specializes in the restoration of Mustangs. He has over 29 years of experience in the restoration of Mustangs and other classic cars.
Gary is skilled in all phases of restoration, including: cowl repair and replacement, floor pan replacement, complete interior refurbishing, glasswork, brakes and suspension He does high-end body and paintwork on all classic vehicles, collision repair, and insurance work. Gary is also an authorized distributor for Scott Drake Mustang parts, and TMI upholstery.
To contact Gary call: 503-667-2926, or email him at garysmustangs@msn.com.
_____________________________________________________________
Visiting Santa at the Rices' home:
December 8, 2010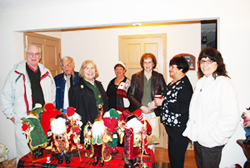 (Click on the picture at right to view all of the photos of the event)
Thirty CPPC members visited Santa Claus on December 8. No, it was not to tell Santa what they want for Christmas& it was to tour the home of fellow CPPC members: Dennis and Barbara Rice, and to view the Rices' Santa Claus collection.
Click on the picture to open the photo gallery.
The Rices' collection includes over 200 Santas in a variety of sizes and costumes. There are Santas in costumes depicting them as fishermen, cooks, cowboys, golfers, a pirate, carpenters, and a biker not to mention the many traditional and old world-style Santas. There are singing Santas and dancing Santas. It is amazing that no two are alike.
According to Barbara, they started the collection less than ten years ago. She added that even though storage space and display space is nearly gone, the collection is probably not yet complete and will continue to grow.
In addition, to viewing the impressive Santa collection, touring CPPC members visited Dennis' shop to see his national and international license plate collection. His collection consists of over 600 license plates from all 50 states, the District of Columbia, and over 25 foreign countries from North America, Central America, South America, Australia, Asia and Europe. The plates come in a variety of sizes, shapes and license material, including porcelain, plastic, copper, and some that were made of fiber to conserve metal during World War II. Dennis provided history about license plates, licensing in Oregon, and discussed plates for a number of vehicle types.
There were plates in the shape of states and plates with unique slogans on them. One set that caught many attendees' interest was a pair with one plate marked "Front" and the other "Rear." It makes you wonder, if a vehicle owner has to be told where to put each of two identical plates, should the person even be driving or is it a matter of some bureaucracy seemingly gone too far in regulating. Another interesting plate had slots across the face of the plate. This was an old plate that would have been mounted on the vehicle's radiator. The slots allowed air to pass through the plate to cool the radiator. Comments heard after the tour indicated attendees found the plate presentation very interesting and informative.
While members expressed enjoyment with the two tours, they also savored the tasty treats Barbara served: cookies, hot apple cider, and coffee. Then, as if this wasn't enough, the group went to a local pizza parlor for salads and pizza. The end to a pleasurable tour.
_________________________________________________________________
2010 National Plymouth Owners Meet
With all due modesty, Cascade Pacific Plymouth Club produced quite possible the best meet the National Plymouth Owners Club has ever seen, in June of 2010.
Click here or on the link below to visit the pages from our 2010 National Meet.

__________________________________________________________________

2009 Hot Dog-ust Day Cruise-In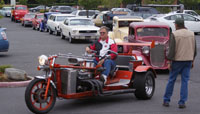 Car people get up early. The flyers distinctly said 9AM-3PM, but by 8:00 on the morning of August 15, cars were already backed up into the street. Before it was over, we were parking cars between the rows, and visitors had taken up an extra row or two of Haggens parking lot. Click on the thumbnail to see pictures of the Cruise-In!
___________________________________________________________________