The Plymouth Story
CPPC member Scott Whiteman produced a research-and-reference work without equal, and offers it here for the benefit of the community of Plymouth owners worldwide.

FOLLOW THIS LINK to see Scott's work!
The Basics of Tires and Wheels
Scott Whiteman sent us this reference-quality work to help members with questions about wheels, and to help us all decode the information that appears on our tires. FOLLOW THIS LINK to read it or DOWNLOAD A PDF.
---
Rare Fargo Clipper with local history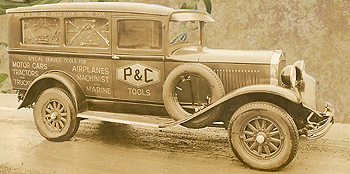 Here's an interesting question – and picture – that came to us through
CPPC's website.
These items came via the world wide web from clear over in Milwaukie, Oregon, which gives them local interest as well as showing us a little-known part of Plymouth's history.
The question was: "Is this a 1929 Plymouth?" accompanied by a picture of a vehicle that was completely unfamiliar.
Click on the picture to see a bigger version.
They came from Jerry Johnson, who is collecting a history of P&C Tools, which operated in Milwaukie through the 1970s. He wrote: "I received the photo from T. Peterson, the grandson of one of the co-founders (John Peterson). The other co-founder was Charles Carlborg … my great uncle."
The answer takes us back to the early days of Chrysler Corporation, when three new products lines were announced at once, in 1928: a low-priced car named Plymouth, a slightly more expensive car called the DeSoto, and a line of light trucks, called the Fargo.
But 1928 was also the year that Chrysler – surprisingly – engineered the purchase of the Dodge Brothers empire. Dodge had an established line of trucks that competed with Fargo, so the Fargo brand quietly went away, to apply only to Canadian-built trucks and other export models after 1931.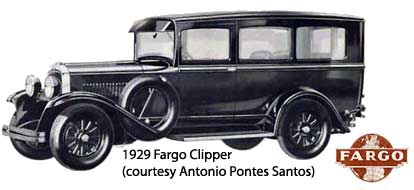 We found enough information and pictures at allpar.com to establish an identification – tentatively, not totally. However, Lanny Knutson, editor of the National POC Bulletin, enjoys this sort of question, and was able to weigh in:
"I am quite certain you are right, it's a '29 Fargo Clipper. Don Butler's book, The Plymouth and DeSoto Story, carries two pages (pp24-25--also '30 models on pp32-33) of photos and commentary on the '29 Fargo. The first caption notes that the vehicles were a compilation of Plymouth, DeSoto and Chrysler 65 parts. That may explain the variance in bumpers and door hinges. Variance may also be due to differences between what is shown in artists' renderings compared to actual photographs."
Fargo trucks were around for such a short time, in the USA at least, that very little information has survived. We rely on published specs and brochure renderings, and Jerry Johnson's photo is a rare look at the real thing.
As it turns out, several of CPPC's more seasoned members are familiar with P&C Tools, which operated well into the 1970s in Milwaukie.
Here's a link to the P&C historical website.
___________________________________________________________________
Plymouths in racing!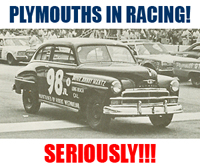 Six-cylinder Plymouths aren't the first cars that come to mind for the heyday of stock car racing, but for a brief time in the 1950s, Plymouths were winning races over bigger and faster cars that had factory support! A shrewd driver named Lee Petty figured out the big guys' weaknesses, and exploited them without mercy – literally leaving his competition in the pits or alongside the track.
Bob Westphal raided his collection for this magazine article, from the February-March, 1973 issue of Special Interest Autos. Click on the thumbnails below to open the full pages. Be patient, because they're big files!
1935 Plymouth vs. 1935 Ford, an
"impartial" sales guide
Thanks to CPPC member Larry Catt for this sales document from 1935.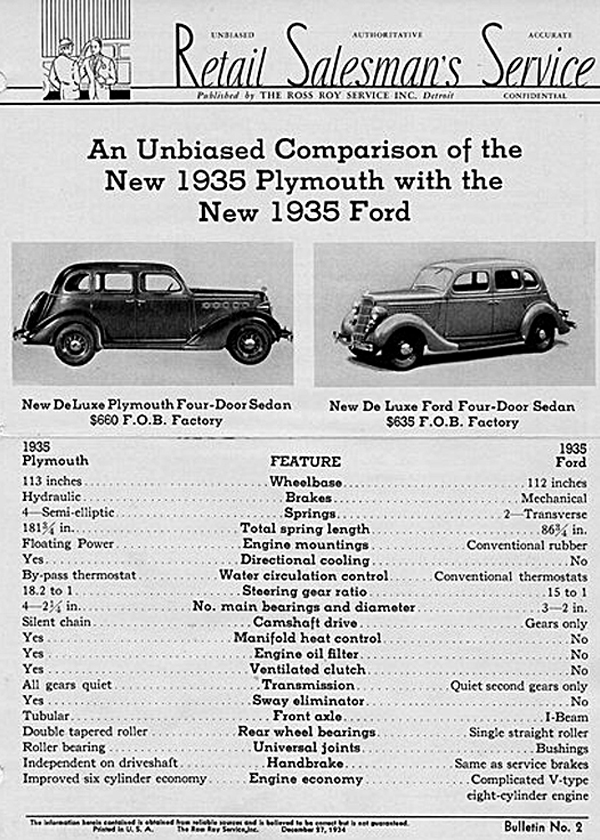 History of the Plymouth automobile
Walter P. Chrysler had plenty of automotive experience by the time he formed his own company. He resigned as president of General Motors' Buick division in 1919, moved to Willys-Overland, then, in 1921, acquired a controlling interest in the Maxwell-Chalmers Motor Company. Production of the Chalmers ended in 1923; the first Chrysler appeared in 1924; and the Maxwell name was dropped in 1925, by which time the company was known as Chrysler Corporation.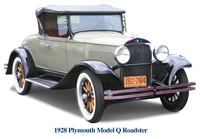 In 1928, following General Motors example, Chrysler introduced Plymouth as its low-price car, and DeSoto, intended appeal to mid-range budgets. The first Plymouth owed a great deal to its Maxwell ancestors -- not necessarily a bad thing -- but it offered the first hydraulic brakes in its price class, and other features that justified a price tag slightly higher than its competition.
The value was good, and the timing was right. Ford ended production of the Model T in May of 1927, and didn't have the Model A for sale until December 2, 1927. Plymouth was introduced in July of 1928, while Ford was still struggling to fill orders for the Model A.
"In its first year," reports allpar.com, the online Mopar authority, "Plymouth had placed 15th [in sales], while Willys-Overland's Whippet was #3. For 1929, Plymouth would rise to 10th, while Hudson's Essex would slip into third. 1930 would find Plymouth in 8th place, with Buick in third."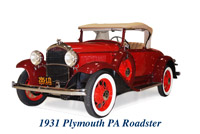 In 1931, while competitors were buckling down for the Great Depression, Walter Chrysler spent millions to introduce a totally new Plymouth, the PA. The PA's engine remained the 196CI 4-cyl of previous years, with horsepower increased from 48 to 56. The typical 4-cylinder vibration was calmed by new strategy for mounting the engine: called "Floating Power," it was original to Plymouth, and other makers eventually paid royalties to use it. A free-wheeling mode made clutchless shifting possible. The all-steel Briggs bodies sat relatively low, improving road holding, and since Plymouth shared many body panels with the 6-cylinder DeSoto, it was a bigger car than its competitors. Production of the PA was 106,896, not a lot compared to Ford's 626,579 or Chevrolet's 619,554, but enough to knock Buick out of third place in national car sales. Buick didn't regain the #3 position until 1954.