August 20, 2016 – Hot Dog-ust Day Cruise-In!
Follow this link to go straight to the photo gallery!

This link will download a list of the businesses and individuals who stepped up to sponsor our event!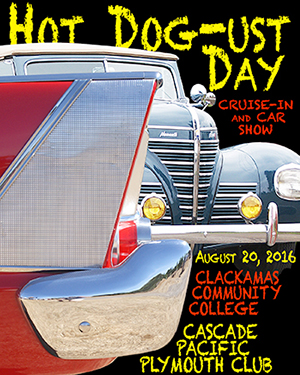 It was indeed hot. There were red-alert heat warnings all over the Portland area. People were saying 102 degrees, but folks on the show field would probably have guessed higher.
As a result of the heat we didn't get the turnout we had hoped for, but we thank the 65 brave souls who brought their cars out to play. Twenty-two of them were CPPC members, and those Plymouths made quite a sight, parked in a row along the north side of the show field. Forty-three new friends joined us to make the day complete
One of CPPC's members knows somebody who owns an ice machine, and several of our supporters were exceptionally generous with bottled water. As a result, we were able to give away cold bottled water all day. Talk about a life saver!
CPPC met our goals for the event, heat or no heat. We wanted to cover the expenses of this event. We wanted to contribute generously to the scholarship fund for Automotive Technology students at Clackamas Community College. We hoped to have enough start-up money left over to field an event like this one next year. We did all three.
As a result of the car show, the CCC automotive department will receive $3,000 in scholarship money. Broken down that is $1500 from Lithia Motors, $500 from Lanphere Auto Group, and $1,000 from CPPC. The CCC track/cross country department will receive $500. So, $3,500 going to CCC as a result of our car show!!!! Pretty awesome.
It wouldn't be possible without lots of community support!

We know there are generous businesses and individuals in our community – folks who will step up with cash or donations, if they are asked.
Here's what we got for asking:
64 businesses or individuals sponsored trophies;
255 items were donated for our raffles;
33 groups donated items for goodie bags;
16 individuals or businesses provided cash or other forms of assistance to our effort.
The image at right is the cover of the thank-you flyer that went into the goody bags, containing the list of folks who supported us. (Actually, there turned out to be more, after our print deadline!) Click on the image to download a copy of the flyer.
This is important! These members of our community support the old car hobby, and they support us in our efforts to provide scholarships for Clackamas Community College. Please thank them for supporting us today, and support them with your business, all year 'round.
At the end of the day …

Some of our donors provided great big checks to showcase their support. We were able to hand over some regular-size checks as well, and in all, $3500 went to Clackamas Community College as a result of this event.

Dave Duthie's 1956 Chrysler New Yorker Newport was judged Best of Show. The relatively small turnout didn't make judging easier, and there were several extraordinary cars on the field. The judges bickered for a while before settling on the tri-tone New Yorker, which was rare (and expensive!) when new, and which appeared flawless on the show field.

Click on either picture to see the all of our photos from the show.
Individuals and business who supported our Hot Dog-Ust Day

Trophy Sponsors
Abbott Instrument Restoration, Portland, OR  X2
Action Auto Glass, Portland, OR
Armstrong VW, Gladstone, OR
Auto Shop Northwest, Oregon City, OR X2
Auto Team Automotive Repair, Oregon City, OR
Bill's Place, Clackamas, OR  X2
Carr Auto Group, Beaverton, OR  X2
Cascade Pacific Plymouth Club, Clackamas, OR
Clackamas Auto Parts, Oregon City, OR
Dave & Linda Surmon, Albany, OR  X2
Delta Auto Glass, Gladstone, OR  X4
Dick Hannah Dealerships, Vancouver, WA  X3
Don Ryan, Ariel, WA
Christina J. Price, AAMS, Gresham, OR  X4
Finish Line Coatings, Milwaukie OR
1st Choice Auto Service, Clackamas, OR
George Morlan Plumbing, Portland, OR
Gresham Ford, Gresham, OR
Historical Automobile Club of Oregon, Clackamas, OR
Honest-1 Auto Care, Clackamas, Or
James D. Goertz, DMD, Oregon City, OR
Jiffy Lube, The Ostler Group, Sandy, UT
L & C Trucks, Oregon, City, OR
Larry Morton's Transmission Service, Oregon City, OR  X2
Les Schwab, Oregon City, OR
Mackin's Auto Body, Vancouver, WA
Matthews Memory Lane Motors, Portland, OR
Mt. Angel Auto Body, Mt. Angel, OR
North American Muscle Cars, Portland, OR  X4
Northwest Accounting Group, Portland, OR
Northwest Web Creation, Vancouver, WA
Pacific Hot Tub Solutions, Oregon City, OR
Phyllis Armour, Go Beavers, Portland, OR
Raindog Editorial Services, Wilsonville, OR
Rick's Custom Fencing, Hillsboro, OR
Rob's Upholstery, Portland, OR
Ross Huxtable, Gasket Specialties, Portland, OR
Sidedraught City, Portland, OR
Steve's Auto Restorations, Portland, OR  X2
Tony's Auto Parts, Vancouver, WA
Weston Buick Kia GMC, Gresham, OR  X2
Wildcat Auto Wrecking, Sandy, OR  X2

Raffle Donations
AAA Insurance Corp., Portland, OR
Abbey's Pizza, Oregon City, OR
Adams Premium Car Care Products, Damascus, OR
Advance Auto Parts, Milwaukie, OR
Affordable Classics, Gladstone, OR
Angler Innovations, Boring, OR
Auto Zone, Happy Valley, OR
Auto Zone, Oregon City, OR
Auto Zone, Vancouver, WA
Bank Of America, Lake Oswego, OR
Baxter Auto Parts, Vancouver, WA
Bellagios Pizza, Oregon City, OR
Bob & Yvonne Westphal, Vancouver, WA
Chip's Parts Service, St. Helens, OR



Raffle Donations (continued)
Christmas at the Zoo, Oregon City, OR
Chuck & Stephanie Willis, Sandy, OR
Clackamas Auto Parts, Oregon City, OR
Coker Tire, Chattanooga, TN
Dan's Auto Service, Oregon City, OR
Dave & Mindy Benfield, Mulino, OR
Dennis & Jeanne Mowery, Boring, OR
Discount Tires, Clackamas, OR
Discount Tires, Salem, OR
Don Ryan, Ariel WAEast Side Plating, Portland, OR
Elaine Huber, Vancouver, WA
Elmer's Restaurant, Clackamas, OR
Francis Xavier's Restaurant, Portland, OR
Franz Bakery, Portland, OR
Garside Florists, Vancouver, WA
Great Clips, Oregon City, OR
Griot's Garage, Tacoma, WA
Harry & David, Troutdale, OR
Hawaiian Time, Oregon City, OR
Healthy Looks Salon, Oregon City, OR
In & Out Auto Care, Gladstone, OR
Instant Inprints, Vancouver, WA
Isa's Auto Service, Oregon City, OR
Jerry & Joanne Dixon, Vancouver, WA
Jiffy Lube, Portland, OR
Jimmy O'S Pizzeria, Oregon City, OR
Knecht's Auto Parts, Portland, OR
L&C Trucks, Oregon City, OR
Latus Motorcycles, Gladstone, OR
Leatherman Tool Group Corp., Portland, OR
Les Schwab Tire Center, Clackamas, OR
Les Schwab Tire Center, Gresham, OR
Les Schwab Tire Center, Orchards, WA
Lithia Subaru, Oregon City, OR
Little Caesars Pizza, Oregon City, OR
McMenamins Pubs & Breweries, Portland, OR
Meineke Car Care Center, Happy Valley, OR
Meineke Car Care Center, Oregon City, OR
Menchie's Yogurt of Oregon City, OR
Midas, Happy Valley, OR
NAPA Auto Parts, Clackamas, OR
NAPA Auto Parts, Milwaukie, OR
North American Muscle Cars, Portland, OR
On Point Credit Union, Oregon City, OR
Oregon City Golf Club, Oregon City, OR
Oregon City Sporting Goods, Oregon City, OR
O'Reilly Auto Parts, Oregon City, OR
Palm Beach Tan, Oregon City, OR
Panda Express, Oregon City, OR
Parkrose Hardware, Portland, OR
Parkrose Hardware, Vancouver, WA
Pedron Enterprises, Vancouver, WA
Rainbow Finishes, Oregon City, OR
Rich Von Allmen, Gresham, OR
Rivershore Bar & Grill, Oregon City, OR
Rock Auto, Madison, WI
Rodda Paint, Oregon City, OR
Ron Tonkin Chrysler Jeep Dodge Ram Fiat,
 Gladstone, OR
Safeway Stores, Clackamas, OR
Sah-hah-Lee Golf Course, Clackamas, OR
Shari's Restaurant, Oregon City, OR



Raffle Donations (continued)
Sherwin-Williams, Portland, OR
So-Cal Northwest Speed Shop, Tualatin, OR
Stereo King, Portland, OR
Stitch-n-Embroidery, Oregon City, OR
Superior Radiator & Automotive, Oregon City, OR
Taco Del Mar, Oregon City, OR
The Chevy Store, Portland, OR
The Children's Course, Gladstone, OR
The Verdict Bar & Grill, Oregon City, OR
Tom Nachand, Milwaukie, OR
Top Gear Auto Worx, Oregon City, OR
Westco Autobody Supply, Vancouver, WA
Westcott Enterprises, Boring, OR
Wildcat Auto Wrecking, Sandy, OR
Working Concepts, Gresham, OR
World of Speed, Wilsonville, OR

Goody Bag Donations
Affordable Bonds, Vancouver, WA
American National Insurance, Beaverton, OR
American National Insurance, Vancouver, WA
Arbor Day Foundation, Lincoln, NE
Bank of America, Lake Oswego, OR
Bugatti's, Oregon City, OR
Cashco Distributors, Portland, OR
Con2R Concept to Reality, Beaverton, OR
Dave & Mindy Benfield, Mulino, OR
Discount Tires, Gresham, OR
Discount Tires, Vancouver, WA
Eastco Diversified Services Inc., Gresham, OR
Hagerty Insurance, Traverse City, MI
Hilltop Collision Center, Oregon City, OR
Jiffy Lube, Portland Metro, OR
Logan Bevency, Portland, OR
Menchie's Yogurt, Oregon City, OR
Michael A. Slama Inc, Portland, OR
Miller Paint, Vancouver, WA
Milwaukie Tire Co., Clackamas, OR
Monarch Hotel, Clackamas, OR
Mt. Angel Auto Body, Mt. Angel, OR
North American Muscle Cars, Portland, OR
Oasis Dental, Vancouver, WA
OnPoint Credit Union, Oregon City, OR
Parr Lumber, Hillsboro, ORPGE, Portland, OR
Rock Auto, Madison, WI
Speeds Supertow, Portland, OR
Waste Connections, Vancouver, WA
When the Shoe Fits, Vancouver, WA
Wildcat Auto Wrecking, Sandy, OR
World of Speed, Wilsonville, OR

Other Support
Albertsons, Oregon City, OR
Bill & Dolores Call, Milwaukie, OR
Bob Lanphere Enterprises Inc, Beaverton, OR
Cash & Carry, Milwaukie, OR
Fred Meyer, Vancouver, WA
Larry & Joyce Catt, Vancouver, WA
Lithia Subaru of Oregon City, Oregon City, OR ($1,500 Scholarship)
Maaco, Clackamas, OR
Napa Auto Parts, Vancouver, WA
Panda Express, Gresham, OR
Panda Express, Oregon City, OR
Panda Express, Portland, OR
Rob Peterson, Stevenson, WA
Safeway, Oregon City, OR
Suburban Chevrolet, Sandy, OR
Twin Star Credit Union, Hazel Dell, WA