August 12, 2017 – Hot Dog-ust Day Cruise-In!
REGISTER
RIGHT
HERE!

RESERVE YOUR
T-SHIRT
CPPC will be back at Clackamas Community College on August 12, 2017 for another Hot Dog-Ust Day Cruise-In & Car Show. We open the gates at 9:00AM!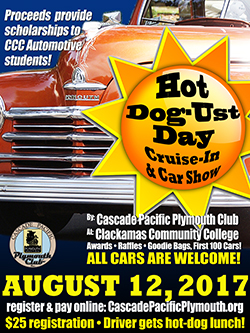 Mark your calendars.
It's a chance to show off your car, meet other car people, and support scholarships for Automotive Technology students at Clackamas Community College.
As a result of last year's car show (2016), the CCC automotive department will receive $3,000 in scholarship money. Broken down that is $1500 from Lithia Motors, $500 from Lanphere Auto Group, and $1,000 from CPPC. The CCC track/cross country department will receive $500. So, $3,500 is going to CCC as a result of our car show!!!! Pretty awesome.
Please plan on bringing your car to our event in 2017.
If you're in a position to donate raffle items or chip in some scholarship cash, please do so. Contact info@cascadepacificplymouth.org to learn how to contribute.
---
Follow this link to see pictures of the 2016 event.

Follow this link to see pictures of the 2015 event.

This link will download a list of the businesses and individuals who stepped up to sponsor our event!
---
Each year, we publish a flyer listing businesses and individuals who support our event. In 2016, our results looked like this:

64 businesses or individuals sponsored trophies;
255 items were donated for our raffles;
33 groups donated items for goodie bags;
16 individuals or businesses provided cash or other forms of assistance to our effort.
The image at right is the cover of the thank-you flyer that went into the goody bags, containing the list of folks who supported us. (Actually, there turned out to be more, after our print deadline!) Click on the image to download a copy of the flyer.
This is important! These members of our community support the old car hobby, and they support us in our efforts to provide scholarships for Clackamas Community College. Please thank them for supporting us today, and support them with your business, all year 'round.