On August 11, 2018, we'll be doing it again!!
In 2015, CPPC got serious about raising scholarship money for Automotive Technology students at Clackamas Community College.
It only made sense: they were the future of our hobby.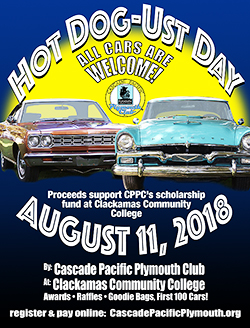 Figuring we could have fun and raise money too, we started donating a portion of the proceeds from our summer cruise-in & car show to a scholarship fund. And reaching out to our community, we discovered a lot of people who felt the same way we do.
In 2017, we were able to turn over more than $6000 to Clackamas Community College.
We were also able to donate $750 to CCC's track team, who helped us park cars and serve hot dogs.
We're already planning this year's event, and hoping to do bigger and better things.
If you're in a position to donate raffle items or chip in some scholarship cash anytime before the end of July, 2018, please contact info@cascadepacificplymouth.org to learn how to contribute.
---
---
It wouldn't be possible without lots of community support!
Each year, we publish a flyer listing businesses and individuals who support our event. In 2017, our results looked like this: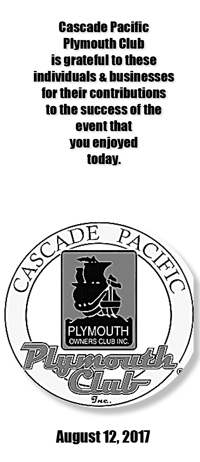 44 businesses or individuals sponsored trophies;
78 businesses or individuals donated multiple items for our raffles;
25 groups donated items for goodie bags;
15 individuals or businesses provided cash or other forms of assistance to our effort.
Six individuals or organizations wrote checks directly to our scholarship fund.
The image at right is the cover of the thank-you flyer, containing the list of folks who supported us. (Actually, there turned out to be more, after our print deadline!) Click on the image to download a copy of the flyer.
This is important! These members of our community support the old car hobby, and they support us in our efforts to provide scholarships for Clackamas Community College. Please thank them for supporting us today, and support them with your business, all year 'round.
Community Support for Hot Dog-Ust Day 2017

Sponsors

1st Choice Auto Service, Clackamas, OR
Abbott Instrument Restoration, Portland, OR
Armstrong VW, Gladstone, OR
Auto Shop Northwest,
Oregon City, OR X2
Auto Team Automotive Repair, Oregon City, OR
Bill's Place, Clackamas, OR X2
Carr Auto Group,
Beaverton, OR X2
Cascade Pacific Plymouth Club, Clackamas, OR
Clackamas Auto Parts,
Oregon City, OR
Dave & Linda Surmon,
Albany, OR
Delta Auto Glass, Gladstone, OR X4
Don Ryan, Ariel, WA
Gresham Ford, Gresham, OR
Honest-1 Auto Care,
Clackamas, Or
James D. Goertz, DMD,
Oregon City, OR

iffy Lube, The Ostler Group, Sandy, UT
L & C Trucks,
Oregon, City, OR X2
Les Schwab, Oregon City, OR
Matthews Memory Lane Motors, Portland, OR
Mt. Angel Auto Body,
Mt. Angel, OR
NAPA Auto Care, Oregon City, OR
North American Muscle Cars, Portland, OR X2
Northwest Accounting Group, Portland, OR
Northwest Classic Auto Mall, Gresham, OR

Pacific Hot Tub Solutions,
Oregon City, OR
Phyllis Armour, Go Beavers, Portland, OR
Raindog Editorial Services, Wilsonville, OR
Rick's Custom Fencing,
Hillsboro, OR
Rob's Upholstery, Portland, OR
Ross Huxtable, Gasket Specialties, Portland, OR
Steve's Auto Restorations, Portland, OR
Suburban Auto Group, Sandy, OR
Tony's Auto Parts, Vancouver, WA
Weston Buick Dealerships, Gresham, OR X2

Raffle Donations

AAA Insurance of Oregon, Portland, OR
Abra Auto Body & Glass, Clackamas, OR
Affordable Classics,
Gladestone, OR
Auto Zone, Mikwaukie, OR
Auto Zone, Oregon City, OR
Bank Of America,
Lake Oswego, OR
Baxter Auto Parts, Vancouver, WA
Bellagios Pizza, Oregon City, OR
Bruce Chevrolet, Hillsboro, OR
Building Material Resources, Sherwood, OR
Carquest, Portland, OR
Chips Parts Service, St. Helens, OR
Christmas at the Zoo,
Oregon City, OR
Clackamas Auto Parts,
Oregon City, OR
Coker Tire, Chattanooga, TN
Dave & Mindy Benfield,
Mulino, OR
Dennis & Jeanne Mowery,
Boring, OR
Discount Tires, Clackamas, OR
Eastside Plating, Portland, OR
Elmer's Restaurant, Clackamas, OR
Elmer's Restaurant, Portland, OR
Erickson Tire Factory, Molalla, OR
Franz Bakery, Portland, Or
Garside Florists, Vancouver, WA
Great Clips, Oregon City, OR

Raffle donations, cont'd

Great Harvest Bread Co., Clackamas, OR
Griot's Garage, Tacoma, WA
Harry & David, Troutdale, OR
Hawaiian Time, Oregon City, OR
Honest-1 Auto Care,
Vancouver, WA
In & Out Auto Care,
Gladstone, OR
Instant Imprints, Vancouver, WA
Jerry & Joanne Dixon,
Vancouver, WA
Jiffy Lube, Oregon City, OR
Jim Estes Garage,
Oregon, City, OR
Jim Wheat, Lake Oswego, OR
Jimmy O'S Pizzeria,
Oregon City, OR
Les Schwab Tire Center, Clackamas, OR

Les Schwab Tire Center,
Gresham, OR

Les Schwab Tire Center,
Orchards, WA
Lithia Subaru, Oregon City, OR
Little Ceasars Pizza,
Oregon City, OR


McMenamins Pubs & Breweries, Portland, OR

Meineke Car Care Center,
Happy Valley, OR

Menchie's Yogurt of
Oregon City, OR

Midas, Happy Valley, OR

Milwaukie Tire & Automotice Service, Clackamas, OR

NAPA Auto Parts, Clackamas, OR

NAPA Auto Parts,
Happy Valley, OR

NAPA Auto Parts, Milwaukie, OR

NAPA Auto Parts, Vancouver, WA

Northwest Classic Auto Mall, Gresham, OR

Oregon City Golf Club, Oregon City, OR

Oregon City Sporting Goods, Oregon City, OR

O'Reilly Auto Parts, Oregon City, OR

Parkrose Hardware, East Vancouver, WA

Parkrose Hardware, Portland, OR

Parkrose Hardware, Southeast Vancouver, WA

Pedron Enterprises, Vancouver, WA

Rivershore Bar & Grill,
Oregon City, OR

Rock Auto, Madison, WI

Rodda Paint, Oregon City, OR

Ron Tonkin Kia, Gladstone, OR

Safeway Stores, Clackamas, OR

Sah-hah-Lee Golf Course, Clackamas, OR

Shari's of Berry Hill,
Oregon City, OR

Sherwin-Williams, Portland, OR

Sports Clips, Oregon City, OR

Stereo King, Portland, OR

Stich-n-Embroidery,
Oregon City, OR

Taco Del Mar, Oregon City, OR

The Chevy Store, Portland, OR

The Children's Course,
Gladstone, OR

The Growler Run, Oregon City, OR

Tim's Automotive Repair, Clackamas, OR

Tom Nachand, Milwaukie, OR

Wally's Music Shop,
Oregon City, OR

Washman, Portland, OR

Goody Bag Donations

Westcott Enterprises, Boring, OR

World of Speed, Wilsonville, OR

AARP, Seattle, WA
Arbor Day Foundation,
Lincoln, NE

Cashco Distributors, Portland, OR

Cindy's Window Fashions, Gresham, OR

Coker Tire, Chattanooga, TN

Dave & Mindy Benfield,
Mulino, OR

Discount Tires, Gresham, OR

Jiffy Lube, Portland Metro, OR

Miller Paint, Vancouver, WA

Milwaukie Tire Co.,
Clackamas, OR

Monarch Hotel, Clackamas, OR

North American Muscle Cars, Portland, OR

Northwest Classic Auto Mall, Gresham, OR

Oasis Dental, Vancouver, WA

On Point Credit Union,
Happy Valley, OR

On Point Credit Union,
Oregon City, Or

Parr Lumber, Hillsboro, OR

Rock Auto, Madison, WI

Speeds Supertow, Portland, OR

Sport Clips, Oregon City, OR

Steve's Auto Restorations, Portland, OR

Stitch-n-Embroidery,
Oregon City, OR

The Nature Conservancy,
Portland, OR

Scholarship Donations

Tom Nachand, Milwaukie, OR

US Bank, Vancouver, WA

World of Speed, Wilsonville, OR

Bill & Dolores Call,
Milwaukie, OR

Dick Hannah Dealerships, Vancouver, WA

Hill Top Collision Center,
Oregon City, OR

Other Support

Lanphere Auto Group,
Beaverton, OR

Lithia Surbaru, Oregon City, OR

Albertsons, Oregon City, OR

Cash & Carry, Milwaukie, OR

Elite Indoor Gardens,
Oregon City, Or

Energy Solutions,
Oregon City, OR

Greg Roofing, Camas, WA

Grocery Outlet, Oregon City, OR

Isa's Auto Service,
Oregon City, OR

Larry & Joyce Catt,
Vancouver, WA

Rob Peterson, Stevenson, WA

Safeway, Oregon City, OR

Shari's Cafe & Pies,
Vancouver, WA

Solar World, Hillsboro, OR

Steve's Auto Restorations, Portland, OR