Above: Cascade Pacific Plymouth Club members, under partly-cloudy skies, flanking the poster that lists all of the community sponors that made their Hot Dog-Ust Day successful. Scroll down, or follow this link, to see a list of everybody who chipped in.
August 11, 2018 –
Another Great Hot Dog-Ust Day
In four years, we have raised $20,800 in scholarship funds
Follow this link to see pictures of the 2018 event.
We hoped the stifling heat would break before the Hot Dog-Ust Day Car Show on August 11 – and we got a cool, cloudy day with a chance of rain in the forecast.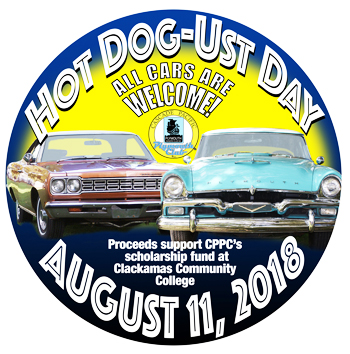 Eighty cars turned out nonetheless. The "chance of rain" turned out to be a half-hour of intermittent and light showers. Some folks didn't even bother to raise their convertible tops.
Intense planning pays off – the feedback CPPC always gets is that our events are friendly and well-organized, and this year was no exception.
We were able to turn over $5,750 to our scholarship fund at Clackamas Community College for students in the Auto Body & Paint area, and another $1,000 to the CCC track team, who provided invaluable help with set-up, load-out, parking cars and cooking hot dogs.
The winner of people's choice Best of Show was apparently handed his registration form along with his trophy. We can't find his paperwork, and we don't know who he is or much about the car he brought. If somebody knows him, please have him get in touch.
Mike Bade's 1935 Plymouth Convertible was chosen Best Club Car.
This was the last Hot Dog-Ust Day. We'll move to Clackamette Park for a June 15 show next year, with "Down by the Riverside" as a working name, and the same dedication to fundraising for Clackamas Community College scholarships.
It's not to early to sponsor an award, contribute raffle items, or write a check to our scholarship fund at Clackamas Community College. If you're in a position to help us, please contact info@cascadepacificplymouth.org to learn how to contribute.
---
It wouldn't be possible without lots of community support!
Each year, we publish a flyer listing businesses and individuals who support our event. In 2018, our results looked like this: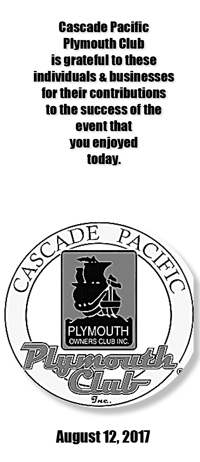 34 businesses or individuals sponsored awards;
104 businesses or individuals donated multiple items for our raffles;
29 groups donated items for goodie bags;
15 individuals or businesses provided cash or other forms of assistance to our effort.
Eight individuals or organizations wrote checks directly to our scholarship fund.
The image at right is the cover of the thank-you flyer, containing the list of folks who supported us. (Actually, there turned out to be more, after our print deadline!) Click on the image to download a copy of the flyer.
This is important! These members of our community support the old car hobby, and they support us in our efforts to provide scholarships for Clackamas Community College. Please thank them for supporting us today, and support them with your business, all year 'round.
Community Support for Hot Dog-Ust Day 2018

Sponsors

1st Choice Auto Service, Clackamas, OR
Abbott Instrument Restoration, Portland, OR
Affordable Classics,
Gladstone, OR
Armstrong Volkswagen, Gladstone, OR
Auto Team Automotive Repair, Oregon City, OR
Bill's Place, Clackamas, OR
Cascade Pacific Plymouth Club, Clackamas, OR
Christina Price, Edward Jones, Gresham. OR
Crocker Blasting Services,
Oregon City, OR
Delta Auto Glass,
Gladstone, OR
Finishline Coatings,
Milwaukie, OR
Gresham Ford, Gresham, OR
Historical Automobile Club of Oregon, Clackamas, OR
Honest-1 Auto Care,
Clackamas, OR
James D. Goertz, DMD,
Oregon City, OR
Jiffy Lube, Ostler Group,
Sandy, UT
Jim Estes Garage,
Oregon City, OR
Krake Contractors,
Oregon City, OR
Les Schwab,
Oregon City, OR
Matthews Memory Lane,
Portland, OR
Northwest Accounting Group, Portland, OR
Northwest Classic Auto Mall, Gresham, OR
Pacific Hot Tub Solutions,
Oregon City, OR
Phyllis Armour, In Memory of Phil Armour, Portland, OR
Raindog Editorial Services, Portland, OR
Refinishing Touch Auto Body, Clackamas, OR
Rob's Upholstery, Boring, OR
Ross & Marcy Huxtable,
Portland, OR
Star Bright Finishes,
Oregon City, OR
Steve's Auto Restorations, Portland, OR
Tony's Auto Parts, Vancouver, WA
Town & Country Honda, Gladstone, OR
Weston Kia, Gresham, OR
Wildcat Auto Wrecking,
Sandy, OR

Raffle Donations

AAA Insurance of Oregon, Portland, OR
Abby's Pizza, Oregon City, OR
Ameri West, Portland, OR
Antique Auto Battery, Youngstown, OH
Auto Zone, Oregon City, OR
Auto Zone, SE 82nd,
Portland, OR
Auto Zone, Milwaukie, OR
Baxter Auto Parts,
Vancouver, WA
Bellagios Pizza,
Oregon City, OR
Bob's Red Mill Natural Foods, Milwaukie, OR
Carquest, Sandy Blvd,
Portland, OR
Checkpoint Motors,
Beavercreek, OR
Chevs of the 40's,
Vancouver, WA
Christmas at the Zoo,
Oregon City, OR
City Liquidators, Portland, Or
Clackamas Auto Parts,
Oregon City, OR
Coker Tire, Chattanooga, TN
Dave & Mindy Benfield,
Mulino, OR
Dave's Killer Bread,
Clackamas, OR
Dennis & Jeanne Mowery,
Boring, OR
Discount Tires,
Clackamas, OR
Eastside Plating,
Portland, OR
Elmers Restaurant,
Clackamas, OR

Raffle donations, cont'd

Elmers Restaurant,
Portland, OR
Evershine Wax,
Vancouver, WA
Franz Bakery, Portland, Or
Garside Florists,
Vancouver, WA
Great Clips, Oregon City, OR
Griot's Garage, Tacoma, WA
Harry & David, Troutdale, OR
Hawaiian Time,
Oregon City, OR
High Rocks Restaurant, Gladstone, OR
Honest-1 Auto Care, Minnehaha St,
Vancouver, WA
In & Out Auto Care,
Gladstone, OR
Instant Imprints,
Vancouver, WA
Jerry & Joanne Dixon,
Vancouver, WA
Jiffy Lube, the Ostler Group, Sandy, UT
Jimmy O'S Pizzeria,
Oregon City, OR
KrispyKreme,
Happy Valley, OR
Les Schwab Tire Center, Clackamas, OR
Les Schwab Tire Center,
Gresham, OR
Les Schwab Tire Center,
Orchards, WA
MCK Tool Supply,
Vancouver, WA
McMenamins Pubs & Breweries, Portland, OR
Meineke Car Care Center,
Happy Valley, OR
Menchie's Yogurt,
Oregon City, OR
Midas Auto Service,
Happy Valley, OR
Milwaukie Tire & Automotive Service, Clackamas, OR
NAPA Auto Parts, Clackamas, OR
NAPA Auto Parts,
Happy Valley, OR
NAPA Auto Parts,
Milwaukie, OR
North American Muscle Cars, Portland, OR
Northwest Classic Auto Mall, Gresham, OR
Oregon City Golf Club,
Oregon City, OR
Oregon City Sporting Goods, Oregon City, OR
O'Reilly Auto Parts,
Oregon City, OR
Parkrose Hardware, East Vancouver, WA
Parkrose Hardware, Northeast Vancouver, WA
Parkrose Hardware,
Portland, OR
Parkrose Hardware, Southeast Vancouver, WA
Pedron Enterprises,
Vancouver, WA
Perfumania, Bellport, NY
Radiator Supply House,
Sweet Home, OR
Rivershore Bar & Grill,
Oregon City, OR
Rock Auto, Madison, WI
Rodda Paint,
Oregon City, OR
Rust Doctor, Canby, OR
Safeway Stores,
Clackamas, OR
Sah-hah-Lee Golf Course, Clackamas, OR
Same Day Auto Service, Clackamas, OR
Sherwin-Williams,
Portland, OR
So-Cal Speed Shop, Tualatin, OR
Sparks Auto,
Oregon City, OR
Stereo King, Portland, OR
Stitch-n-Embroidery,
Oregon City, OR
The Chevy Store,
Portland, OR
The Children's Course,
Gladstone, OR
Tim's Automotive Repair, Clackamas, OR
Tom Nachand, Milwaukie, OR
Toyota of Gladstone,
Gladstone, OR
Washman, Portland, OR
Westco Auto Body Supply, Vancouver, WA
Westcott Enterprises, Boring, OR

Goody Bag Donations

AARP, Seattle, WA
Adam's Car Care Products, Damascus, OR
Abby's Pizza,
Oregon City, OR
Arbor Day Foundation,
Lincoln, NE
Baxter Auto Parts,
Milwaukie, OR
Chevs of the 40s,
Vancouver, WA
Chuck & Stephanie Willis,
Sandy, OR
Cindy's Window Fashions, Gresham, OR
Clackamas Federal Credit Union, Milwaukie, OR
Coker Tire,
Chattanooga, TN
Dave & Mindy Benfield,
Mulino, OR
Jiffy Lube, Ostler Group,
Sandy, UT
Latus Motors,
Gladstone, OR
Little Caesars,
Oregon City, OR
Menchie's Yogurt,
Oregon City, OR
Milwaukie Tire Co.,
Clackamas, OR
Monarch Hotel,
Clackamas, OR
Northwest Classic Auto Mall, Gresham, OR
Northwest Brakes & Undercar, Clackamas, OR
On Point Credit Union,
Oregon City, OR
O'Reilly Auto Parts, Hill Top, Oregon City, OR
Perfumania, Bellport, NY
Rock Auto, Madison, WI
Shari's Berry Hill,
Oregon City, OR
Speeds Supertow,
Portland, OR
Terry & Judie Byrnes,
Vancouver, WA
The Antique Auto Battery Co, Youngstown, OH
Town & Country Honda, Gladstone, OR
US Bank, Andresen,
Vancouver, WA

Scholarship Donations

Bill & Dolores Call,
Milwaukie, OR
Bob & Jeanette Dimick,
Brush Prairie, WA
Carr Auto Group,
Beaverton, OR
Cascade Pacific Plymouth Club, Clackamas, OR
Dick Hannah Dealerships, Vancouver, WA
Historical Automobile Club of Oregon, Clackamas, OR
Homemasters Roofing, Battleground, WA
Hot Rod Dreamworks & Collision Repairs, Canby, OR
Isa's Auto Service,
Oregon City, OR
Lithia Subaru, Oregon City, OR

Other Support

Albertsons,
Oregon City, OR
Rob Peterson,
Stevenson, WA
Safeway, Gladstone, OR
Safeway,
Happy Valley, OR
Safeway, Oregon City, OR
Shari's Cafe & Pies, McLoughlin Blvd,
Oregon City, OR
Shari's Cafe & Pies, Chkalov Drive,
Vancouver, WA
Shari's Cafe & Pies, Thurston Way, Vancouver, WA