Off The Hook - CPPC Information Resources for Members
By Phil Lapin / Technical Coordinator with Gary Rusher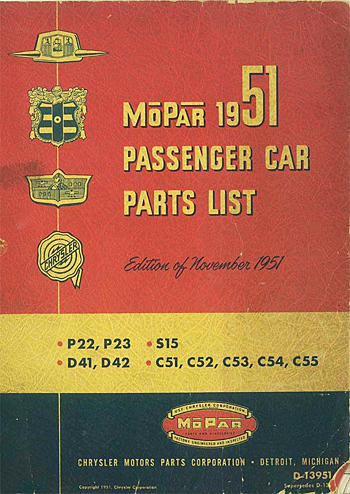 "I know they made it, I have one in my hand and the number on it is XYZ 123." We have all been in that place where we have something and we want to know what it is, or we need to find the correct part to finish our project. Parts identification is a big part of restoring or rebuilding any project. It is also critical for identification of parts sold on Ebay or the swap meet to generate revenue for our club.
One of our members, Gary Rusher, has acquired a large supply of old Mopar parts and is working to identify them. In an effort to help with this he has started a collection of official parts books. He would like to have a complete set covering all Plymouths up to and including the P15's or later.
In addition to parts books, Phil Lapin has several Service Manuals covering 1936 through 1954 Plymouth Vehicles.  He also has an "Interchange Parts" book covering 1938 - 1954 which cross references common parts for many vehicles such as Mopar, GM, Ford and other producers.
A complete list of these books is available on the CPPC website.  The list covers what Gary and Phil have to date.
 
If you have parts or service books that you don't need anymore, and want to donate or sell them to the club, we would be interested in adding them to our reference materials. In this way all members can take advantage of this knowledge base. 
Another possibility is if you have specific books you would like to keep, but which could be of value to the club, just Email us with the titles.  We can then put them into our database and call you if necessary.
If you want to know a parts number or have a part you need to identify just give Gary a call ( 503 939 9320). He will be glad to help you identify what you have. Likewise, for help on technical questions call Phil @ 503 816 5644.
Plymouth parts book list:
Plymouth Master Parts List, all models prior to 1934 (repo) Issued  / Gary
Plymouth Master Parts List Vol. 1 &2 1929-1939 (repo) Issued July 1, 1939 / Gary
Plymouth 1934 Parts List (orig) Issued Sept. 1, 1934 / Gary
Plymouth 1935 Parts List (repo) Issued April 1, 1936 / Gary
Plymouth Passenger Car 1942 (orig) Issued July 1943 / Gary
Plymouth Master Parts List 1936-1942 (repo) Issued July 1946  / Gary

Master Parts Book, 1936 Plymouth, March 2, 1936 /Gary

Preliminary Parts Book, 1937 Plymouth, February 5, 1937 /Gary

Master Parts Book, 1937 Plymouth February 25, 1937 /Gary

Master Parts Book, 1939 Plymouth, February 20, 1939 /Gary

Plymouth Passenger Car Parts List, 1938 Model series, January 24, 1938

Plymouth Passenger Car Parts List, 1940 Model series, March 15, 1940

Chrysler parts book list:
The Chrysler Master Parts List, 1924-1933, (repo), #CHP-213302, Issued April 1, 1934 / Gary
Chrysler Passenger Car, Condensed Master Parts List, 1936-42 (orig) Issued July 1947 / Gary
Chrysler Passenger Car Part List, 1934-39 (Canadian) (orig) Issued November 1952 / Gary
Mopar parts book list:
Mopar "Streamliner" Quick Reference List, Parts for most common service operations, 1932-1947 (orig) Issued 1947 / Gary
2. Mopar 1953 and prior models, Passenger Car Parts List, (orig) #D-14393, Issued Nov 1952 / Gary
Mopar 1954 Edition Parts Catalog, Finger Tip Index, 1937-1954 six cylinder models, Issued  / Gary                    1954
Mopar 1955 Passenger Car Parts List, (repo) #D-15177, Issued Dec 1, 1954 / Gary
Plymouth Service, Parts, Interchange and Misc. books
Interchangeable Parts 1938-1954 / Phil
Plymouth Passenger Car Service Manual 1936-1942 / Phil
Plymouth Service Manual 1942 / Phil
Plymouth Passenger Car Service Manual 1946-1954 / Phil
1941 Plymouth Repair and Tune-up Manual. Publisher unknown / Phil
Thompson Repair and Tune-up Manual 1939-1948 Plymouth / Phil
1942 Plymouth Parts List / Phil
Steering Wheels and Dashboards - Chrysler Corp. 1939-1949 / Phil
Hubcap and Wheel Cover ID Manual - American Cars 1946-1958 / Phil