Tech Committee makes progress on Dodge Dart basket case
Chuck Willis' 1975 Dodge Dart didn't really come in baskets. Boxes, yes, but not baskets. And not everything in the boxes belongs on the Dart – there are bits of another car thrown in. It has been an education for the Tech Committee.
Story and pictures by Stephanie Willis
Click here on the Lunch picture to see a gallery of Stephanie's photos.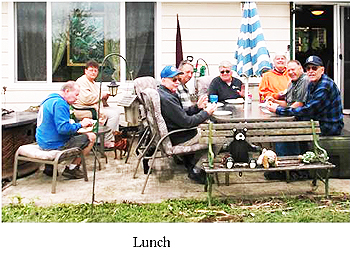 On May 3, 2014 we had a very nice group come out to the house: Randy Ealy, Jerry Dixon, Dennis Mowery, Gary Rusher, and Mike Bade, plus host Chuck Willis.
They worked very hard on Chuck's '75 Dart. Everyone picked a spot and just jumped right in after enjoying homemade cinnamon rolls. Everyone helped with the windows and regulators, door trim, headlight buckets and grille. I think everyone learned something new that day and it was great to see the progress on the car.
But there just wasn't enough time in the day to get it all done so we had a large group come out to the house again on June 2, 2014, and they jumped right in where they left off at the last meeting.
We had a very nice group which included Randy Ealy, Jerry Dixon, Mick DeSantis, Dennis Mowery, Lee Powell, Bob Westphal, plus Chuck Willis.
Joanne Dixon came along and kept me company.
We started off the day with a pot of biscuits and gravy and then everyone worked on the '75 Dart again.
The bumpers and air shield were installed and the attachments needed to make it work, a lot more trim was put on, the headlights were finished up and adjusted. The rear window defogger was installed.
Everyone took a break for lunch. Joanne made potato salad to accomply the hamburgers with all the trimmings.
After lunch everyone worked for a hwile longer and then called it a day – and a day well spent!
Thanks to all who helped out. It made a great day for Chuck's birthday. Nothing better than doing something you like with a lot of good friends.
---