OFF THE HOOK - Glass And Rubber, January, 2019
By Phil Lapin / CPPC Tech Coordinator
As 2018 was drawing to a close, I decided it was time to order new glass and rubber for our 1942 Plymouth sedan.  It was a serious expense, and one I wanted to get right. I needed 4 flat glass pieces, as well as new rubber for virtually everything on the exterior of the car.  There were an abundance of opinions on how to approach the situation, so I did a little research and struck a gold mine!
On EBay, there is a fellow who advertises flat glass "kits" for vintage autos - all of the glass for a particular vehicle.  His shop is "Bob's Classic Auto Glass".  More importantly, he has a website under the same name: http://www.vendio.com/stores/bobsclassicautoglass  I noticed that in addition to glass, he is a distributor for Steele Rubber, so I looked him up.  Much to my surprise, Bob Robison and his family have this business right here in Oregon - about 20 miles west of Junction City!  I gave him a call, and found everything I needed and more.  He has been at this for many years, and knows a lot of car people - including our own Doug Crawford!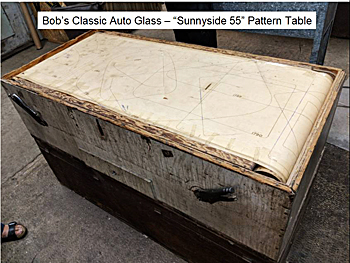 Here is some of the basic information I learned when I visited Bob:  He has an 8,000 square foot building on his ranch, in which he has his glass cutting business, as well as warehousing for all sorts of window trim (fuzzy strips), reproduction parts (for much more than just Mopar), and several specialty lines of rubber products plus Fulton visors and electric window kits! (both of which he has in stock).
The specific product lines that he carries are as follows:
Steele Rubber (broad spectrum of rubber products for many vehicles)
Dennis Carpenter Ford Restoration (many kinds of parts for Ford cars, trucks and tractors)
Precision Replacement Parts (glass related seals and parts for many cars + install videos)
Clester's Rubber (auto rubber seals for a wide variety of cars and trucks)
Vintique (Ford reproduction parts)
United Pacific Industries (classic car, truck and hot rod products)
Cutting plain glass has always been a challenge for me.  Safety glass, with a plastic film between two glass layers is yet another beast. Watching the pros at Bob's is very interesting.  They must first place a rectangular safety glass piece on top of a template.  Then both sides are scored in exactly the same places.  This includes both straight and curved portions.  The curved portions have straight score lines radiating away from the curve to facilitate breaking.  The most interesting part I found was what they do prior to breaking the glass.  Alcohol is squirted along the scored lines and then lit on fire.  The alcohol burns at the temperature and time they want, and leaves no residue.  With the inner "plastic" layer heated, the glass is then carefully snapped at various points to separate it. This is followed by running it over a special crowning machine, followed by several grits of polishing belts.  Every piece is cut to order.  The orders are cut in batches, depending upon if clear, smoked or green glass is desired. As an aside, the safety glass sheets are delivered in 4'x8' size - after which they are cut down to more manageable rectangular pieces.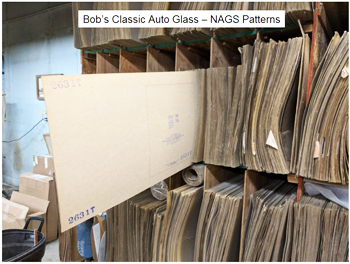 I decided to purchase an entire kit of flat glass, since I already had to replace all of my rubber.  Bob has a table with a scroll of glass patterns that passes over it, called a "Sunnyside '55"  It has auto glass patterns for roughly 1935 to 1959.  He also has a huge inventory of chipboard templates going back to the 1920s, called "NAGS" (National Auto Glass Specifications).  With these two assets, he can cut virtually any piece of flat glass, and there is no need for him to have your original (or missing!) window. All of his safety glass is hand cut on site to match the patterns, then crowned and polished on the edges. He ships glass all over the USA and Canada.
I also decided to order my rubber pieces from Bob, as he gives a 20% discount on Steele Rubber.  There are several companies selling vintage auto rubber,  but everyone I have talked to feels Steele has the best products.  Bob agrees with that - saying that Steele's products always fit well, are flexible and hold up well.  My rubber arrived at his place all neatly packed and labeled by individual item.  As a test, I ordered a fuel filler neck gasket from Steele, as well as a less expensive one from another supplier.  I can tell the difference in both the flexibility and fit - Steele being better.
A HUGE asset in dealing with Bob is that he will talk you through any issues of installing glass and rubber. On my '42, he has advised to install both halves of the glass windshield at once, first fitting them up into the rubber with a small bead of adhesive in the bottom of the glass channel, rather than putting soapy solution in it.  Finally, a bead of adhesive goes along the inside of the window opening - but far enough from the edge that the outer rubber lip will not drag on it when pulled through from the inside.  This gives both a seal rubber-to-metal, as well as rubber-to-glass.  Here's another of Bob's insights - regarding Steele Rubber door and trunk weather-stripping.  If you look at the cross sections of various sponge rubber seals on their website, they have varying patterns of white dots showing.  This is actually to show varying densities of the foam!
It isn't easy finding reliable and knowledgeable sources for vintage parts and materials - but Bob's Classic Auto Glass is worth remembering!