Phil Hall's 1954 Plymouth with Hy-Drive
Editor's note: In the American race to fully-clutchless driving, Chrysler Corporation came in dead last, a full 14 years after GM rolled out the first Oldsmobiles with Hydra-Matics in 1940. Although the company had Fluid Drive, which wasn't clutchless at all, and the clunky four-speed M6 semi-automatic, which could be driven clutchless until you needed reverse, neither option trickled down to Plymouth. Even overdrive wasn't available until mid-1952. Then in mid-1953, Plymouth introduced Hy-Drive, another non-automatic which seemed to answer a question that no one was asking. There's little information available about Hy-Drive, so when I learned that Phil Hall had a unit in his '54, I asked him tell us about it. –RPW
by Phil Hall
I am pleased to have been asked to write an article on Plymouth's Hy-Drive. We have owned our 1954 Hy-Drive equipped Plymouth for almost thirty-eight years. It was a principle mode of family transportation for thirty-three years of those years. It has always been tagged and running, and has accumulated over 300,000 tough-service miles.

Hy-Drive was offered in Plymouths from approximately mid-model year 1953 through most of model year 1954. In mid-model year 1954 Hy-Drive was joined as a Plymouth option by the fully automatic Powerflite transmission. Before the end of the model year, Hy-Drive was no longer offered. The Hy-Drive option added $146 to the cost of a 1954 Plymouth. Plymouth advertised the Hy-Drive as the smoothest and least expensive no-shift driving in the low-priced field. In a parallel to the Hy-Drive moniker, the 1954 exterior and interior color and trim combinations were advertised under the name Hy-Style.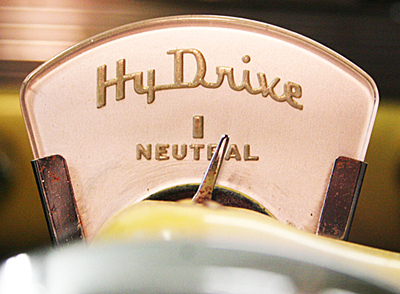 What is a Hy-Drive? Hy-Drive consists of a torque converter followed by a flywheel, clutch-pressure plate and standard transmission. The pressure plate and clutch are of a special construction; the pressure plate is heavy duty and the 8 ½ inch clutch contains no dampening springs. The 100 horsepower 1954 Plymouth engine developed 177 foot-pounds of torque at 1200 RPM. The torque converter multiplied this torque 2.6 to 1, thereby producing an impressive 460 foot-pounds. (Buick's Dynaflow transmission used a torque converter that multiplied torque 2.25 to 1. There was no multiplication of torque in the Chrysler, Dodge, Desoto fluid coupling.) Plymouth engineers used a specially built standard transmission with heavy duty gears on Hy-Drive equipped cars to withstand the extra torque. The standard engine does not interchange in a Hy-Drive equipped Plymouth; the Hy-Drive engines are manufactured with oil passages with "O" ring seal groves, and bolt holes for the adapter plate between the engine and converter housing. Other interesting mechanical notes of Hy-Drive equipped Plymouths are the use of a special engine oil pump with an internal by-pass valve; the use of a special carburetor with a dash pot; and the use of a neutral safety switch requiring the car to be in neutral for starting.
How does one operate Hy-Drive? To put it into gear or to shift through the gears, one uses the clutch. In normal operation, one drops it into third gear and thanks to the torque converter it accelerates just fine. It can come to a stop and idle without disengaging the clutch. With or without shifting, the operation is extremely smooth.
The torque converter receives its oil from the engine in a loop system and so changing the engine oil with the filter requires eleven quarts. One must drain the crankcase and the torque converter separately. Re-filling the oil is a little different. Since the crankcase will not hold eleven quarts of oil, I first put in five quarts with the other six at the ready. I then start the engine and while it is idling, I quickly add the remaining six quarts of oil. If one is slow in adding the remaining oil, the engine will pump the oil to the torque converter causing a low level in the crankcase resulting in a drop in oil pressure. I have always had fun changing the oil, really. In the heat of the summer when climbing long mountain grades, the torque converter adds heat to the oil which can affect engine oil pressure, therefore the use of high quality oil is important.
In an article in the February 2011 Hemming's Classic Car magazine, acceleration from high gear in a Hy-Drive equipped 1954 Plymouth is described as "excruciatingly sluggish". The article is about an AACA National First Prize winning 1954 convertible which gets driven about 50 miles per year. Now 1954 Plymouths are no hotrods regardless of the transmission, however based on driving our car many, many thousands of miles, I would respectfully disagree with the author's description of Hy-Drive's acceleration. In my experience, acceleration into and around traffic is more than adequate. Then, one always has the option of starting off in second or first gear for faster acceleration.
In years of steady and hard use, I have found that Hy-Drive is the most wonderful system for pulling through snow and mud, and rarely gets stuck. The truth is our Plymouth has never been stuck. I have driven our Plymouth over the roughest and steepest of un-surfaced jeep roads (some of which stopped modern full-sized two-wheel drive pickups), through deep snow and off-road in rain-soaked woods (with the trunk and back seat area loaded down with firewood).
Our Hy-Drive equipped 1954 Plymouth (with no modifications) has been remarkably reliable. In addition to regular transportation, it has often served us as a truck; hauling groceries, firewood, trash, concrete, lumber, engine blocks, and who knows what else? We have driven it everywhere. Mom, dad, and all three children have driven it to college. It has brought two of our children home from the hospital. All three children learned to drive on it. I drove it to work my first day on the job, and the day I retired thirty years later. The Plymouth has been up and down both the West Coast and the East Coast (we are originally from Delaware). It has taken boy scouts on camping trips. It has taken us to church, to the mountains to play in the snow and to get Christmas trees, up and down the Oregon coast, the Redwoods and Northern California, Crater Lake, Central Oregon, Mount Hood, Columbia Gorge, Eastern Oregon, Eastern Washington, Chelan, Mount Rainier, etc. We have driven it in Southern and Mid-Atlantic States, to the Skyline Drive, Great Smokey Mountains, Kitty Hawk, Atlantic beaches, etc. In all of its years of rugged and constant service our Plymouth has never failed to start and never failed to bring us safely home.
___________________________________________________________________