Really good automotive rubber products

By Phil Lapin
CPPC Tech Committee & Vice President
Ever since I started restoring our 1942 Plymouth, club members had advised purchasing my rubber parts from Steele Rubber. I referred to this purchase in an earlier article, but would like to elaborate upon it – and now with installation experience to provide insight.
I needed just about every piece of rubber made for my car – window seals, vent window seals, door and trunk weatherstripping as well as several other pieces. I knew I was facing a major cash outlay, but the actual numbers sent me reeling.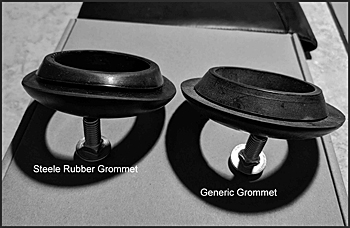 I looked up all the parts on Steele Rubber's website and the cost marched up to and well past $1,000. I looked at other sites, including some on eBay. I discovered that I could purchase everything in "generic" form for about $750 – which turned out to be about 60% of what Steele's prices were. I was really tempted to save money and go the "generic route". I was encouraged to purchase Steele Rubber parts by Bob at Bob's Classic Auto Glass. He is an expert on automotive rubber. (Email sales@bobsclassicautoglass.com)
I ordered my glass and rubber parts through Bob – who generously gave me a discount from Steele's retail prices. Then the learning process began. First, as an experiment, I ordered a generic fuel neck grommet for $12. Then I ordered a $40+ one from Steele. The difference is shocking – not only in the flexibility and finish – but also in how the Steele product is formed. Look carefully at the attached photo, and you will see that Steele's has a formed / curved underside to fit the body ( as well as an angled hole inside). The body metal groove is also proper for a "comfortable installation". The other product is more rigid, has no contours and the metal groove barely exists.
When I began installing the fixed window glass, Dennis Mowery volunteered to come over and help me. The fixed rear, side and windshield rubber seals fit perfectly on the glass, and the units installed into the body beautifully. Dennis had relayed a story to me of installing a similar flat glass windshield on a car his son owns. He said it took them a couple of hours fighting with the install of just that "generic" windshield. Using the Steele Rubber made believers of both of us.
Steele Rubber was started by Lynn Steele informally in the late 1960s. He had extensive tool and die making skills, and crafted a few rubber parts for a restoration he was working on. Word of mouth spread about his business, and it grew year after year. Today it is still family owned, and is located in North Carolina, where they have over 70 employees. They have over 12,000 automotive parts alone – and almost all of this inventory is produced right here in the USA. It's really a great company with great products!
(www.steelerubber.com)