DIY Painting a Classic Car

by Phil Lapin /  CPPC VP & Technical Committee
Click on the photos to see larger versions.
Could your Classic Car use a new paint job?  Have you wondered if you can "DIY" – Do It Yourself? The answer to this question involves many factors.  I have just completed painting the 1942 Plymouth Sedan my wife and I bought from CPPC.  It was originally nicknamed "The Patina Princess" – for good reason!  Our car had everything from oxidized paint to rust areas completely through the finish.  I like challenges, so I made a decision to repaint the car myself.  I am not an expert – but I can relay to you what was involved so you may be better positioned to make your own decision.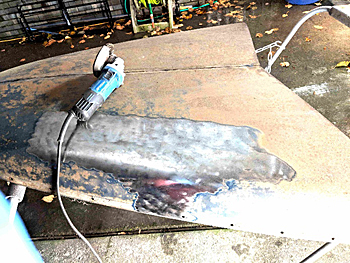 First our car needed to be completely stripped to bare metal in most areas.  I did not want to go the sandblasting route, as the body, frame and powertrain were all intact.  Instead I took the car outside and used paint and rust removal disks in an angle grinder.  They will eat off paint, yet leave no gouges if used correctly. They are a wonderful invention – I got a 10 pack through EBay.  After stripping to bare metal, I coated all the panels with a rust killer/blocker.  This was to kill rust in any pitting on the surfaces.
With the metal surfaces ready for painting, I went to a "paint expert" in the Portland area (Advance Auto Parts in Sandy OR.  That store has a complete paint department with knowledgeable staff). Most auto parts stores do not have this capability.  We discussed what my project was, and went over the pros and cons of various approaches to paint finishing.  I decided upon a "2 Stage" paint, which involves a base color coat with clear coat over that.  I chose NOT to use a metallic paint – as it needs to be very carefully applied to keep the metal particles all reflecting in the same way.  Instead, we went for a light creamy yellow.  Choosing the color and technique was just the beginning – as I discovered.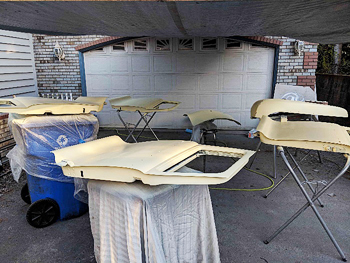 Several things are required to succeed in this type of project.  First, one needs an air compressor with high output and a large reservoir.  HVLP spray guns are the primary way to paint now days – and they go through a lot of air!  I did not have adequate air output from my compressor, so I bought an inexpensive second compressor from Harbor Freight and joined the two compressors together.  It solved that problem.  Regarding an actual HVLP spray system, I opted for the "3M Accuspray System" which has impressed me.  It is reasonable in cost, and uses a single needle, varying sizes of plastic "throw away" nozzles, and disposable container liners and lids. This system is available on Amazon.
The gun system has probably cost me around $400 including all of the nozzles and liners.  Paint supplies and related materials have cost around $1,000 – and that is not the most expensive paint on the market.  So, in total, I am probably $1,500 into my paint job.  1940s sedans have a LOT of area to cover – so my paint costs kept going up as I went along.
The actual process of painting went as follows: 1) spray on 2-3 coats of epoxy sealer to the bare metal.  2) apply 3 coats of high build grey primer over the sealer. (The primer must be applied within 2-3 days of the sealer – or you must rough sand all of the sealer before priming.) 3) Apply 2-3 coats of base color coat – until the surface looks uniform. 4) Proceed to apply 3 coats of clear coat over the base color coat.  All of the above coatings are "multi-part" using reducers and hardeners.  Precise mixing is essential.
I began spraying inside my garage – with plastic sheeting forming a "booth", and fans exhausting at the bottom of the garage door.  Never again!  The "fog" from spraying got around the plastic sheeting forming dust all over the garage.  In any case, a proper respirator must be used indoors or outdoors.  One of my biggest problems in the garage was that the "fog" would impair my visibility and coat my safety glasses.  As I said – never again!  When the weather warmed enough, I completed my painting outside in the driveway with a plastic tarp strung overhead.  That was a much better approach.  Regardless of in the garage or outside, plan on a few gnats deciding to glue themselves to the wet clear coats.  Without a proper spray booth, this is inevitable.
All in all, there are about 11 coats of "liquids" sprayed over all of the surfaces.  That is a LOT of spraying.  The biggest problem that I had was with the clear coat.  Unlike the first layers put on, you cannot sand out imperfections when applying clear coat.  It must be put on one coat after another in rapid succession so it all bonds together.  With not a lot of physical room behind me, I was forced to stay fairly close to my work.  In this situation, it is very easy to move the gun in too close – especially on the many curved surfaces in classic cars.  This results in runs and sags – that must be left alone until completely dry, then sanded down and polished.  All of this painting can be done fairly well – but I found it very stressful as an "amateur".
I'm really pleased with how the car is turning out, BUT the number of hours invested in the bondo and finishing work is huge!  So, my answer is yes, you can do a paint job if you are fairly handy.  I suppose you could also do a "simpler" slam it on job without proper layering – but that is not my style.
What about alternatives?  As I stated, I probably have about $1,500 involved in paint materials and the spray setup.  One of our veteran club members – Bob Westphal – has both painted cars and had cars painted.  He prepped his latest car (bondo, sanding and masking), then took it to a commercial auto painter.  It cost him around $3,000 to have the paint work done.  That may seem like a lot, but remember that he did not have to invest the $1,500 in paint and materials that I put out.  So . . . all in all he was spending about $1,500 for all of the labor and professional spray application.  After all of the work I have gone through, that seems like a pretty reasonable deal!
There are lots of YouTube videos on spray painting cars.  Most leave out describing the "agony factor" regarding the time investment.  Do spend some time looking up videos of this type, as they can be a great education.  If there are any questions I can answer, feel free to shoot me an Email.