Sound Deadening
By Phil Lapin / CPPC Tech Committee & Vice President
As many of you know, I have been doing a complete daily driver restoration of my 1942 Plymouth 4 door Sedan.  Since the car interior was literally stripped down to bare metal, it made sense to add sound deadening.  Not only would this "quiet down" the ride quality, but it also acts to better seal and smooth joints and patches in sheet metal, as well as providing some amount of heat insulation. It will also prevent moisture from getting to the sheet metal floor areas.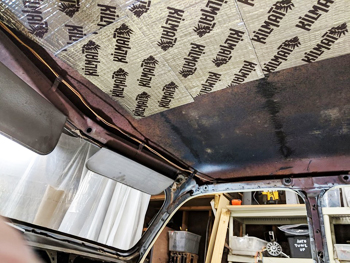 There are many brands and variations of sound deadening materials.  Most consist of a foil face, with a butyl rubber backing that is both thick and sticky.  Whether in rolls or sheets, the material is cut to fit various areas, and then pressed or rolled into place.  I have found that it does an amazing job of quieting down bare sheet metal surfaces – no more "tin can" sound, nor pounding sounds on the roof in heavy rain or hail.
I did not research every single supplier or brand of material, but some of the common sources are Eastwood Company, Summit Racing and – yes – Amazon!  What I did find is that there is a huge difference in price for different brands, most of which accomplish the same thing.  As examples, Eastwood sells "X Mat" in a 35 sq. ft package for $80 (plus shipping).  Base cost is $2.30 per square foot.  Another of their offerings is "Dynamat Extreme", also at about 36 sq. ft, for a whopping $240. (Yes, I would call that "extreme!)  Base price is $6.70 per square foot.  Summit Racing has "Thermo – Tec") mat in a single 15 sq. ft sheet at $49, or $3.25 per square foot.  Amazon carries multiple products, but they feature "Kilmat", which comes in an 80 mil thick product which has 36 sq. ft of sheets per box.  The price is $63 per box, or $1.75 per square foot.  I went with Kilmat.  I don't know about the other products, but Kilmat is manufactured in Russia.  It has proven quite decent for my needs. Amazon Prime shipping was free – and this product is rather heavy, so that was a consideration.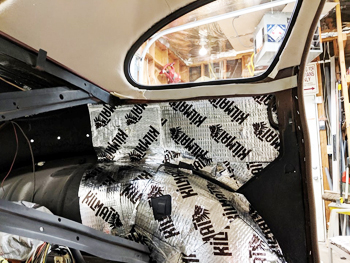 How much do you need?  I figured with my 4 door sedan that I should order a little extra, so I ordered three boxes totaling 108 square feet.  In the end, that has covered all of the roof, all of the interior floor, some of the firewall, as well as the rear fender wells and the trunk floor.  Perfect!  There is some loss during installation, but using the handy sized sheets minimizes loss, and you can use small scraps to fill in spaces. I did not put it into the inside of my doors, as access is poor, and the existing sprayed in material from 77 years ago would be very difficult to properly remove. The door panel covers accomplish much of the same sound deadening anyway.
The product is simply cut to fit, pressed into place (on a clean surface) and then rolled or burnished down for a firm bond.  The foil backing is textured, so you can see when it has been properly pressed down.  I ended up using a paint stirring stick with a rounded end for most of my work – burnishing down the sound deadening.  Exact fitting is not necessary.  I cut pieces to fit, and in some cases overlapped them a bit rather than trimming.  It all went into place just fine.  The roof is the biggest challenge – because you are working overhead and having to apply pressure upwards. I ended up putting a small chair inside the car to sit on – which made things much easier.  I had all of my upholstered seats out of the car.  Leaving them in would make it very difficult to move around and do roof work.
All in all, I would say that this is a very worthwhile investment if you already are planning on removing some or all of the interior in your vintage vehicle.