A Surprise Visit to the Bade's Garage
(From the February, 2012 CPPC Newsletter)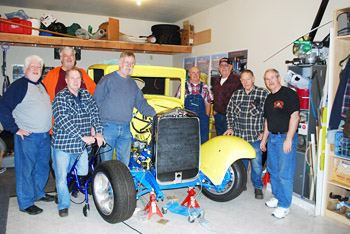 Like many of his fellow CPPC members, Mike Bade has an old car tucked away that he works on when he can find the time.
Like many of the rest of us, he can't often find the time.
And yes, he knew that CPPC has a Technical Committee that exists for the purpose of helping members work on their Plymouths, but somehow he never connected that with what was in his own garage …
But Donna Bade did. She discreetly made a few calls, and arranged for some members of the Tech Committee to come visiting on a Saturday morning.

Here's Chuck's report:

"Donna had called around and asked a bunch of the guys to make a pit stop at the Bade house. We all arrived at 10:00 am. The surprise worked well.

We helped Mike install the wooden supports for the body on his Plymouth.
Dave and Ken brought doughnuts. Donna fixed us a fine lunch. After lunch we set the fenders on the left side of the car. It Looks real good. A good time was had by all, and we got a lot of work done.

In attendance were: Tim McCarthy, Dave Williams, Marlo Edman, Gary Rusher, Mike Bade, Jerry Dixon, Ken VanCoelen, Bob Westfall, Chuck Willis, Dennis Mowery and Donna Bade."
---