Low-Cost Tach Technology
By Phil Lapin / CPPC Tech Committee & Vice President
I am going to guess that most of you who own 6 volt positive ground vehicles have occasionally wished that you could have a tachometer on board.  This is especially true if you have an overdrive transmission in your ride.  I personally have a brand new analog tach that I bought many years ago, but of course it is a 12 volt unit.  I didn't try to convert it for my '42 because of not only the 12 volt issue, but also not knowing if it was grounded to the metal housing (incompatible with a positive ground car.)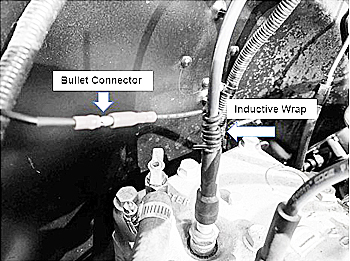 I recently came across an easy and inexpensive solution while browsing on Amazon. You might want to check it out.  It is a digital tachometer which can be programmed for all kinds of spark plug engines AND it is totally self-contained. (think not only cars, but generators, outboard engines and such!) A large "button" type battery runs it, which can be changed out if necessary.  The only wire from it is an inductive lead wire - which is wrapped 5 or 6 turns around any spark plug wire.
I tested out the unit that I bought, and it works beautifully in my 1942 Plymouth.  It is small enough that I can mount it inconspicuously under the edge of my dash where I can see the digital display without it being "obnoxious" looking in a vintage car.  On top of the tachometer function, it has an hour-meter function to keep track of engine run time.  The best thing of all may be the price – a whopping $23!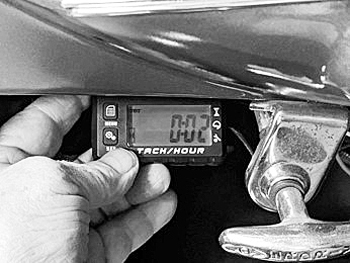 The only change I made to it was to add a small length of #14 solid house wiring type wire to the end of the included lead.  I found that the standard lead was a real pain to try and wrap tightly around a plug wire and then to somehow secure it.  The #14 sold core wire wrapped beautifully and tightly with no problem.  Extending the length of the lead wire is not an issue.
There are many of these units on Amazon.  The one I purchased is called a "Neoikos Digital Backlit Tach", and it was $22.99 in December of 2019. A fast search on Amazon will bring this – and likely many others.