Throttle body bushing repair
By Bob Westphal
Click on images to see larger versions.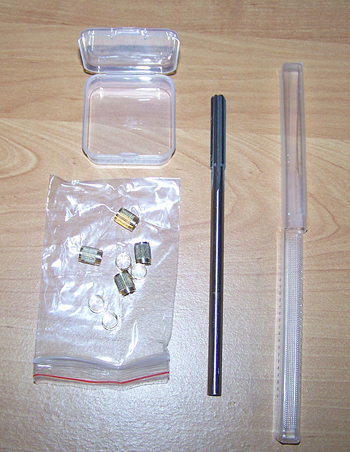 My Barracuda has had a smell of raw fuel when I shut the car off. I found that the throttle shaft bushings are worn causing fuel leakage on the manifold. There are several solutions that will cure throttle body wear. Replacing the carburetor is usually very costly. I decided to see if there is a better way to solve this problem. I found there are number of throttle body bushing kits available on line for a wide spread number of carburetors and cost as shown below.
The ZA-01 5/16» throttle shaft repair kit from ATS Enterprises- $206.67 Canadian.
E-bay-39.99
Amazon-HENKYO Throttle Shaft Bushing Repair kit- $36.
I purchased the Henkyo kit that came with eight 5/16 bushings, a special reamer, and no instructions. All kits will work on almost all throttle bodies.
1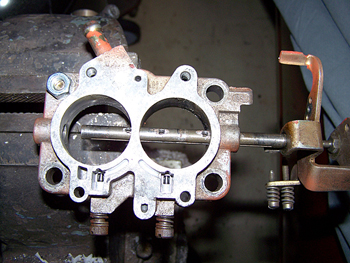 .Disassemble and clean the carburetor or throttle body. Remove the throttle shaft.
2.Lubricate the tool and throttle body using WD-40 or equivalent light oil. Insert the chuck end of the tool into a hand-held drill and tighten the chuck.
3.Insert the pilot end into the throttle shaft hole in the carburetor or throttle body.
4.With slight pressure and turning at moderate speed ream out the hole until the built-in stop on the tool is reached.
5.Remove the tool.
6.Drive the bushing in using a hex-head bolt as driver.
7.Reassemble the throttle body or carburetor.
Unlike old-style reaming tools, the kit does not require precision machining skills, a drill press, complicated jigs, additional drill bits etc. The Throttle Shaft Tool is a one-piece, foolproof solution to installing bushings with perfect alignment.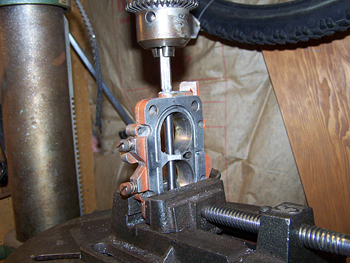 As can be seen, I used a drill press because I couldn't apply enough pressure with a drill motor.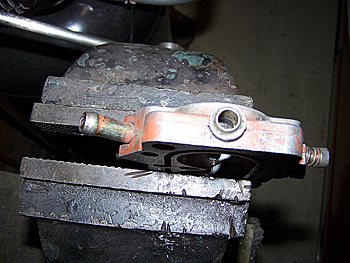 The finished part.