Seeing the USA in our 1954 Plymouth
By Phil Hall
(Clicking on the photos will open larger versions.)
In way of introduction, we (Phil & Rose Ann Hall) live in Roseburg.  We have been married 47 years.  We have owned our 1954 Plymouth Belvedere for 44 of those years.  We were living in North Carolina in 1973 when we purchased the Plymouth for the awful sum of $150.  I say "awful sum" because at the time $150 was all the money we had to our name.  You all know how it is with a young couple struggling along.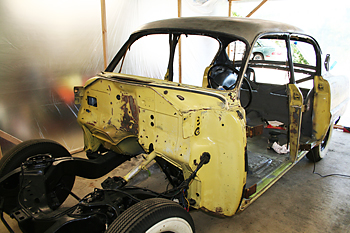 We did not buy the Plymouth as a toy, or because it was an old car, or because we happened to like Plymouths.  We bought it because it was a used car that we could afford with the little money we had.  There it was; parked behind a gas station; dirty as can be; covered with junk on the hood and roof; looking oh, so forlorn. 
With the transfer of $150, the Plymouth signed on as the major mode of Hall family transportation and would remain as such for the next 39 years; taking me to college; taking me to work; bringing two of our three children home from the hospital; taking my wife to work; taking her to college; taking our children to college; taking us on family vacations; taking us to the store; taking us to the movies; taking us to church; hauling trash to the dump; hauling our pet dogs; working as a pick-up hauling firewood, bags of cement,  lumber, etc.  Enough; I think the point is made. 
We put over 325,000 hard, tough miles on the Plymouth.  She sat out in the rain, snow, heat or whatever was out there year after year.  Around 2004, the Plymouth was demoted to secondary transportation; still being driven regularly as a utility vehicle, but just not every day.  
Finally, for the first time ever, we let her license lapse in 2012 and took her off line to start a complete restoration. 
Labor Day 2016; she drove off under her own power; shining like a new penny.   Rose Ann and I did everything ourselves except for installing the windshield and back glass.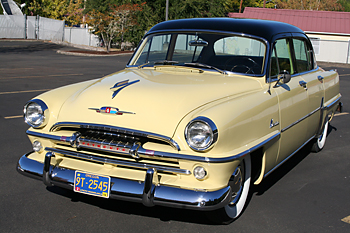 Most folks take their newly restored cars to shows and come home with trophies as testimonials of their car's excellence.   Instead, Phil and Rose Ann decided to take their newly restored Plymouth on a cross-country, 31 day vacation.  We drove a meandering course across the country to Delaware to visit family.  We then drove to upstate New York to visit an old navy friend that I had not seen in almost 50 years.  We visited all six New England states.  We then drove a meandering course home.  In all, we drove the Plymouth over 9,000 miles through 24 states while visiting thirty-four parks, historical sites, and attractions. 
We don't have a trophy as a testimonial to the excellence of our Plymouth but we do have a large pile of souvenirs and over 1,000 photographs of this magnificent country of ours. 
Plymouth built great cars.